The most popular jobs in digital marketing show what employers are looking for
We showed in our recent review that digital marketing is now bigger than Internet marketing based on searches for knowledge and services related to digital marketing. As demand for digital marketing has grown, so has the number of specialist digital jobs needed in companies and agencies. Google Trends shows us that searches for Jobs in Digital Marketing has overtaken Jobs in Internet Marketing and continued to grow through 2013.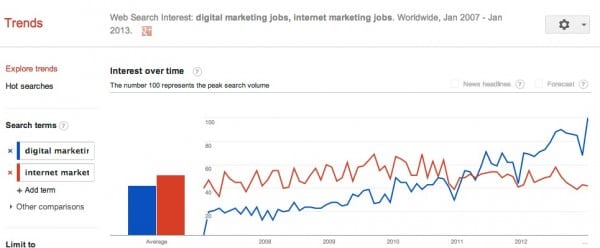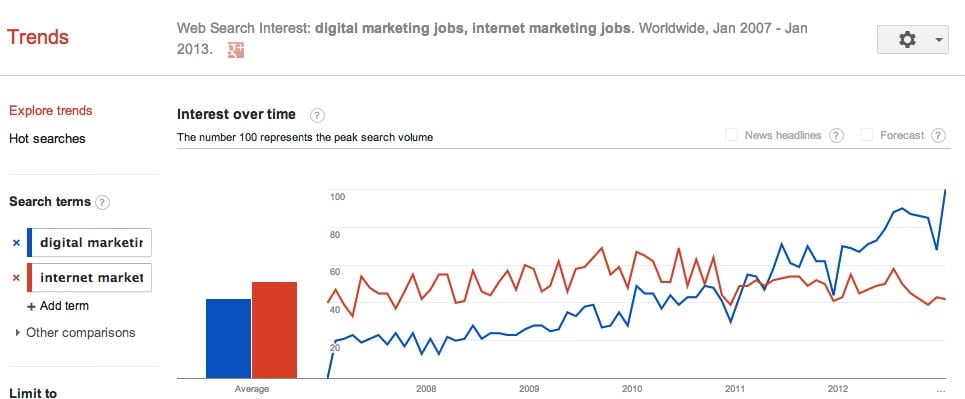 What is the talent gap between digital marketing jobs and resources
Earlier in 2013 we created the second infographic in this post showing the most in-demand online marketing jobs based on LinkedIn skills and the popularity of online marketing jobs in the UK. We have now added this related infographic which shows the Talent gap between jobs required by businesses against in-house roles in the US. It's produced by Online Marketing Institute who have this report on developing digital marketing skills.


What are the main types of Jobs in Digital Marketing?
We have researched the types of jobs which are most in demand and in this infographic we showcase the top jobs in digital by volume and growth. We also give ideas on what companies should be looking for when recruiting into digital jobs and what qualities candidates need to show to get the job. We hope it helps our readers, whether you're looking to develop your career in digital marketing, or recruit the right people for your digital marketing team.


Job and role descriptions for digital marketing
To help marketers find the right job in digital and to help companies recruit the right person, we have created a new series of Digital marketing job description templates.
There are 10 detailed templates of digital job role descriptions , for each showing alternative job descriptions, main areas of responsibilities, typical tasks, technical and management skills needed and typical salary ranges. The jobs covered include both company and agency job of different seniority:
Analytics Manager
CRM and Email marketing Manager
Digital Agency Account Manager and Sales Director
Copywriter
Digital Marketing Manager and Web Manager
Ecommerce Manager
PPC Search Manager
Search Manager / SEO Manager
Social Media Manager or Community Manager
Web Developer and Web Designer
How to best structure a digital team to work as an integrated part of marketing is a key challenge too. To help here, we have created a companion guide to structuring a digital team. This shows options for different jobs and team structures in companies of different sizes.