A matrix to help you review the tools, services and software that you use to manage digital marketing
As digital marketers we're certainly not short of tools to review and improve our marketing. There are many free tools available and certainly some that are worth paying for too.
A recent Redeye/Econsultancy report on Conversion Rate Optimisation contained useful charts for considering the use of marketing technology to impact on bottom line and resource intensiveness. I compiled some of these charts into a matrix to help show where the opportunities lie for marketers who are assessing technology expenditure: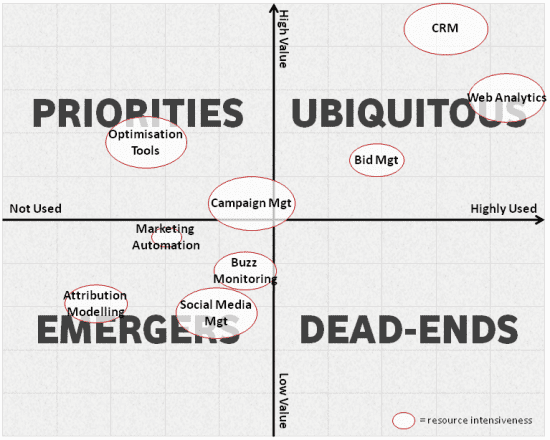 As a digital strategist you can use this matrix to assess your current use of digital tools and plan new tools into your budget for future year(s).
From the report we can draw that conversion optimisation technology is underutilised by organisations yet has the biggest chance of improving the bottom line. This lack of utilisation may be down to the specialist knowledge that's required to implement A/B testing and multi-variate testing.
Multi-variate and A/B testing require ongoing optimisation and improvement to use them at the most basic level. Even with automation tools, a marketer needs to continually update the collateral and fine tune the testing to get the most from it.
Optimisation tools' ability to unlock new revenue is why I believe they should be involved in any B2B/B2C web project.
I hope you find the matrix useful. I'd be interested in any comments or observations on how you see the use of tools for digital marketing.