A tool for reviewing the options for online customer acquision and monitoring for social media and other sites
You will have noticed that there's a fair amount of choice online for reaching and interacting with your audience, in fact it's overwhelming! You can't be everywhere, so it's important to prioritise which types of sites and partnerships you invest time and money in to try to gain visibility through outreach, partnering and advertising.
2015 update - introducing the Marketing Bullseye
Since we introduced the Radar in 2010 we have evolved it into the infographic shown below. In this update, we introduce the Marketing Bullseye Framework - a great new tool to review customer acquisition from Traction which has a similar purpose - see the end of the post for a description.
To help you review and prioritise, we developed the "Digital Marketing Radar" which gives a prompt on the different types of sites and apps you should think about to gain visibility. In larger companies it's best to have a strategy for reach, so you should get clarity on your priorities through an online marketplace analysis or brand touchpoint map showing your priorities across paid, owned and earned media.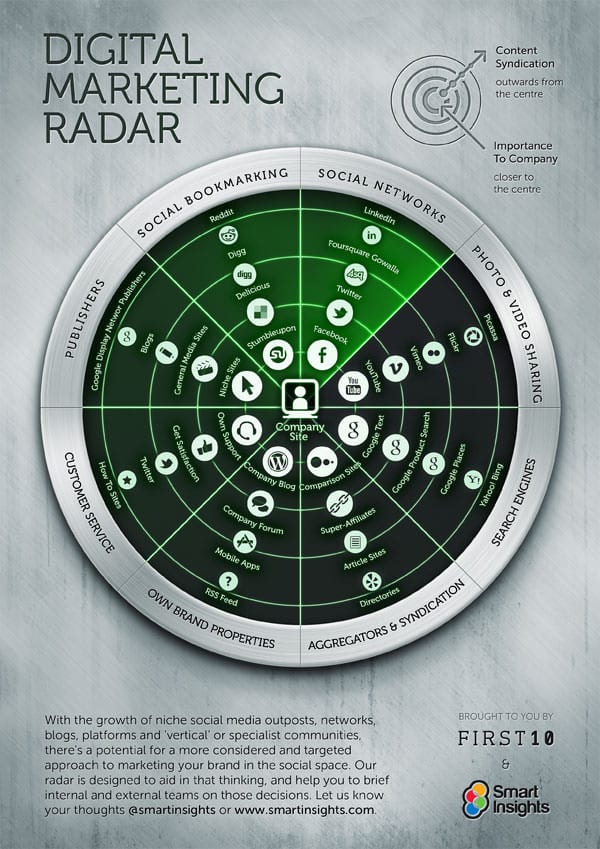 Here's the original sketch I created in 2010. More recently, we have developed this into a Social Media Marketing Radar infographic - see this post for more details on each platform and to download our free set of infographics.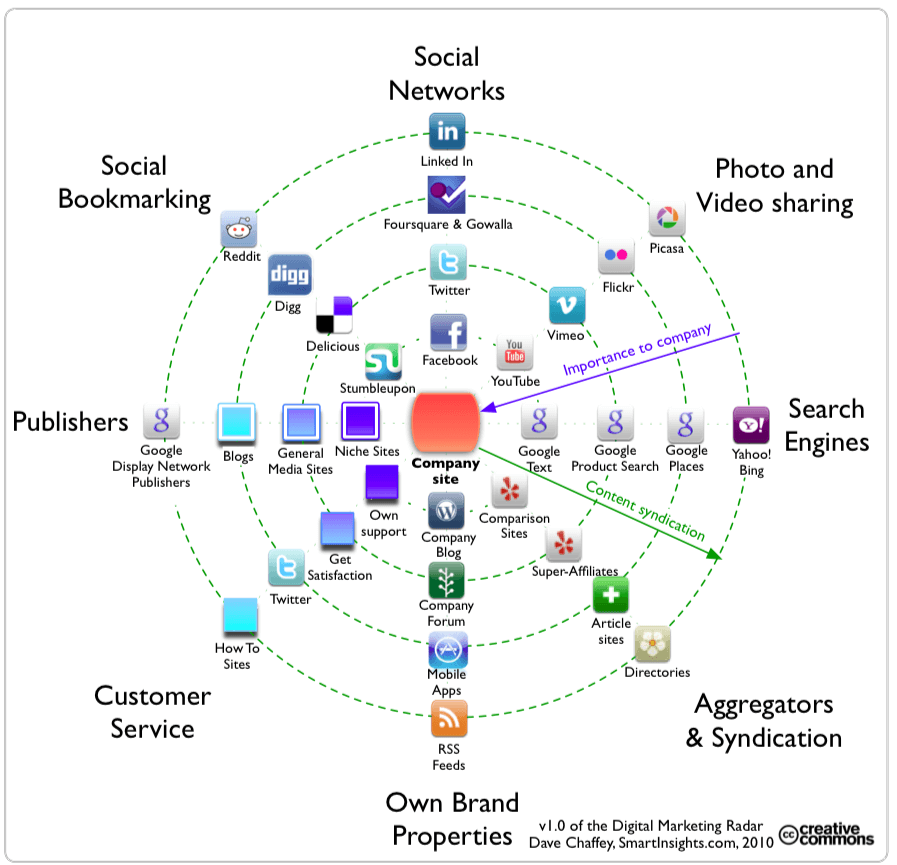 This is the first version and we intend to refine and update the Radars, while keeping them simple, so tell us your suggestions!
Why we developed the Radar
I've always thought that the Conversation Prism developed by Brian Solis a several ago now was a great way of thinking through your options for making use of and monitoring social media.
How to use the Digital Marketing Radar
Our radar follows a similar idea to to help think through the options available, but with a couple of  differences which make it more applicable to overall digital marketing strategy:
1. It's simpler! Trouble is The Conversation Prism has grown over time so that now I can't really use it effectively in workshops - there are too many options and the more important ones aren't distinguished from the less important. So I thought I'd create a tool for visualising the option which was a little simpler.
2. It's scope is broader. It's not limited to social media sites since most sites now have some form of peer-to-peer interaction facility. Instead it shows all the main places where a company should review its representation used to increase awareness of it's brand through display advertising, search marketing as well as online PR and social media.
3. It's intended to help prioritisation. It can be used to discuss with colleagues or agencies which sites warrant or deserve most attention in the different categories. Sites which are agreed to be more important which warrant more resource should be positioned more towards the centre and this summarised in your online marketing plan.
Using the Marketing Bullseye to identify priorities for investment in online acquisition
The Bullseye is featured by Gabriel Weinberg and Justin Maiers who released a new book: Traction, a nice hook to show the challenges of gaining visibility online to drive customer acquisition. Justin is founder of search engine Duck Duck Go and as an entrepreneur involved with this and other startups as a VC, it takes the perspective of startups who are looking to gain visibility. This post explains a process for gaining traction using the Bullesye Visual from the books support site.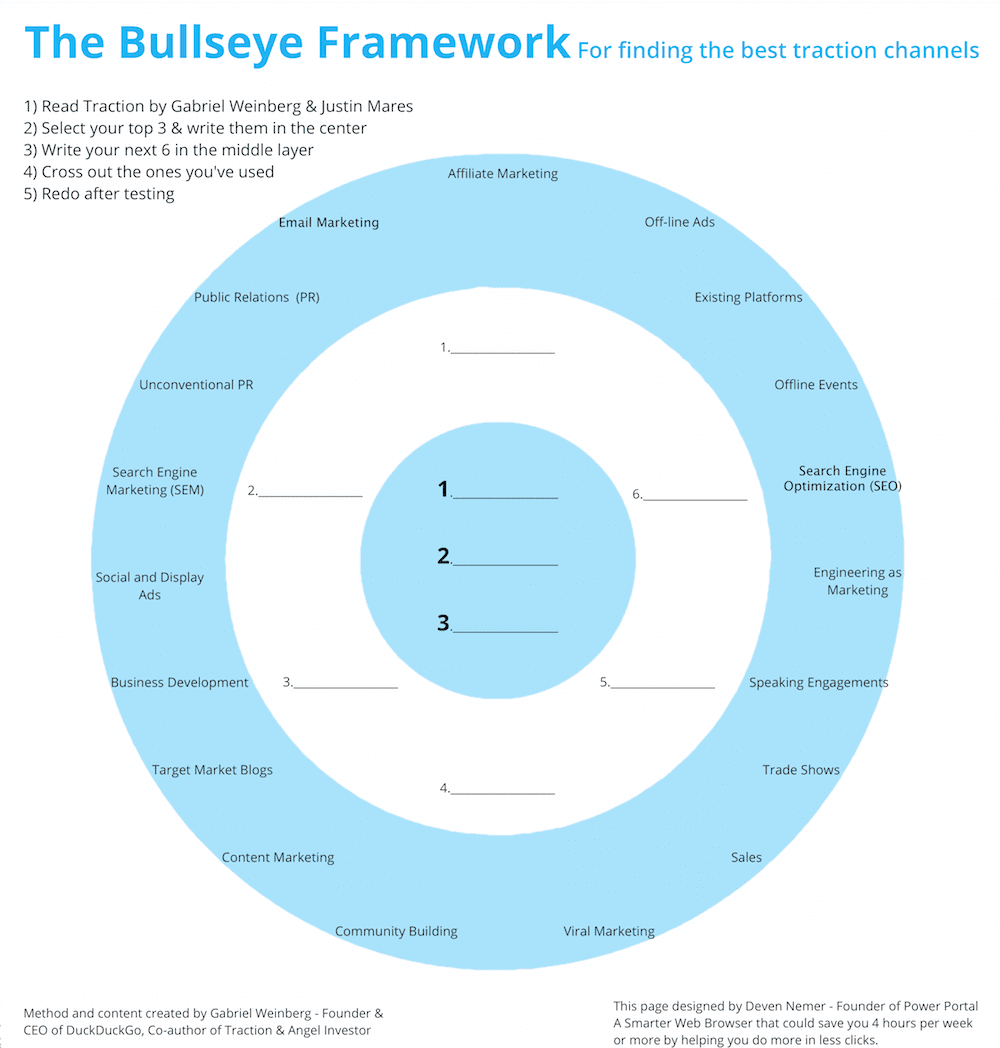 The process is simple, follow the 5 Steps in the top left.  Enjoy!
For a more detailed assessment of media channels is a next stage I recommend our Content Distribution Matrix which can be applied more generally for reviewing digital acquisition channels.