A tutorial on reviewing consumer search behaviour in the 2nd Largest Search Engine in the World
As you'll know, YouTube is the second largest search engine behind Google in many countries. It's the number one ranked entertainment site and 3rd most visited in the UK by Hitwise. Given this and since popular videos are displayed in the "one-box" of blended search results for some queries it's worth investigating how YouTube can be used to reach a wider audience.
In this post I'll give a short tutorial on how to find out it's relevance in your market by finding out the number of searches. I'm not suggesting it will give instant results or as Forrester misguidely advised that it's the Easiest Way to a First-page ranking on Google. It may even help you "push back" against colleagues who are asking why you're not doing more work in YouTube.
It's an enormous site with a lot of competition given the rate at which new videos are uploaded: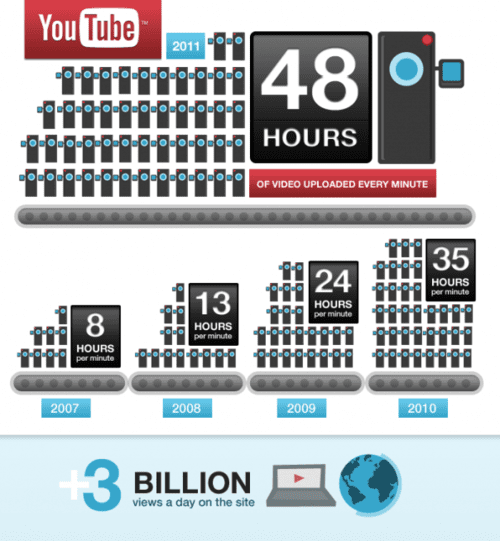 How to assess the opportunity of YouTube - a short tutorial
Getting cut-through on YouTube is like any content on the web, you need to have defined your audience and created something of value which will be shared. There are also the tactics of uploading and setting appropriate titles, descriptions and tags. We recommend ReelSEO YouTube tips  for finding out more about these.
Defining standard consumer search behaviours
Let's take the example of a phone manufacturer. I like to start with keyword research using the Google Keyword Tool and the other Google tools as explained in this article on the Google Toolkit by James Gurd.
From this, you will identify the main consumer behaviours grouped in your keyword list. So for a mobile phone manufacturer, common search behaviours will be:
<Brand>, e.g. Nokia
<Brand> + <category>, e.g. Nokia smartphone
<Brand> + <model>, e.g. Nokia Lumia 800
<Generic>, e.g. Smartphone or Cameraphone
<Brand or Generic> + Long tail qualifiers, e.g. Nokia Lumia 800 reviews, specification, colour, etc
I'd identify around 10-20 common search behaviours for a single popular category and product.
With this initial research complete, we can then turn to the YouTube Keyword Suggestion Tool and test for different searches.
Just like the Google keyword tool, this dedicated keyword research tool is a handy tool for all those in video marketing.
The keyword tool for YouTube is not as powerful or feature rich as the traditional Google Keyword tool, but it is helpful enough to show us the relative importance of search behaviour.
Utilising the keywords in titles etc as mentioned above is but just use, obviously if you decided to run related video adverts like Promoted videos as well then the keyword research will come in handy when selecting keywords to target them.
The image below gives an example of the tool in action exploring nokia related keyterms. As you can see, for a brand like Nokia, we find that more searches occur on a model level .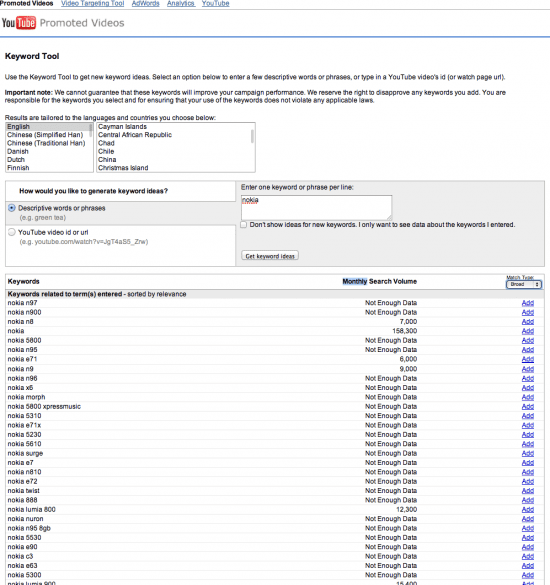 Digging a bit deeper, we can limit results to our target keywords from our existing research. It's also useful to set the results to phrase or exact match and then you can see the number of searches specifically for that phrase: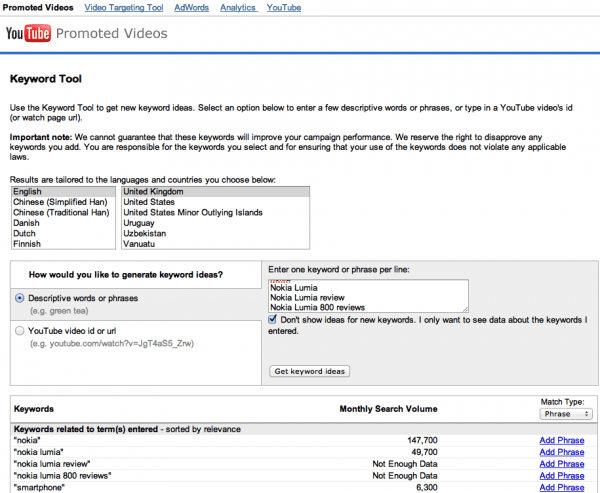 You can see that the search volume for the generic keyword "smartphone" is much lower than might be expected. Surprisingly there is a relatively low search volume for reviews. This may be a little misleading since such videos are still popular if they feature in the main Google search results or through PR - information on this will not be available here. Taking the example of Lumia reviews, you can see there are hundreds of thousands of views for these types of videos, so the keyword search volume "not enough data" is misleading about the demand for people to interact with these videos.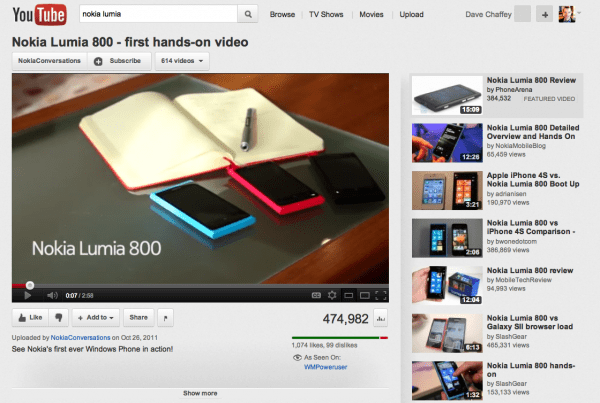 I hope you find this useful, it's a tool we haven't seen discussed as much as the standard Google Keyword Tool. Let us know how you find it if you've used it before or as you start using it.