Implement a CRM system and your prayers will be answered? Greater efficiency, improved customer service and conversion rates …..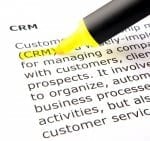 The arguments for implementing a CRM system are well known: improve the number and quality of leads; improve quality of service and increase customer retention.  But that's the theory of course...
A system is only as good as the people who own and support it; or it can lead to poor quality leads, unsatisfactory customer experience, damaged reputation to the company, inconsistent processes and a lack of a shared working strategy to deliver the business case.
In this post I'll share my experience in selecting and managing a CRM system for a public sector organisation to show some of the problems that can develop and what to watch out for.
Here are my tips learnt in the first year of implementing a system within a University, so you can acquire the benefits early on and maybe avoid some of the sleepless nights!
Tip 1:  Involve key stakeholders in defining the specifications and scope of the system. If users are involved early on, they will own and engage with the system.
Tip 2:  Manage stakeholders' expectations. Don't give in to all individual needs as it may not fit the business case and the scope of the system will expand, making it unmanageable with the resources available.It is vital to manage key stakeholders expectations and engage with those who could influence the project's implementation and roll-out.
Tip 3: Acquire an Executive Sponsor to support the project during its lifecycle. Top down engagement is key as well as across departments.  A sponsor can help with engagement issues, defining the scope and where required; reallocating resources of staff, budget and defining organisational processes.
Tip 4: Treat your suppliers as a partner to the business. Your CRM supplier must understand your business needs and your customers. This will help with the delivery of training, upgrades of new features and 'free consultancy' to leverage all opportunities through the system.
Tip 5:  Stakeholder and User Feedback. Involve everyone in the team throughout; selection of the supplier, implementation and ongoing user feedback  - it will guarantee ownership and engage users.  Caution! as users become more satisfied then their requirements increase!
Tip 6:  Set up internal PR and engagement road shows. This will demonstrate both the business and individual departmental benefits. Engaged staff will be more supportive, motivated and ensure systems are used to a high quality standard. It encourages open communication to improve the system and redefine processes for consistency throughout the organisation.
Tip 7: Tailored Training Programmes will involve the current system users or those with a vested interest in delivery - they are the true 'Advocates'.  The system will be seen as a universal corporate tool and not just one department selling it.Schedule and plan sessions which are tailored to departmental needs so they can realise the benefits early on and view the system as a tool to support their roles rather than an additional bureaucratic system.
Tip 8:  Management reports and KPIs: Figures or pictures speak a thousand words!  The KPIS and reports will demonstrate the success of the system.  In turn, this improves stakeholder engagement and more users will come aboard as they see ROI: so be prepared.
Tip 9: Monitor Customer satisfaction.In the same way that staff are involved in providing feedback to the system, a feedback mechanism is vital for the external users of the system – your customers. Ongoing surveys and feedback links to rate email correspondence can support this, in addition to Google Analytics. GA will identify if the online user journey is becoming cumbersome through the 'bounce and exit rates'.

System performance reports will also ensure a good online customer experience and highlight issues early with your technical team. Do not assume that high satisfaction equates to quiet customers.  Silence is not golden!
Tip 10: Integrate with internal systems where possible to share data and branding for a seamless shopping experience and improved customer insight. The end user (customers or prospects) must experience a seamless journey as they are dealing with one company and not 10 departments. Don't implement it as a standalone system like an island in the business. You should map out the customer journey across all channels prior to implementation and plan this thoroughly.A recent article in Marketing Week expands on the important of the seamless shopping experience to enhance the customer journey and the importance of customer insight.
These 10 tips are not an exhaustive list; it is a subject very 'close to my heart', as I have managed a CRM system for over four years.  
If you're interested in reading more about this topic, then read Smartinsight's Quick Guide on Customer Relationship Management
In my next post I'll give more practical details on how the CRM system was implemented to make it help with marketing conversion campaigns and customer service.