If you noticed significant changes to your organic traffic from Google through May this could be the result of a major algorithmic change in Google. It's reputed to impact longer tail queries, i.e. less popular searches typically of 3+ keywords in the search keyphrase often related to specific product queries in commercial sites. But the analysis of my site later in this post suggests it affects shorter terms too.
As always, Search Engine Land has a good backgrounder on the update and this is a useful agency perspective on implications for different site types.
I also recommend viewing this update from Google – they produce many videos for Webmaster Tools these days, but this is a must-watch for anyone involved in managing site traffic:
In the video, Google head of search quality, Matt Cutts notes that the Mayday update:
it impacts longer tail queries most
is a major algorithm change used to adjust ranking and doesn't involve manual assessment of individual sites
is independent of the "€œCaffeine"€ update (the recent crawling/indexing update that also affects delivery of results)
was fully tested before rollout and will not be reverted
Implications of Mayday update for marketers
Well, the obvious first thing to do is to check out the impact in your analytics. I recommend doing a week-by-week plot comparing April and May for a natural (non-paid) search segment.
For my DaveChaffey.com (a well established authoritative site) this suggests I have lost at least a quarter of my traffic due to the update and the difference gets progressively greater week-on-week as the update rolls out to effect more pages on my site.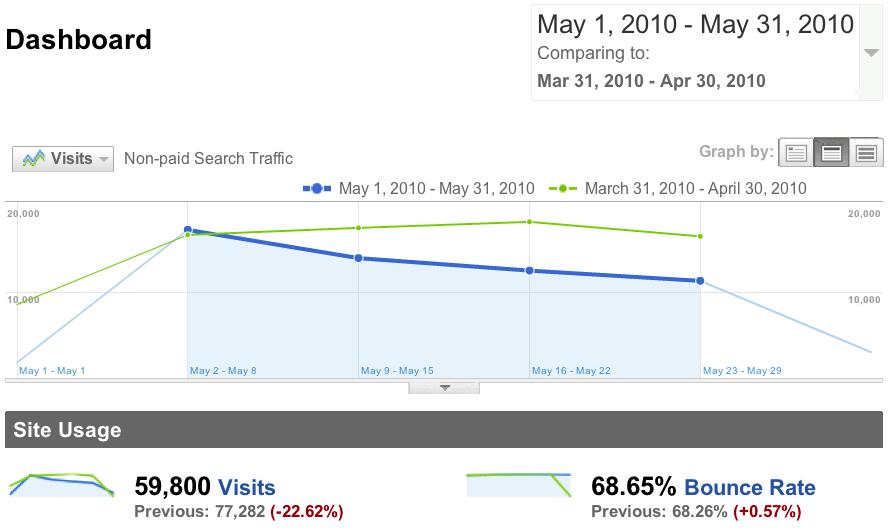 If you're comfortable with setting up advanced segments you should also review the number of keywords using this excellent tutorial on analysing long and short keywords. I have used this to setup Advanced segments, which for me shows the decline is not limited to long-tail keywords but seems to affect both.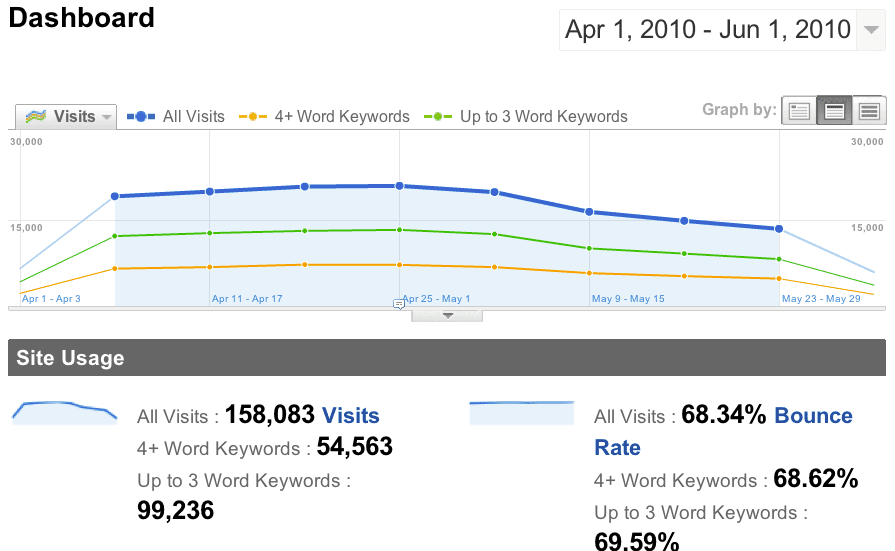 Once you have established a change in traffic. What to do next? Well it's time for expectation setting with colleagues. You'll be the bearer of bad news as I maybe here. So, you need a plan of action.  I suggest:
1. Isolate the terms (long and short) which are underperforming the most and those that remain effective.
2. Identify characteristics of the poor performers compared to your own site and competitors that are performing well and address those using tried and trusted SEO techniques i.e.
3. Create more unique content for deep pages to differentiate from competitor sites.
4. Review internal linking to deep pages.
5. Find methods for obtaining deep links, bookmarks or social rating of pages.
Webmasterworld has a much more detailed discussion on fixes.
Unfortunately not quick fixes. I wish you luck in explaining this to your colleagues. Maybe it's time to Ungoogle your online marketing?