Social SEO: Why the right type of interactions matter
It's now well known that driving greater engagement through more social interaction leads to increased Social SEO signals. This in turn helps you to gain higher search engine rankings. In this post I'll explain the techniques I use for increased interaction.
Imagine this: You have a friend you see every day, and every time you talk to him, all he wants to talk about is his latest project. He doesn't listen to anything you have to say, and if you try to interact with him, you either get silence, or another comment relating back to his project. That's a pretty one-sided and superficial friendship.
The way that many brands interact with their fans on social sites isn't much different. They do a lot of self-promotion and not a whole lot of engagement. They might have the best content in the world, but if all they do is talk about themselves, they're going to lose a lot of people fairly quickly.
This is why, in the social SEO world, engagement matters. It grows relationships, builds trust, and gives your company a face and a voice.
Fans can't engage if they can't find you
Your brand's website is your main piece of online real estate, but your social network profiles are your back yard, your swimming pool, and your clubhouse. They're your supplementary spaces where people come to hang out with you and get to know your company better. People can't get there, though, if they don't know they exist or how to find them.
Give your fans an invitation. Start by hanging your social media banner at the top of your website, using each profile's standard icon so that it's readily accessible. For example, on thefrugalfreegal.com, the social media icons are placed within the right side of the site header, so they are immediately visible to the reader. The site uses the standard social media icons, so the user knows what to expect after clicking.

But don't stop there. Explore the different options for integrating social media widgets into your website; link to coupons, contests or promotions offered on your Facebook page; and lead your blog readers to your social accounts to join a conversation. This is the first step to getting your website visitors over to your social profiles.
Engagement helps you keep Fans
Your fans are your fans on social sites because they want content from you that matters, that they can relate to, and that they can share with others. They want to be a part of the brand experience. They want updates about sales and new products, but they also want to feel valued.
Between posting content relevant to your brand, post other things that might be relevant to your fans. Are you a shampoo brand? Ask your fans during the Summer what they do to get the pool water out of their hair. This kind of engagement gets your fans to talk, but it can also encourage them to share with their friends.
Social media-based events can also be a great way to engage your fans. Many organisations host Twitter chats and Facebook events, such as the quick scrap events and digital scrapbooking kit giveaways run by MyMemories, makers of digital scrapbooking software. MyMemories regularly gets more than 50 comments on a giveaway post, as you can see below.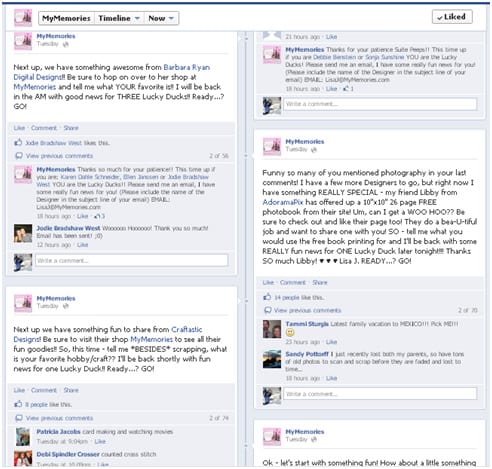 People love to talk, and conversing with your fans about neutral topics, such as sports, weather, current events (politics excluded, unless that's your brand equity), work, and entertainment can help you get to know them on a different level. So, be sure to branch out from your standard product or company promotions on your social networks and start to have real conversations about everyday types of topics.
Getting your fans engaged will make them look forward to visiting your social profiles as well as sharing posts with their friends, enabling you to extend your social reach.
Engagement helps your brand avoid Faux Pas
Not being engaged with your fans and current events can result in a serious social faux pas. In the hours following the 2012 Aurora, CO massacre, a fashion boutique noticed that #aurora was a trending hashtag on Twitter and posted a tweet using this hashtag to promote their "Aurora" dress.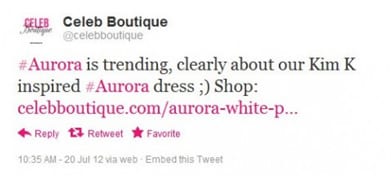 After realising why #aurora was trending, they quickly removed the post and followed up with an apology, but being engaged could have helped them avoid this faux pas in the first place.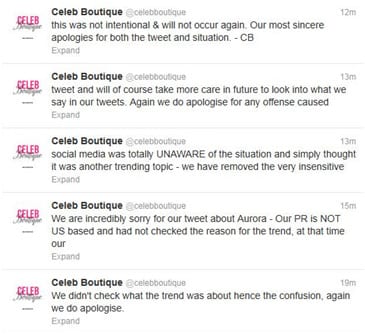 The takeaway? Find out why hashtags are trending first before you use them. If you want to engage with your fans, make sure you're engaging over the right thing. Actively engage with your audience by always first understanding what your fans are talking about. The first step to engagement is often listening.
The Holy Grail: Increased rankings
One of the biggest benefits of engaging fans is that you increase your share of the SERP (search engine results page). Recently, a CPG company in the pet care category went from owning one result for their brand name on the first page of the SERP to owning the top four spots just by increasing their engagement on Facebook, Twitter, and YouTube. It didn't happen overnight, but when it did, it was great. How did they do it?
created a new campaign around a product designed entirely to promote social sharing.
added on-site content to promote that product, relating back to Facebook and Twitter.
posted engaging content on Facebook and Twitter, promoting the product but also talking to their fans about it.
posted a product commercial with a strong emotional appeal to YouTube, and shared it across social platforms. People then shared it across their own platforms. This individual video eventually made its way onto the first page of the SERP.
That is the power of the social signal.
Ways to drive engagement
In my agency's ebook, Social SEO Strategies: Mastering the Art of Social SEO, the details of engagement via social media are covered in-depth, but here are some of the basic tips:
Be controversial: Provoke conversation by providing an unpopular point of view.
Be selfless and provide value: Share resources your fans might find interesting or meaningful, even if it doesn't come directly from your company.
Be conversational: Occasionally, it is okay to talk about off topic things. Is it a particularly gorgeous day in your town? Ask your fans if they're enjoying the day. Commiserate with them if they're not.
Be yourself: Let your Social Media Manager have a personality. It builds trust and authority.
Be entertaining: People love funny or touching stories, videos, and images.
Be timely: Keep on top of current events. If something happens that might impact your fans, use it as an opportunity to connect with them.
Be encouraging:  Are your fans praising your product? Thank them! Are your fans having trouble with your product? Reach out to them to offer help.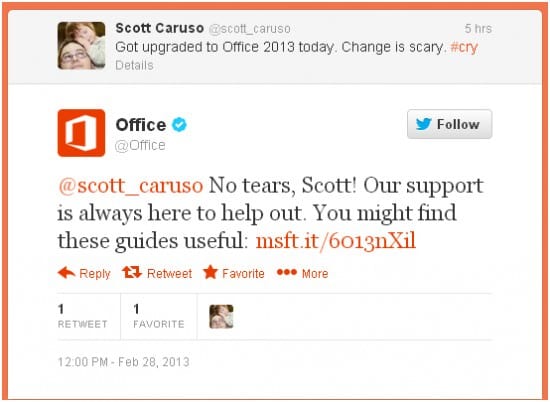 Most importantly, be human. Give your social profile a human face.
Pandora does a great job of this, combining a human face with the brand logo for their Twitter avatar. Don't just be a robot for your product, be the voice, the life, and the personality of your business so that your fans can truly befriend your company.
In fact, as Google+ and Agent Rank become more and more important in terms of SERP ranking and influence, having a human face associated with your business will become important to organic search.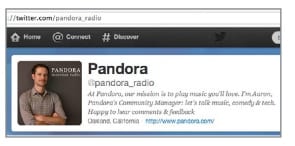 Take It Offline
Here's a pro tip. Driving engagement does not need to be limited to your Facebook, Twitter or other online social media accounts. You can actually find various ways to connect with people offline that result in increased social sharing, which in turn helps your online content to rank higher in the SERP.
Try organizing a meetup group in your town or in the town where you're looking to increase engagement with your fans. A good resource for setting up a meetup group is Meetup.com.
Plan ahead to inject incentives for attendees to engage online, such as awarding free books, gift cards or other awards for Tweeting answers to quiz questions. Try an online scavenger hunt. Or, get attendees discussing a hot topic on your blog ahead of time, with the intention of deepening the dialog during the meetup itself. The possibilities are endless.
The more they are enjoying engagement with your brand, the more they will be likely to continue to do so. The result will be more consistent social signals.
You can take the meetup idea even further for greater impact on your SEO results. Engagement need not be limited to your fans. Invite bloggers in your industry to your meetups, and try to get to really know them as people. If they get to know your brand better and they like what they see, they will naturally start to share and link to your content.
Summary
Engagement helps your marketing on many levels. It helps you to get to know your audience better, builds trust and loyalty with your fans, and increases your social signals in support of higher SERP rankings. There's no time to waste. Get engaged!