Google has begun penalizing the rankings of mobile sites with "intrusive interstitials" (Pop-up ads or email capture lightboxes)
Continuing their ongoing push for the "perfect" mobile experience Google announced via the Official Webmasters Blog "two upcoming changes to mobile search results that make finding content easier for users". Although their headline doesn't mention pop-ups and the article labels them 'interstitials', that's the change we wanted to alert you to since most marketers and web users know them as pop-ups.
The first change is basically general house-keeping for Google. They're looking to remove the labels they first introduced two years ago as part of the Mobile-friendly update AKA Mobilegeddon, to show which sites were mobile friendly (as shown below). It's likely that you have acted to ensure your site is mobile friendly, but if not, sites that aren't mobile-friendly were penalized on smartphone rankings from April 2015 with the signal increased from May 2016 according to Google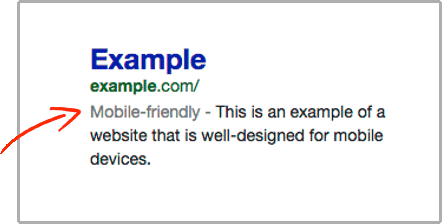 This labeling change has been made since Google reports that in excess of 85% of sites appearing in the mobile SERPs are now mobile-friendly. Meaning they now deem the label unnecessary and by removing the label they will be keeping the result page "uncluttered".
Onto the slightly juicier topic that we wanted to alert marketers and site owners to - particularly in categories such as retail, travel and publishing where pop-ups are most widely used...
Google is now penalizing mobile sites with intrusive interstitials
As of January 10th 2017, Google will be cracking down on "intrusive interstitials", which they have described as anything that obscures the main content, either prior to, during the user accessing it. They have given three examples of this, which make content less accessible to a user:
Showing a popup that covers the main content, either immediately after the user navigates to a page from the search results, or while they are looking through the page.

Displaying a standalone interstitial that the user has to dismiss before accessing the main content.
Using a layout where the above-the-fold portion of the page appears similar to a standalone interstitial, but the original content has been inlined underneath the fold.
Google provides these examples: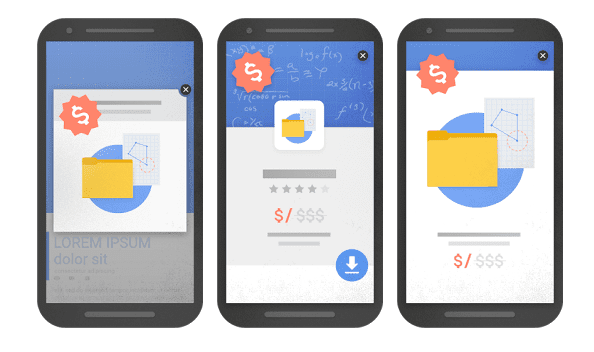 The rationale behind the update refers back to Google's constant push to improve mobile experience. They suggest these intrusive interstitials provide a poorer experience to users compared to pages, where the content appears immediately and uninterrupted. The move appears to have been received well as I flick down my twitter feed, which highlights it is an opinion held by many.
Interestingly, Google has highlighted that it's not all pop-ups and interstitials that will be penalized. They provided a couple of examples, which "would not be affected by the new signal, if used responsibly".
Interstitials that appear to be in response to a legal obligation, such as for cookie usage or for age verification.
Login dialogs on sites where content is not publicly indexable. For example, this would include private content such as email or unindexable content that is behind a paywall.
Banners that use a reasonable amount of screen space and are easily dismissible. For example, the app install banners provided by Safari and Chrome are examples of banners that use a reasonable amount of screen space.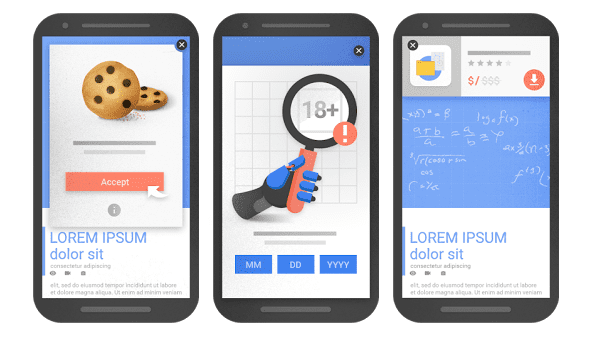 What do you think of the new update? Is it right that Google is acting as the 'net design nanny'? We can see the merits on mobile devices in particular, but you could argue that it should be the decision of site owners to decide in line with how popular their visitors find them. The practice is common in retail as described in this piece by Kath Pay on growing email subscriber lists with pop-ups and customers can benefit through substantial savings on first purchase. With over 50% of visits from smartphone for many retailers, this change will have a significant commercial impact since retailers will be forced to comply.  You've had plenty of time to comply - Google originally announced the change back in August 2016 - but the changes are now in effect, so if you haven't already planned for them you need to act now.