Daniel Buchuk on the launch of SimilarWeb
As part of our occasional feature giving readers the low down on new tools for digital marketers to collect insight, in this post we ask Daniel Buchuk from SimilarWeb to introduce their service. SimilarWeb enables companies to benchmark performance against competitors. If you're interested in this process and other tools available, check out our post detailing competitor benchmarking services. 

During the interview, Daniel talks about the story behind SimilarWeb, why their tools are different to those in the marketplace such as Alexa or Compete and the availability of  free features.
1. What inspired you to create SimilarWeb, when there are already other competitor benchmarking tools?
There's an increasing demand for online competitive intelligence and existing high-end tools in the market are often too complex and unaffordable for the mid market. There are simply no solutions when it comes to traffic insights for countries outside the US. We created a platform that is not only beautiful and easy to use but that also lets international users drill down into the insights they need.
2. What are the core features that differentiate your service from the competition?
The two things that set us apart are depth of data and usability.
We provide the most extensive list of inbound and outbound referrals, organic and PPC keywords, display insights and a full breakdown of traffic by country. This data you simply can't get anywhere else. In addition, SimilarWeb PRO shows insights about user behavior on competing sites, which helps marketers understand their best content, conversion rates, popular pages, folders and subdomains.
For example, if you work in the Fashion sector you can benchmark against referral data from different traffic sources.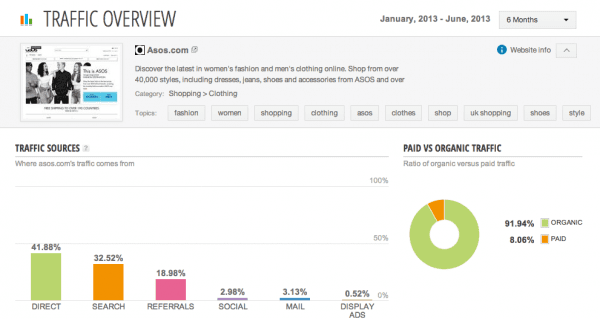 In terms of usability, as Mark Zuckerberg said, the trick isn't adding new stuff but taking it away. The world is becoming increasingly data-driven, the amount of data that we process has increased dramatically over the past ten years.
Back then online marketing was doing some email campaigns, buying banners and some link building today it's SEO, PPC, RTB, Retargeting, Inbound Marketing, Social (Facebook, Twitter, LinkedIn ,etc) and how they influence each other. Our Product team has done an incredible job of working with marketers to understand what they look for and present our insights in a meaningful way.
3. What different applications or marketing activities do your customers use the tool for?
Most users fall into two categories: those that use it as a strategic research tool to monitor and benchmark competitor activity and those that take a pure ROI approach and use it as an online marketing resource to optimise their SEO, PPC and Display campaigns. In both cases, SimilarWeb PRO unveils competitive insights that help them make informed decisions about how and where to put their online marketing efforts.
4. Your data is sourced via a Panel, how representative is it of audiences in different countries, how technically do people opt-in?
We have the biggest panel in the World for web measurement which is highly representative in Europe, North America, South America, and APAC. Our panel data is then complemented with data from own crawler. The clickstream data we collect is from users who have downloaded our free browser plugins and apps, where they opt-in to anonymously help us measure the web.
5. What's available in the free vs paid version?
The free version of SimilarWeb gives users a quick overview of any site's reach, ranking and engagement. In terms of referral, search and display data we show the top 10 results as well as the share of traffic from the top 5 countries and social networks. This is the information you will find in the free version: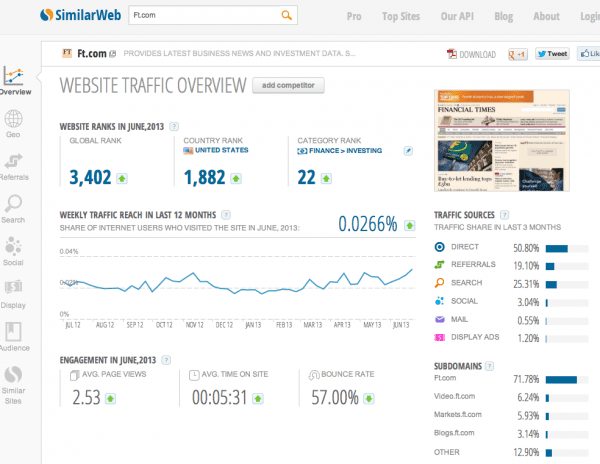 SimilarWeb PRO gives users the full picture, enabling users to dig deeper and find all the sources of traffic – with full lists of paid and organic keywords, referrals, social links, ad publishers, ad networks, traffic by country and more. Plus there are features such as Popular Pages and Paid Media competitors which are exclusive to SimilarWeb PRO.