Should you just live "in-the-moment" or should you plan ahead using different planning horizons?
At Smart Insights we believe that businesses with a more strategic planning approach to their marketing and digital marketing are more likely to succeed in the long-term, despite the fact that many businesses don't have a long-term digital or marketing plan. We're not saying that those with a more ad hoc approach aren't capable of doing great marketing that can get results, they certainly are. Rather, we're saying that we've seen that they may miss out on core "always-on" digital marketing techniques that need to be prioritised and resourced over ongoing campaign activities which become all consuming and still often get the lion's share of attention.
In our research into how businesses manage online marketing, we were interested to see how marketers plan. We saw that short-term non-strategic planning was most common among businesses who answered.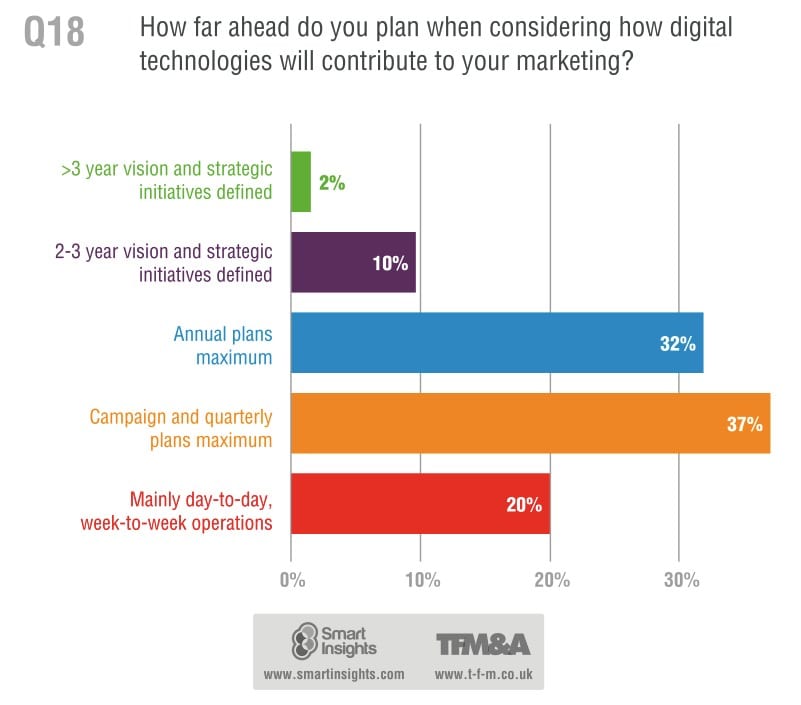 The standout figure is that over 50% don't plan beyond quarterly or campaign plans or even less.
Planning horizons for strategic marketing planning
Traditionally, strategic marketing planning in many larger businesses has been longer-term, meaning annual or longer. In an ideal world strategic digital plans should align with these. For example, this case study on the strategic planning used by multichannel retailer Dunelm shows long-term alignment for of digital marketing plans with strategic plans. Sajjad Bhojani, Head of Multi Channel Marketing and Development explained:
"The business has an ongoing three year plan, which is revised every 18 months or so. For introducing new features to the site and improving our digital marketing we have an 18 month roadmap for development of new features and are currently adopting a new agile model for faster delivery".
The benefits of longer-term planning for digital marketing
Longer-term planning enables consistent strategies and resource allocation to be followed in line with company product launches and campaigns and anticipated changes in the marketplace. In digital marketing we recommend a similar strategic approach. Although digital media change rapidly, the long-term transformation needed for effective digital marketing means that you won't be able to transform the organisation in 3, 6 or even 12 months as shown by the Dunelm 18 month roadmap example.
We think that to summarise and manage digital effectively, a cascading hierarchy of plans works best as Dan explains in his post: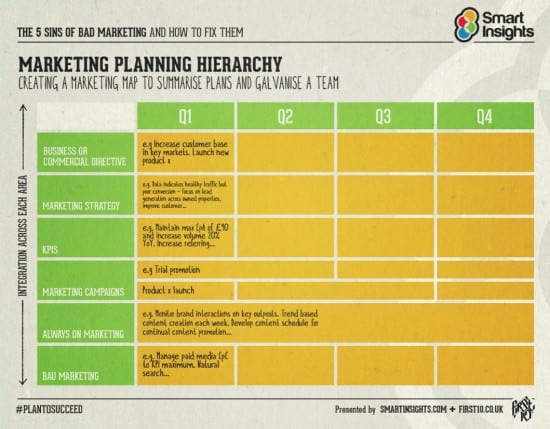 So how may you be missing out? You're likely directionless if you don't have a long-term roadmap, so we recommend using a range of plans and checklists that suit your business. You may also miss out on strategic initiatives which require separate investment from campaigns and require their own business case. These may include these types of initiatives from across the RACE planning customer lifecycle:
Reach: An increase in budget for "always-on" through SEO or Google AdWords visibility
Act: A strategic approach to content marketing developing high quality shareable content assets you plan through the year.
Convert: An investment in a Conversion Rate optimisation project addressing different parts of the user experiences
Engage: A Marketing Automation or CRM project to send more relevant event-triggered emails across different points in the customer lifecycle.
Advice on creating more strategic digital plans
Since we hope to help marketers plan better by going beyond day-to-day digital marketing issues, we have created a lot of posts and hub pages like this one on marketing planning which collect our free planning articles together, so that anyone accessing the site can use them to review different approaches to planning.
For Expert members, we also have our Strategic toolkit which bundles a range of blank and example planning templates in Excel, Word and Powerpoint in one place. You can use these for different planning horizons such as annual, 90 day, longer-term roadmaps or editorial calendars.