Applying PR Smith's SOSTAC® planning to digital marketing
SOSTAC® is a marketing planning model, originally developed by PR Smith in the 1990s to help marketers develop marketing plans. Paul is my co-author on Emarketing Excellence, so when we created this book it was natural to work together to show how SOSTAC® can best be applied to planning for digital marketing.
This new infographic, that I've developed with Paul and the designers at First 10, summarises the key issues to consider at each stage when developing digital marketing plans [click infographic to expand]: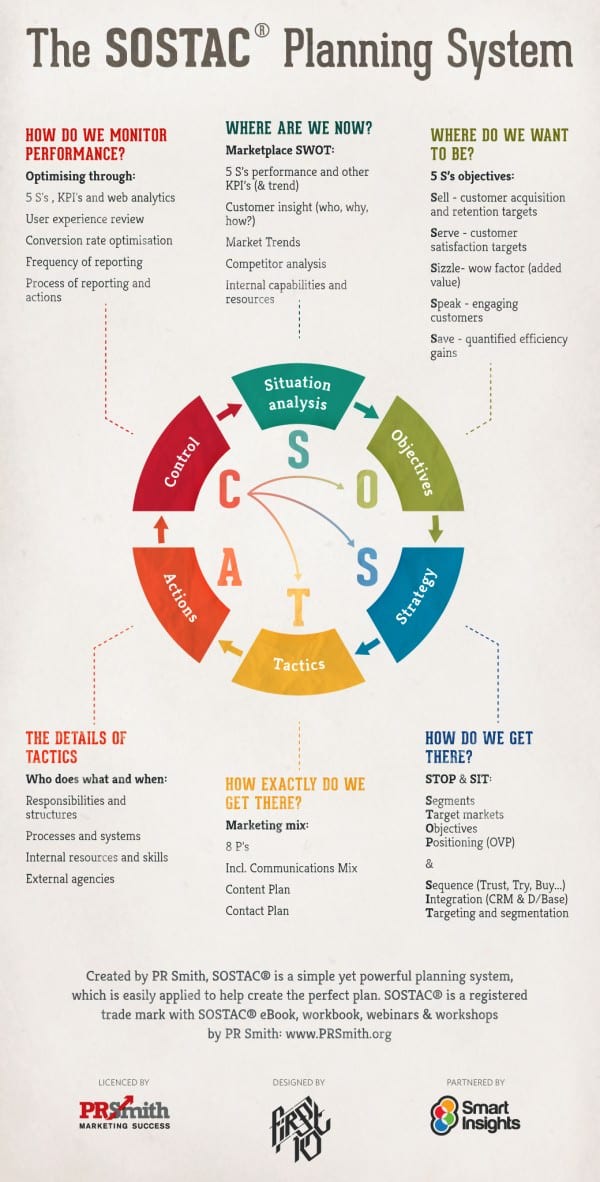 See our more detailed post where we introduce how to apply the SOSTAC® template to Digital Marketing.
You can also find out more about the SOSTAC® approach for marketing planning in this Ebook: The SOSTAC® Guide - to writing the perfect plan V1.1 by PR Smith.
The "5S's and KPI's" refer to the 5Ss and KPIs of digital marketing. That's Sell, Serve, Speak, Save and Sizzle.
We hope you find this infographic useful to creating your marketing plans!
Reference:
PR Smith (2011) The SOSTAC ®  Guide - to writing the perfect plan  by PR Smith (2011),  published by www.prsmith.org and available at Amazon.