Models to review your online engagement strategy
At first, online marketing was relatively straightforward, you had a website and you used different "traffic-building tools" like SEO, Adwords and affiliate marketing to drive visitors towards it to achieve the goals you were looking for. There were limited options to engage audiences on other sites, so it was all about traffic building. This is how I show it in my books: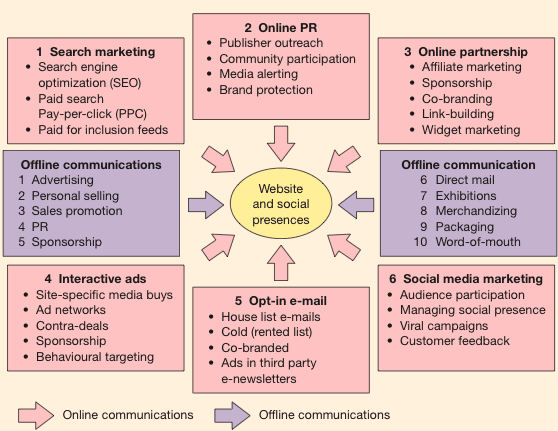 But in 2012, developing online marketing strategies is much more complex with many, many platforms to consider. It's important to prioritise on the customer touchpoints which are going to give you the maximum returns given a limited budget and time .
In this post I'll summarise some different ways to visualise the range of options available for traffic building. I've mainly written the post to introduce the option of the Interractive Brand Ecosystem from Forrester which I show at the end of the post.
Options for reaching and engaging audiences through social media
The proliferation of social networks and tools to help manage them has increased the range of options considerably. But these are just some of the options. The latest version of the Conversation Prism from Brian Solis shows this complexity:
We're big fans of using visuals to develop strategies, but while the Prism does a great job of showing the many-many options to reach new audiences through niche social media platforms it's just too much! So you have to start simplifying to develop an online marketing strategy.
Owned, Earned and Paid media options
Simplification starts with thinking through your options in terms of your web properties and potential partner sites. Increasingly companies are reviewing their investment into the right mix of mix of earned, owned and paid media.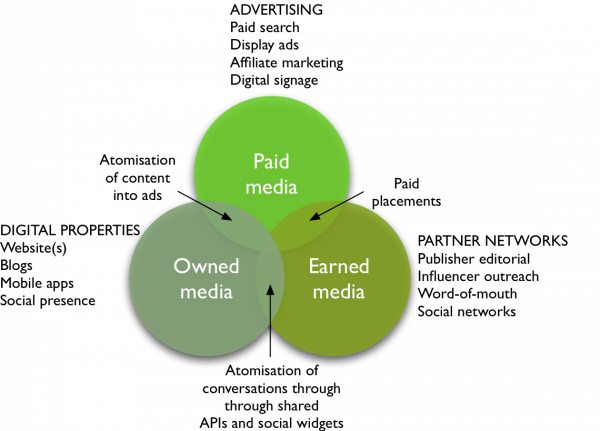 While it's perfectly possible and particularly attractive to startups and small businesses to use the combination of earned and owned media together to gain reach, opportunities to scale and reinforce amplification can be missed if you under-invest in paid media.
The Digital Marketing Radar
Expanding upon the use of owned, earned and bought media, we created our digital marketing radar to help companies discuss their options and show the need to prioritise: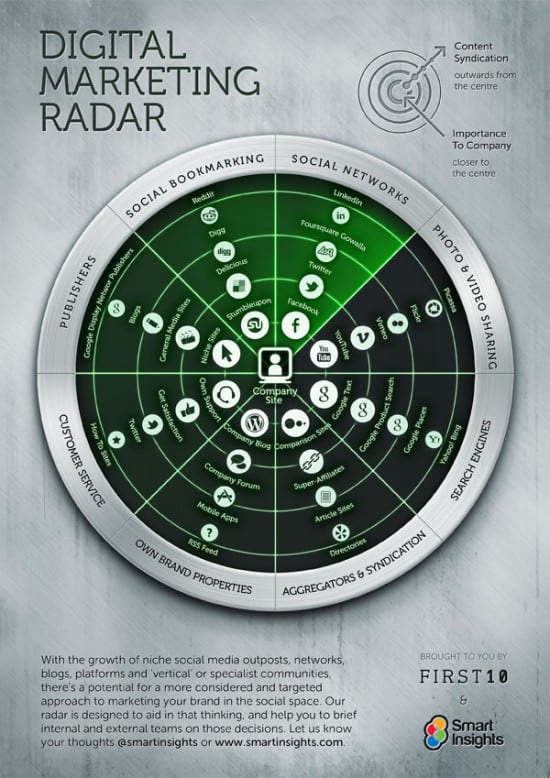 Here I'd emphasise you need to work out the best way to use the big 5 platforms of Facebook, Google+, LinkedIn, Twitter and YouTube. A "one-size" fits all approach isn't most effective, so for each major social network it's important to…
1. Understand the audience profiles of each
2. Review the options for setting up an effective profile
3. Share content and status updates that fits with audience preferences
4. Define the benefits to your contacts of engaging on each network
5. Communicate these benefits of following and interacting in each community using the website, email and different platforms
6. Tracking to find out which communications are effective and adjusting to improve effectiveness (social media optimisation or SMO)
In this framework, priorities for budget and resource to manage each presence are selected nearer to the centre of the circle. So if you're business-to-business, you will prioritise resources on LinkedIn and Twitter for example rather than Facebook. But what goes at the centre of the circle? For most companies it will still be their website, but for some it may be their Facebook presence.
Forrester's Interactive Brand Ecosystem
I was recently listening to a talk by Forrester analyst Nate Elliot, where he explained a model for developing strategies which is similar to the Smart Insights radar, but considers different layers for different objectives. He calls it the Interactive brand ecosystem which is bit jargony (I prefer online marketplace), but still I think its a more powerful approach than the others I've mentioned above to help define a strategic focus. I'll just outline the approach here and then explain it further in a separate post.
Listening to Nate, he says that it's important to understand the channels that are now most important for achieving reach to generate awareness of your brand and services. This is the outer layer in their "ecosystem". Online channels are now important in generating reach and awareness: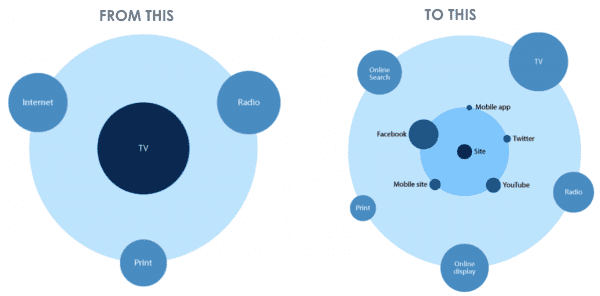 Next, find the best platforms to engage audiences on and develop content to support this. The interaction layers are often social networks, but can be third-party partner or media sites. The reach channels are used to gain awareness of the benefits of interacting, hence we see TV or print campaigns where the call-to-action is to visit a social network to encourage interaction. For more background, see this Slideshare:
Finally, he believes that for most companies the website is still at the heart of digital marketing as a transaction layer where leads or sales are generated: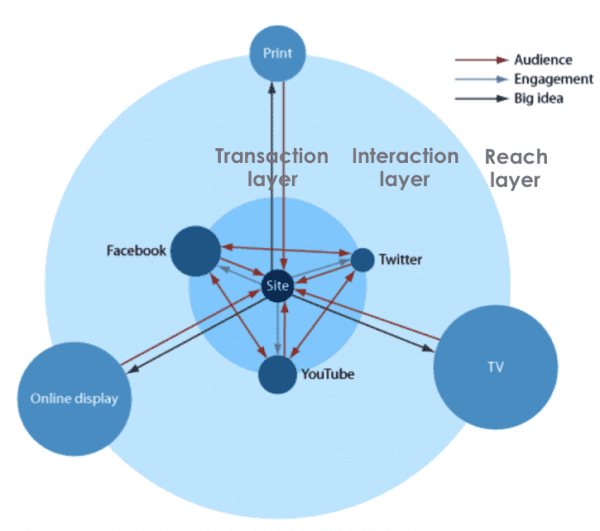 I hope you've found these visual methods of presenting different touchpoints useful as a way to discuss strategic options and priorities between a company, colleagues and agencies. Of course all models have weaknesses and simplify reality, that's their power, but also their weakness. I think the biggest weakness in these models is that they don't show customer journeys between different platforms and they don't show offline touchpoints. So in future posts, I'll look at how we can visualise these.