A benchmark compilations comparing average media mix across websites
Naturally all digital marketers want more (quality) traffic. This begs the question where do we find this traffic? What is our optimal mix of online media? One approach to answering this question is to turn to the traffic sources report in Google Analytics.
This will show you a pie chart showing the relative importance of your different traffic sources. If you find one source of traffic like direct traffic or search traffic dominates, then there may be an opportunity to work to build other traffic sources like using out reach to other sites to build referral traffic. There's a risk if "too many of your eggs are in one basket", particularly as Google changes it's algorithms…
How does my traffic mix compare?
Even once you've reviewed your traffic mix, there's always the question of how does my mix of traffic sources compare. Well, thanks to the recently published Google Analytics Benchmarking Newsletter you can now get an idea of how your mix compares based on the global average below: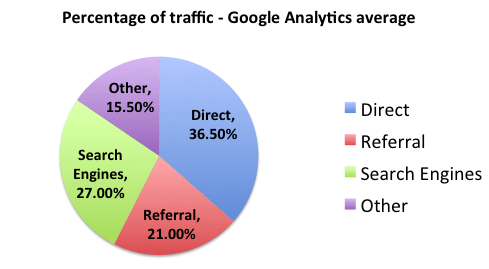 Note that this was published mid 2011 and as of 2013 Google hasn't published any other more recent benchmarking updates although they say they will recreate the benchmarking service.
If you're not familiar with these, the four main traffic sources reported at this level in Google Analytics are:
Search traffic – This groups both natural and paid search (Adwords)
Referral traffic – This is traffic from other sites which have direct links to your site
Direct traffic – Direct traffic results from URL type ins, bookmarks or when email marketing isn't tracked. These days direct traffic will also include non-browser traffic from visitors clicking on apps for reading social messages like Hootsuite or Tweetdeck or other mobile apps linking to a site. See the details from Tim Leighton Boyce in the comments for why "direct traffic" isn't really an appropriate term today or in his excellent post "If social media marketing is so big – where is all the traffic".
Other/campaigns – Campaigns include Adwords when linked to the Google Account and any other campaigns like affiliates, display ads and email campaigns when these have had marketing campaign tags attached. In this compilation Adwords is included under search engines.
Bear in mind that the mix will vary dramatically according to any number of factors, that's the problem with averages… In particular large brands tend to have a much higher proportion of direct traffic, often >> 50% in my experience as people enter the URL direct. You'll also see that direct traffic is higher if email campaigns haven't been tagged when they are then added to the campaign or other category of sources.
Site traffic mix according to Outbrain
Another view on the mix is provided by Outbrain who provide sharing widgets and content recommendations for publishers. Although may be are embedded on smaller blogs, they're also used by many large online publishers. So there is a greater reliance on direct traffic, but they have also identified traffic direct from social and content-related sites. It's noteworthy that direct social traffic is relatively low (of course there is also social traffic from apps which will be included in direct).
Here is a breakdown of referring sources in terms of the type of referrer represented: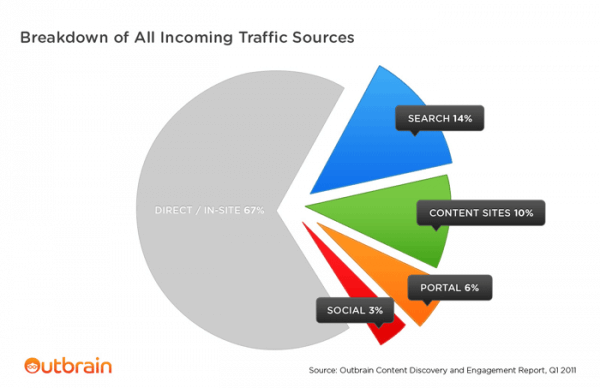 Excluding direct and in-site traffic, an adjusted breakdown of traffic share is illustrated by the following pie chart: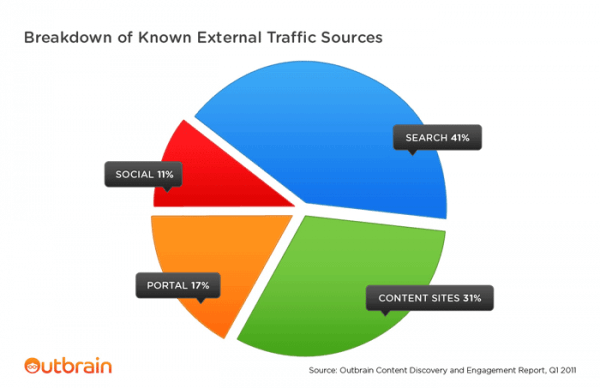 How does your mix compare?