5 reasons why organisations should develop their own online communities
In this multi-channel digital world within which organisations now operate, social engagement is a priority for many. With the growing use of social media platforms like Facebook, LinkedIn, Pinterest many companies see their communities as solely developing on these social networks. But should their online communities be limited to the social networks? This recent social media benchmark research from the CIM showed that just a quarter of companies have their own proprietary online community.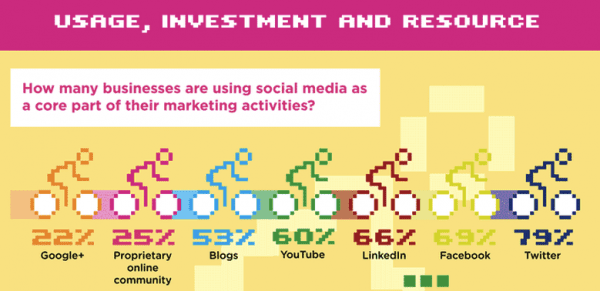 So, in this post, I'll be looking at why this may be limiting your options for engagement through social media.
Is Social Media Marketing a burden for organisations?
Organisations have been attracted by participating on the public social sites through the promise of greater brand and business engagement, but for many, whether their investments are delivering an ROI is unclear. Recently I was challenged:  "So if my online travel website is receiving 25,000 unique visitors a day, then why have I only got 2,000 followers on Facebook?"
In my opinion, social media marketing is more often than not, under-funded. Why? Because the strategic benefits for social engagement are not being realised and the ROI for social engagement is difficult to measure.
The vicious circle that social engagement finds itself in is that without investment the public social channels don't deliver, but without a clear ROI, social engagement isn't considered strategic by organisations and so doesn't receive the investment it deserves...
Do organisations trust the public social networks?
Social engagement also challenges organisational structures and cultures, with many organisations still unsure how best to engage with their audiences. Community managers and social media marketers are given the responsibility to manage presence across the social web, but when difficult situations occur, the lack of senior management or organisational commitment to participating in conversations on public social sites leads to weak responses and a lack of commitment to the customer or audience.
Who owns the content and community?
Another factor raising its head is the growing awareness and realisation that the content and communities built in the public networks belong to the public networks.
There is also a growing frustration that the limited analytics and insights available from the public social networks prevent organisations from measuring their ROI from the significant sums being invested. Then there is the need for spend on advertising your community within the social network, for example through Facebook advertising. There's also the limitations on communicating the brand and sales manages you need to because of the design options available on the social platform.
5 reasons why organisations should have their own online community
Organisations wanting to strengthen social engagement between employees, partners, customers and their audiences can consider building their own online communities.
1. A purpose built online community can significantly improve the quality of engagement between the organisation, customers and audience.
Why? Because organisations want to retain the copyright to shared content and conversations; and so by bringing engagement into their own online community, organisations are motivated to engage in higher quality conversations...
2. An online community will encourage more participation leading to ideation and crowdsourcing.
A huge benefit in improving the quality of engagement is greater audience participation in discussions, forums and blogs, giving the organisation a treasure chest of market feedback and customer opinion that can drive further product or service developments.
3. Developing an online community adds value to and complements the organisation's other digital assets.
Thanks to web technologies such as OpenID & RSS, an online community can very efficiently attract and aggregate conversations from across the social web and also signpost visitors to business websites, e-commerce and customer service portals.
4. Ownership of content and community assets are retained by the organisation.
Not retaining copyright to content and conversations is of concern to organisations when participating on the public social sites, and so offering an online community under an organisations own terms and conditions has real appeal.
5. An online community also enables the organisation to measure ROI through access to social engagement, community and conversations.
For organisations looking to better engage and serve their communities, the insights and analytics that can be gained through access to in-depth quantitative and qualitative data is gold dust and just can't be undervalued!
And so in summary....
Engaging on the public social networks is a non optional marketing activity for the vast majority of organisations, but in my opinion, the public social networks are not the "be all and end all" to social engagement for business.
Investing in your own online community gives organisations a platform to develop greater and deeper ties between employees, partners and customers, thereby giving organisations the opportunity to fully realise the strategic benefits that social engagement can bring.
About The Author: