The latest data on UK retail search volumes
Value/Importance:
Recommended link: BRC-Google Q1 2012 monitor - Published April 16th 2012
Our commentary on the latest Online retail monitor
The British Retail Consortium (BRC) and Google produce a regular Online Retail Monitor (ORM) that measures changes and trends in the growth of retail search terms over time. The latest version has some interesting data on the growth in mobile search which also has implications for all site owners. Since it's direct from Google, using their data on searches for retail terms, it's a reliable source, although it only gives relative changes not the absolute % of searches that are mobile.
The headline figure is a 132% year-on-year growth in mobile search for retail broken down as follows:

Search volume variation through time
The data is also useful for top-level benchmarking since it shows variations in search volume through each week and in the first quarter: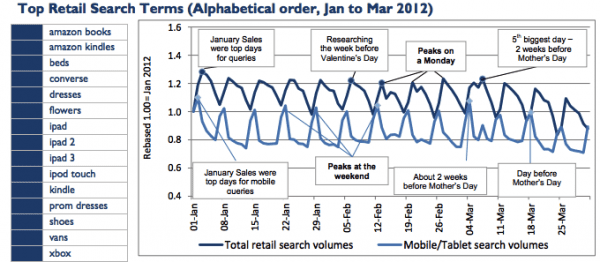 Volume of search for January sales clear
Peak retail search day is mobile for overall search
Significant peaks at weekend for mobile search showing need for dayparting to address this
A separate analysis from Google also shows the importance of mobile and in particular tablet usage in the evening, again suggesting the importance of dayparting in AdWords: