Back to basics: Conversion optimisation. Where should we start?
So many pages to improve, so little time! With more site owners turning to tools like Google Analytics and the Google Website Optimiser to review and improve pages, the obvious question is...where do I start?
Thinking beyond your home page
Last week we asked which types of web pages you thought were the best to look at first to optimise performance. This update shows how you voted  and at the end, outlines a 6 step website optimisation process to assess which page types are most in need of improvement.
Alternative customer journeys
This diagram of different user journeys is aimed at helping site owners think through the options of where to best spend your time initially. Working on which pages will help you improve leads and sales the most for the least effort? Where are you most likely to find the quick wins?
The poll results below show which page types you felt were most important.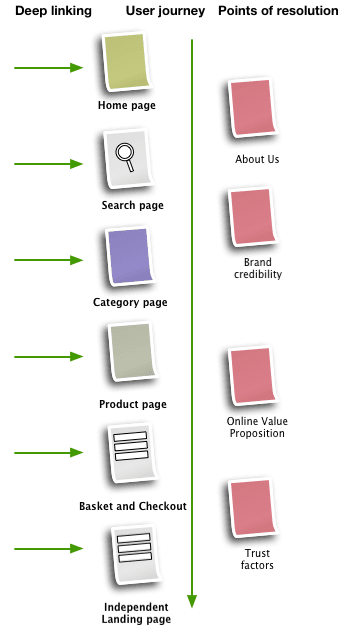 The votes - which page types were most important?
Thanks for sharing your ideas on pages, Here's how you voted...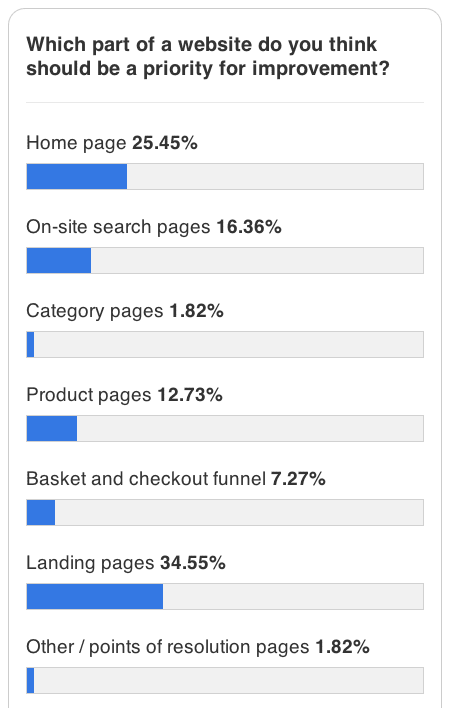 You can see that there is a wide range of opinions which is what I find when I ask this face-to-face in training workshops. So it seems as if there's no right or wrong answers which is the point I wanted to make - you have to review the page types that are most important for you in your market.
I know the response depends on the type of site, audience and your goals, but I just hope to prompt the thought that the answer is "it depends"! If you're working on a...
A lead generation site investing in Adwords to drive visitors you probably chose landing pages (the most popular choice)
A transactional Ecommerce site you may have chosen basket and checkout process since improvements here can give the best returns
A large retail site you may have chosen on-site search or product or category pages which are visited in many journeys. Ecommerce site benchmarking data shows that 30% of visits to a retail site can involve a search. So if you have an inefficient search process, that's probably the most obvious place to start
I hope the results also show that other types of pages could well be more important than the home page, an obvious example maybe, for a retailer product pages can be particularly important but they got a low proportion of votes here.
How to assess which pages will give you the biggest uplift in performance?
Here are some basic questions to ask to help you decide in a more quantitative way which pages you should focus on and which reports to look at in Google Analytics to decide.
Q1. Which page types are most important for entries into our site?
Easily answered, the Top Landing pages report shows you where the most important entries to your site.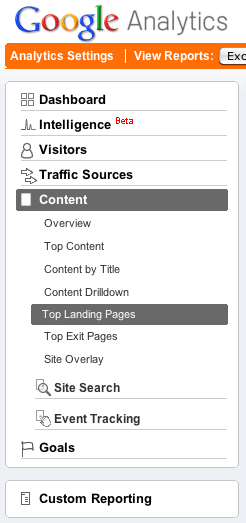 Q2. What percentage of visits start on the home page?
This is a diagnostic measure for the HiPPOs. It's not a KPI since it won't change much through time.
You may know that the home page is most important, but your colleagues may not and think that conversion optimisation starts here. A simple measure to help them question this is the % of visits that begin on the home page.
This can be surprisingly low for less well known brands or companies that have effective search marketing.
For example, for my blog site, it's currently just 2.5% (100*(1651/64368))!
It will be much higher for well-known brands and return visitors, so it's worth calculating for new visitors only.
Q3. Which page types are most important entries for different types of traffic
So if the home page isn't so important, which pages are?
Step forward the much neglected "Content drill-down" option. If you don't know this report, it's really helpful since aggregates your visits across different types of page divided provided your site is nicely arranged in a hierarchical structure. Most do.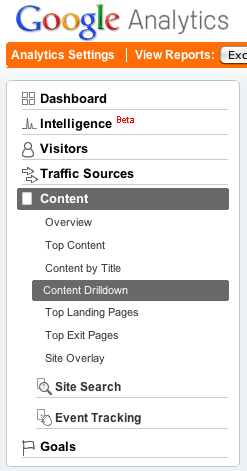 Here's an example of the content drilldown report. This shows that the Emarketing Glossary is an important category of page on my site even though I can't see this from the Top Content report since each of the pages individually is insignificant.
I often find when reviewing Ecommerce sites that this report shows the importance of product or category pages!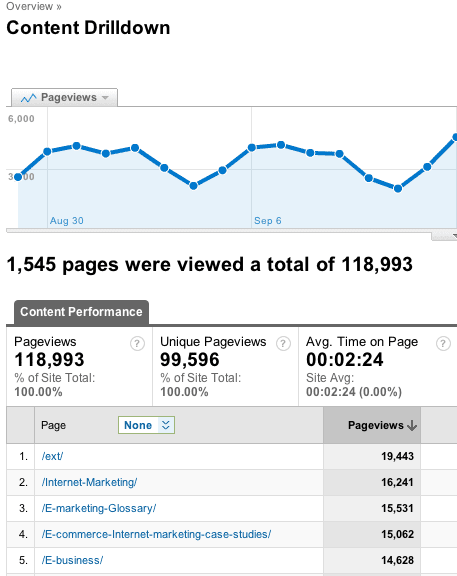 For further insight, if you want to see behaviour relative to landing page, create a Google Analytics pivot table pivoting by landing page. This will show you the combination of the most important landing pages and content. Pivoting by Visitor Type (New vs returning visitors) can also give you an idea of which are most important for the all important first time visitor.
Finally, it's also worth repeating this analysis for some of your top traffic sources or referrers using an Advanced Segment report. I would recommend looking at New visitors only, Adwords visitors or non-brand search visitors if your investing a lot in  search marketing.
Q5. Which page types have the biggest opportunity for improvement?
Next you need to complete a gap analysis for page performance - reviewing the potential of pages against what each page type of site section is delivering now.
There are different ways of tackling this. You want to find the combination of the popular pages which visitors encounter most often in their customer journey often against those which aren't effective so they cause visitors to abandon the site:
Popularity is best measured using Unique Page Views since these are opportunities for a unique visitors to convert.
Abandonment is best assessed through bounce or exit rate. Of course you're never going to have a 0% bounce rate, so best to compare these to the site average to calculate the potential sales improvement.
You can multiply 100- Bounce rate against unique page views or use the new weighted sort in Google Analytics.
Through completing a basic quantitative analysis you can define a % improvement in reducing bounce or exit rate and so show many people you can keep at the top of the funnel.
Q6. What is going to be the ROI of improving page types
The site owner likely won't be so interested in bounce rates, rather they will want to know how sales will increase.
Good measures to assess here which look at the commercial values of visitors:
1. $ Index value (which shows how different content types are contributing value - available in the Content Drilldown report.
2. Per Visit Goal Value (for non-Ecommerce sites which have value assigned to leads)
3. Per Visit Value  (for Ecommerce sites)
I've explained how to use these value measures and how they're calculated in more detail on Brian Clifton's Advanced Web Metrics site.
Using a "reverse path analysis" for a goal page using the individual page  Navigation Summary in Google Analytics is another method to determine which pages influence sales the most.
So I hope there's some food for thought here and a process to work through. If you've made it this far you may also be interested in my interview with Dan Barker about website conversion optimisation process. I'd be interested in how you tackle identification of poorly performing pages and page types.
You can see I've steered clear of the bottom of the funnel and known landing pages since these are more often covered elsewhere.