How a watermelon got 500 times more views than the President of the United States: Why Live Video offers a massive opportunity for brands willing to be creative
Live video streaming found its footing nearly a decade ago when sites like Livestream and Ustream emerged. However, back then, brand marketers felt lukewarm about the technology — bandwidth was limited, audiences were extremely niche, and the stakes of live broadcasting seemed too high.
But now, with Facebook pushing the option to its huge user base, YouTube announcing the integration of mobile live streaming on its platform, and news outlets like Wall Street Journal, NBC, CBS, and Fox News trying their hand at it, brands are having a hard time resisting this now-viable marketing avenue.
In fact, a recent poll found that 44 percent of executives live-streamed an event in 2015, while another 20 percent plan to try it by the end of 2016. What used to be seen as an underground activity that attracted a limited audience is quickly becoming the next big technology trend in marketing.
The Pros and Cons of Live Video
If you've ever watched the local news or seen the movie "Anchorman," you know that anything and everything can go wrong during a live broadcast. Technical difficulties, wardrobe malfunctions, slips of tongue, uncontrollable laughing fits — there are tons of ways things can go awry.
Facebook Live and BuzzFeed, for example, had a huge snafu during their live interview with then President Barack Obama. Bugs in the stream prevented it from capturing more than two minutes of continuous video, and Facebook Live viewers had to watch via YouTube, where the stream only captured 18,000 viewers. It was quite possibly the smallest crowd the POTUS has ever addressed.
However, despite dropping the ball with President Obama, BuzzFeed has also hosted one of the biggest live video wins we've ever seen. The site drove nearly 1 million real-time viewers to a stream that featured exploding watermelons, proving that engaging, exciting, and interesting content — even if it simply involves destroying fruit — can, in fact, benefit brands when it's delivered strategically and without technical issues. Since then, more than 9 million additional viewers have watched the video, illustrating that great live streams can continue generating value far after the initial broadcast ends. It doesn't have to be high budget, this video from the LAD Bible got an incredible 6 million views just for putting a few ice lollies out to melt.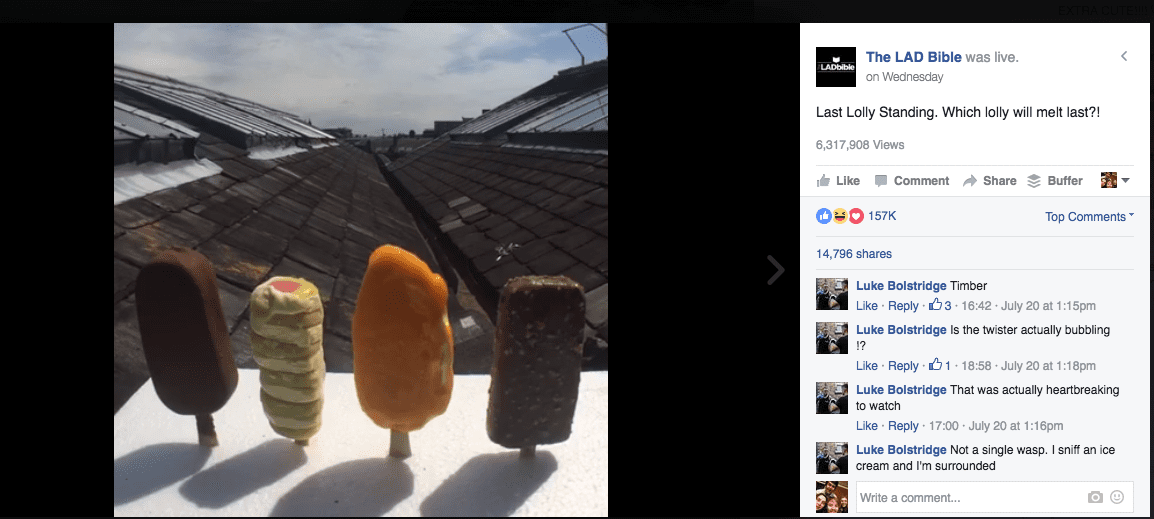 Live streaming provides an opportunity for brand transparency unlike anything we've ever seen. Real-time digital interaction between consumers and businesses is a cutting-edge marketing tactic that builds trust when used correctly. It also allows companies to show their true colors by introducing consumers to the people behind the logo, adding an element of human-to-human connection that's nearly impossible to achieve through other avenues.
With its increased sense of urgency, live streaming also produces a limited-time-offer feel that leads to swift consumer action. Further, data suggests that live video retains viewers for three times longer than pre-recorded material, providing a key opportunity for brands to actually have their messages heard by a captive audience.
The overall benefits of live video easily outweigh the risks. And even if something does go horribly wrong, you can always choose to delete the video after the stream is over to limit the fallout.
3 Streaming Strategies
It's important to have a solid strategy when breaking into the live-streaming market. It's not wise to wing it and only have a rough idea of what you want to do. Every live performance you've seen — from concerts to "Saturday Night Live" — is intensively strategized and rehearsed before the big day.
Try one, two, or all of these strategies to create your brand's live video presence:
1. Hub Content: Develop an ongoing series similar to a talk show that will keep your audience tuning in every week. Each episode should feature Q&A-style interviews with different people — whether they're representatives from across the company or thought leaders in your field. Building an audience that seeks out your content on a regular basis is a great way to keep your brand top of mind.
Benefit Cosmetics, for example, runs a weekly Facebook Live stream called "Tipsy Tricks With Benefit." Every Thursday, the host and a guest give advice and field viewer questions on a specific beauty topic over a glass of wine. This approach to live streaming gained the brand a solid audience of around 50,000 viewers for each broadcast.
2. Partner-Hosted Streams: Partnering with different influencers can help you gain traction and awareness beyond your immediate following. Creating authentic content is the key to success here; if it's obvious that you're pushing an agenda through an influencer, viewers will quickly tune out.
Nestlé Drumstick has a great hosted stream on Periscope in which the brand partners with social media influencers to broadcast iconic moments of summer — barbecuing in a backyard, roaming on the beach, visiting amusement parks, and more. The company has seen amazing results from these partnerships, more than doubling the engagement it saw before adopting this strategy.
3. Event-Based Videos: Some of the best live content revolves around events. Think of it as a fireworks show that starts off slow and builds up to the finale. Consider integrating a celebrity special guest to attract viewers, then grow anticipation throughout the stream to keep the audience excited for what's to come. During this buildup, viewers will likely spread the word on social media and share your link, driving more people to the stream.
BuzzFeed's watermelon video is a great example of this. The massive audience tuned in because it was excited about seeing large fruit explode into smithereens. The anticipation was palpable, and people flocked to the stream to see it happen.
One of the most important aspects of live streaming is something that also applies to real estate: location, location, location. To be successful, brands need to be in the right spot at the right time to attract the maximum number of viewers and optimize ROI.
However, attracting 1 million viewers means nothing if your stream isn't worth watching. If you focus on producing high-quality entertainment that's more than just a gimmick, you'll reap the many rewards live video has to offer.