Involve Your Pets - A Strategy For Successful Content And Social Media Fundraising
Clever fundraising ideas for charity giving are a must these days, when people are rather jaded from years of the same old coffee mornings and bake sales. If you're after inspiration for something a little different, that might attract new fundraisers to your event, why not lead with the new trend – pet participation.
Content is key for any campaign and fundraising event, and a strong marketing strategy should contain priority content areas to promote. Cancer Research UK's fundraising Best Paw Forward campaign in 2013 is a great example of this and could give you the inspiration you need to run a pet-focused fundraiser of your own and help charities with donations.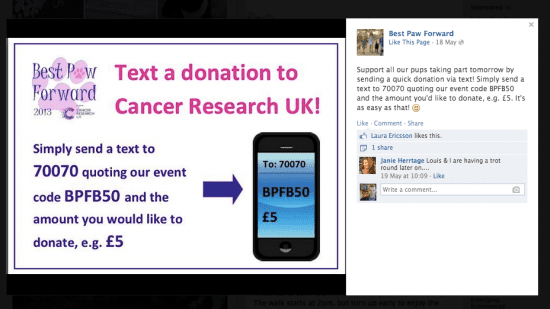 Why is having a key content marketing strategy important to fundraising events? It makes sure you socially target the right people in the right way and provide them with a valuable service.
The Pet Strategy for Fundraising
We are a global world of animal lovers; in the UK alone we spend around £4bn a year pampering our pets and we were the first country to have a welfare charity for animals; anything involving our four-legged friends is met with coos and 'ahhhs'. Charity events are no different, sponsored dog walks or dog grooming is fast becoming the height of fundraising fashion.
Cancer Research UK's Best Paw Forward campaign started in 2010 and has raised over £100,000 for the charity. It's now rolled out across the country as it has proven so popular with the fundraisers and their dogs alike. Planning such an event takes a lot of time and getting volunteers on board to help with the pre-event organisation and co-ordination on the day can be lengthy, but with a strong strategy in place like this charity event has shown it will be a success because the content "pet participation" worked well and the audience were involved.
The Key Things to Consider In Content Marketing for Charity Events
If you're running a similar event involving dogs, there are some key things you need to consider:
First of all, if you are fundraising for one charity, get them on board early so that you can run things by them and make sure that what you're doing ties in with their ethos (for example, spray painting dogs might not sit well with an anti-animal testing charity). They can also give you lots of tips on running your event and may be able to help with promotion, so give them a call!
Promotion is a huge part of any event, if you want people to turn up and, more importantly, raise funds for your chosen charity, you need to tell them about it – this is your content. Think about whom you are targeting – who would want to participate in such an event. Then focus on the places that you can reach them – through social media, local press or even TV if you are running a large national event.
Targeting social media sites like Facebook and Twitter is effective marketing but what is more effective is using new creative social media video streams like Instagram videos. By using Instagram videos you will be able to promote mini video clips of what to expect in the lead up to the event for free and then be able to release videos on the day of the event having kept the audience engaged and wanting to be part of your charity giving.
To keep costs as low as possible, get everything you can for free – call in favours, plead and negotiate. Cancer Research UK produced a lovely video to promote this year's walk and this is a great promotional tool. Check out their video below which visualises all their content for the event and can be learned from:
How to Get Creative with Your Existing Content and Raise Funds
1. Make sure that if you have a website, all promotion (press/posters/YouTube video content etc.) points' people in its direction; make sure they land on your page and do not bounce off.
2. Ensure that the website has all the relevant information on there and a way for people to contact you; no broken 404 page not found. The easier you make it for people to be involved and raise money effortlessly (through online donations that go straight to the charity for instance), the more participation you'll get. Your key selling point is it's healthy, happy, fun and all funds go to a good cause.
3. Adding a little competition in doesn't hurt in helping to boost the donations; you already have your content laid out for the event so give it a boost with "the dog that raises the most money wins themselves a little prize". On many of the Best Paw Forward pages online, you can see how much each of the dogs has risen so far and this engages people to follow the event and keep track.
4. If you feel to get even more creative with events, TV's Dog Whisperer Cesar Milan suggests a number of events involving dogs. The most creative one has to be the 'Hot Dogs' event that saw hot dog eating contests and dogs dressed up as you guessed it, hot dogs. With a little imagination you can be fundraising and helping charities in no time.