Examples to encourage more customers to buy via Facebook
Big or small, any merchant can sell on Facebook today by following a few simple steps. Here are a few examples of smaller businesses using Facebook promotions effectively before we get into the techniques I have seen which are effective.
Nava Zahavi, a small-medium jewelry designer who started with only 100 fans on Facebook made 400% Return on Investment (ROI) selling on Facebook.Here is an example of how Nava Zahavi offers Fans vouchers in return for 'Likes'.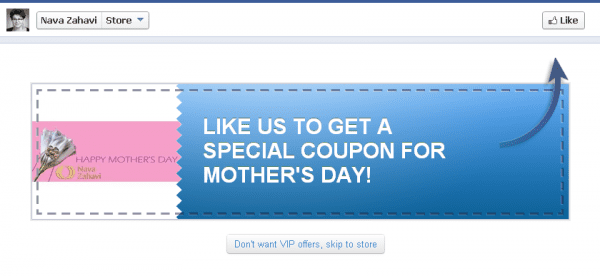 Source: Nava Zahavi Facebook Store
Are you hooked up yet?
So, let's discuss how they did it and more importantly – how YOU can do it as well!
1. Import your store onto Facebook
As former online merchants, we were trying to have our Facebook community getting out of Facebook and into our web store. That didn't go well.. Your fans are where they want to be – on Facebook. In fact they spend more time on Facebook than they do on all of Google's sites together including YouTube! Let them buy from you where they are right now.
You should use a service that would automatically import your store onto Facebook in 2 minutes from any e-commerce platform and provide you with the relevant marketing tools essential for selling on Facebook – as will be covered in the following lines.
The average conversion rate of Facebook stores that we see is 20%! This is a number you don't want to miss out on.
2. Customize your Facebook store
Your Facebook store needs to fit brand's look and feel, language and currency as well as the Facebook's canvas area.
Don't clone your web store and shrink it to fit Facebook! You need a Facebook store that would take advantage of the social elements offered by Facebook (like and share) and preferably others Facebook actions as well, like want it and own it on Invisible Children Store,  which can create viral recommendations for you
Example below of how their Facebook page works: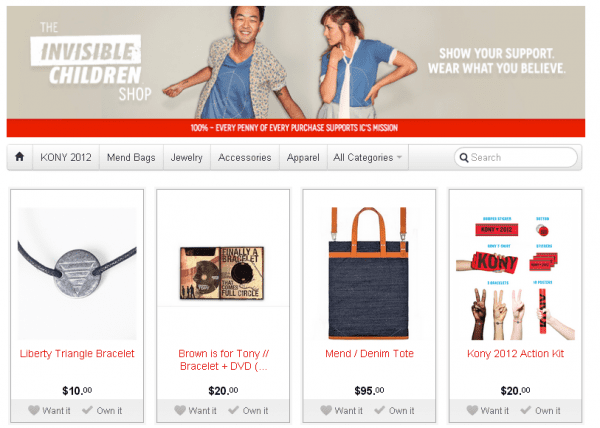 Source: The Invisible Children Shop
3. Talk to the wall – how?
Rule of thumb – as people on a social network – they are not bots and they didn't come to be solicited, so don't make them hide or unlike you.
A weekly status of your products or promotion is ok, but on the rest of the week should be dedicated to engaging with them like you do with your friends – share stuff YOU find interesting.
So, what should you post?
We post whatever is happening with the business, preferably with an image (which doesn't need to be a pro one – it is Facebook…)
Here are some examples:
We are working on the line for ___ (the next Spring/ the next show…).
I dreamed tonight on a turquoise pair of earrings and I am going to design them now; will be sharing its image next week when the earrings are ready.
We have received a big order from __ (big fashion store/ catalog etc.).
Be original is the best, but if you need a hand posting daily, you can get funny stuff or industry related articles in sites like this one at WeLikeEtsy on social content.
4. Talk to the wall – when?

Time of the day
Posting early in the morning or late at night yields 20% more engagements as most posts are published during working hours and your posts will get to be on top of them.
Generally – Thursday and Friday were found to be the most engaging days.
But, this varies according to the industry. For example:
Retail – Sunday is the best;
Fashion – Thursday;
Food and beverages – Tuesday, Wednesday and Saturday;
Didn't find your industry above? Read the full list on the best time to post on Facebook by industry.
Real ones.. Buying them by the dozen will not do the trick and in fact it will harm your page. Why? Because fake fans will not engage with your statuses and Facebook will notice that and panelize you. So, what should you do?
If you have no fan base or just a small one – start with your near surroundings – Family and friends, interest with your new fan page and ask them to like it.
If you have a small to medium fan base (say 500-2,000) – you can engage with other fan pages using your own fan page, like them, comment on them and start interacting with them. You can also use services like LikesBoard.com which help you find other interested merchants that keep interacting with your page after liking it.
If you have a big community already – launch promotional campaigns as will be covered in the next clauses. The OnePiece example we started with, didn't just make 1,000 sales in 24 hours, it also made 4K new fans in that time frame.

6.  Import your social activity to FB
Whether you have amazing videos on your YouTube channel, a lot of followers on your Twitter account, or great images on Instagram and Pinterest – you want all of those activities to be displayed on your Facebook fan page as well, right next to your Facebook store. Automatic services will do that for you in just a couple of minutes.
7.  Turn your webstore's traffic to your Facebook fans
Why? Because then you can keep them engaged with your store and perhaps sell them more than once..
How? By using a Facebook Likes-Box plugin. It is a simple one to install in your web site, and the effect is amazing.
 8. Turn your Fans into paying customers – Scratch cards
Importing your web store to Facebook is a good start. Having a Facebook community is essential. But once you have those you still need the right marketing tools to attract your fans into your Facebook store and to convert them into paying customers.
StoreYa's scratch cards game allow you to share with your fans a game they can play on their newsfeed. Winners get coupons that you have predefined, and you get them coming to your Facebook store.
9. Offer your Fan Group deals
Another great marketing tool as you have seen in the OnePiece example above is a Groupon-alike feature that can be combined with your Facebook store.
This tool maximizes the social commerce potential as it uses your current fan base to virally spread your promotion and bring in their friend. Doing it right is an art on Facebook promotions but one that would be worthwhile for you!.
10. Advertise on Facebook – big or small
This one isn't really a tip, as it is too obvious and as it requires some budget, but I felt the list will not be complete without it.
Facebook stores can bring you 20% conversion rate as mention above, and there are ways to get liked and to promote your store as covered in this article, but clearly, Facebook advertising would boost any action that you make.
In this list I tried to cover as many topics as possible – importing your store to Facebook and having it customized and liked. Communicating with your existing Fans, attracting users to become your fans and converting fans to become your paying customers. The price I had to pay to provide a full list here is that I could only touch each item.
If I managed to get you curious about Facebook-Commerce, I urge you to read more about it, and I am happy to officially launch here; 'The Complete Guide on how to Sell on Facebook' which is a FREE eBook based on the collective social commerce experience of our merchants in the last 2 years.
PS: If you don't like to read, you can learn more about Social-Commerce by playing a game of MonopolYa (which is also free).