Too Many Tech Options = Random Acts Of Technology
If you blink, a dozen more marketing technology providers show up. Just 5 years ago, about 150 providers could hang their hat in the marketing tech sector. Today, we count more than 3,500 marketing technology providers. With so many choices to choose from, it's no wonder random acts of technology happen more often than not.
What's A Random Act Of Technology (RAT)?
A RAT happens when companies throw technology at problems without a strategy. In sales and marketing, it's one of the top reasons marketing technology ends up flopping. In research conducted in 2016, Ascend2 conducted research into application of marketing technology. They found insufficient strategy as a top barrier to achieving success with marketing technology.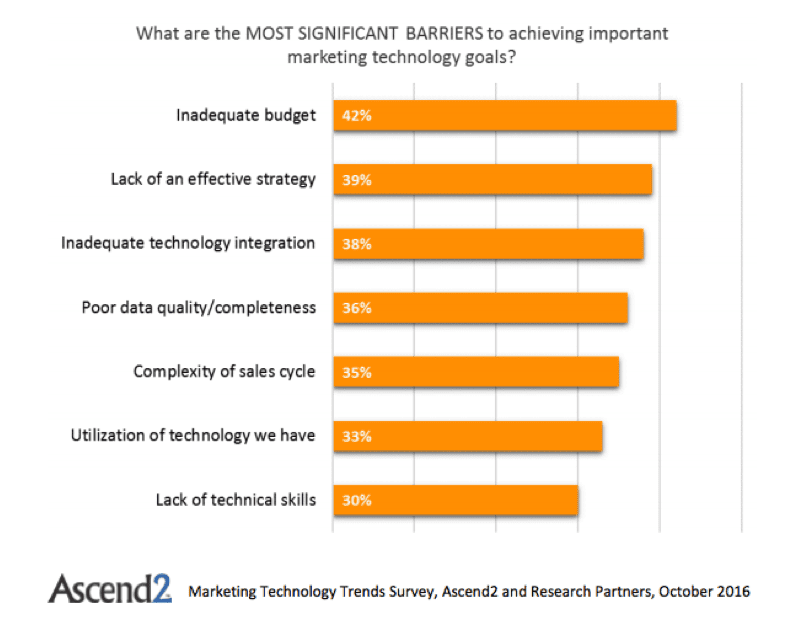 Building a marketing technology stack framework
If you're wondering what a marketing technology stack looks like, I document mine for all the world to see. A rising tide lift all boats.
While the tools I use change,  the framework driving my martech stack decisions, doesn't. A framework helps me do two things, 1.) make decisions on tools and data integrations and 2.) ensure business goal alignment.
Facilitating data and tool integrations
When you pick tools based on your most urgent need, you often end up with solutions that don't not relate to other tools in your war chest. A marketing technology stack realizes it's value when it creates a snowball effect. marketing technology should build on each other, driving scale and efficiency. A framework helps you pick tools that integrate and create a flow of data. This creates the exponential "lift" effect we're looking for. A framework avoids ending up with 3 landing page platforms, 4 email marketing providers, and 3 analytics snippets.
Aligning technology to business goals
A good framework should always align to business goals. Marketing technology allows marketing to be far more insightful and impactful. A framework ensures tools are being brought on in support of the big picture.
Creating Your Framework For Marketing Technology
The framework I have, is a hybrid. I align my framework to planning and customer journey. Simple works for me, I haven't encountered an industry or product it can't adapt to. I look at 6 stages of a marketing tech stack: planning, attract (or awareness) conversion, nurture, close and analytics/automation.

Planning
Planning focuses on tools to scale creating and launching sales and marketing content. In my model, this includes research, project management, and drafting tools.  
Awareness
Awareness is a big category. I take a textbook approach to it to start. I look to paid, owned, and earned media. From there I layer in the tools for research, production and distribution. Awareness always feeds my conversion category with traffic and data.
Conversion
Conversion looks to the intended destination of our awareness activities.  Most often this is websites, content management systems, landing page tools, and on-site or in-app engagement like chat, exit intent or other behavioral prompt.  
Nurture
The nurture category receives data from the conversion category. It has a big responsibility. Either it needs to recreate an opportunity (upsell in the future), or it needs to move along the sales process. My out of the box nurture category include email marketing and ad retargeting.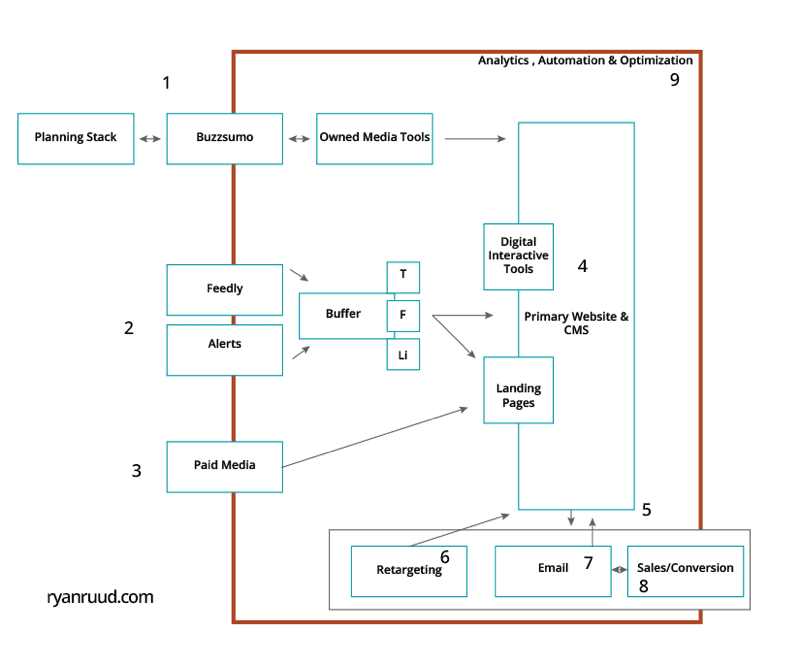 Sales
For some organizations, sales could have a whole separate stack. What's important is that data is flowing through the marketing stack, into the sales category and back out so the two business functions are aligned. Things like CRM, prospecting tools, and sales enablement are commonplace in the sales category.
Analytics, Optimization & Automation
The Analytics and automation category wraps itself around awareness, conversion, nurture and sales. We look to gather insights at the start of and throughout sales and marketing efforts. Depending on budgets and resources, this category can get big, fast. At the least, you should include site analytics, and some sort of automation tool so data flows across tools and into places you can use it. Most often, we want data to end up in
Final Thoughts
You can see the flow of the framework above. As you swap in tools through the inevitable evolution of the industry, a marketing technology stack framework should give your organization purpose and strategy for technology adoption ensuring marketing technology success. What are the challenges your organization is facing today in adopting marketing technology?