Ignoring customers will cost you revenue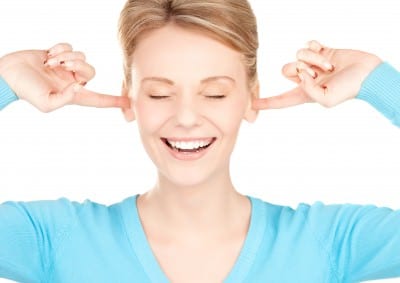 Marketing emails from major and minor brands alike are often sent from a noreply email address - you will have seen them.
Either quite literally an address noreply@, or the email footer carries a statement like; "Please do not reply to this email, the account is not monitored, please contact customer support at ...". I think there's a lot more to them than meets the eye...
If a shop assistant failed to answer your questions you would shop elsewhere.  So why are brands ignoring customers, in their millions, through email and social media communications?
Ignoring customers in social media
Interestingly, the social media marketing world is following the same approach as email marketing. This article notes that only 5% of wall questions from consumers on brand pages ever receive follow-up interactions from the brand.
The key to answering the question as to whether its right for email marketers to use noreply@ is simply this;
"Does it make commercial sense to process the replies?"
To answer this needs careful consideration.
Key issues with inbound email replies to campaigns
The issue with inbound email replies to campaigns is the quantity. Inbound emails are made up of:
Bounce messages (non-delivery reports)
Out of office and other automated replies Spam
Unsubscribe requests
Change of email address notifications
Spam Challenge. These require a human to click on a link and complete a CAPTCHA before your marketing email is delivered.
Enquiries and customer service requests
Factors influencing email reply volume
Bamboocricket, a specialist in inbound email processing, told me a broad average of replies to campaign emails is 1% of volume sent, including bounces and all types above. The reply volume varies, influenced by such factors as:
The email address says 'noreply'; though this does not stop customer replies!
Whether the email comes from a brand or a person, such as from 'Acme' or 'John at Acme' or just 'John'. If it appears to be from a person the likelihood of a reply is increased.
The type of email content and the call to action the email contains.
If you're not using a solution that automatically process bounces messages, then change your solution right now.Some solutions also filter and delete spam and 'out of office' replies. This should take care of 80% of the inbound email easily, though Bamboocricket says actionable replies after the first three types of reply can be as high as 50%.
Use ROI to prioritise which notifications to manage
If change of email address notifications and Spam Challenge emails are not managed you are effectively reducing your list size. If you send 200,000 emails then, based on Bamboocricket numbers, you may have 400 of these each campaign.
If the value of an email address to you is £25, such figures indicate a loss of £10,000 of revenue. And there is the loss of trust and sales through not replying to customer service enquires.
In short, the cost of processing a reply needs to be less than the profit to be gained from doing so. This holds whether your list is large or small.
If the value of a subscriber on your list is relatively low then ignoring replies makes financial sense. If, however, subscribers are of high value, then you can get an easy boost to your email programme by putting in inbound email processing.
Not all emails in your programme are equal
Even if you don't check replies from campaign emails that doesn't mean you shouldn't check replies from trigger emails, such as abandon basket emails.
Trigger email replies are likely to have higher value and can contain good feedback. One client I am working with found replies to their abandoned basket emails gave valuable insight, including concerns about Direct Debit use for subscriptions and uncertainty about international shipping costs and billing.
Consider investing in an auto-responder
The alternative to manual processing or totally ignoring replies is an auto-responder - any customer sending you an email gets an automated reply with useful information. Include details,not only of your customer service channel but also anticipate questions and give answers, such as:
How to change the subscribed email address
Customer service contact details and hours
How to unsubscribe
Store addresses, store locator, opening hours
Sales contact details
I did a quick test by replying to 10 brand emails. I got two automated replies and one of those was a delivery failure notification. Thumbs up for ASDA which did have an auto-response; its auto-reply is shown below: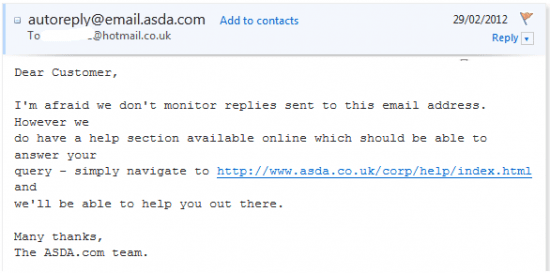 Given the low cost of an auto-responder this is the minimum for any email campaign. Whilst I could say ASDA leave room for improvement, it is already much better than the nine other brands.
As a next step, take a random sample of 500 of your inbound emails, then filter out the bounce, out of office and spam. Simple Outlook rules and a standard spam filter can help you with this. Then, skim over the rest to understand what value you are missing. This process will also help you decide what information to put in an auto-responder email, should you go that route.
Acknowledgement
My thanks to Bamboocricket for providing benchmark numbers. If you wish to look at options to automate inbound email processing, take a look at its website. I have no affiliation to Bamboocricket and have nothing to gain from this.
Image credit: 123RF Stock Photo