New survey reveals swing in attitudes among marketers
Most proponents of email marketing have the letters R-O-I tattooed provocatively across their foreheads.
Email's remarkable return on investment has always been the key defence used by industry voices against suggestions that social media marketing or other channels have relegated email marketing to a dusty corner of the Museum of Internet History.
This ROI argument has its downsides, though.
In particular, the associated tendency to focus entirely on immediate, direct response can cause marketers to neglect the many other roles email might play in achieving marketing goals such as brand-building, relationship-building and encouraging advocacy.
A new survey of marketers from the UK's DMA and sponsor Alchemy Worx on the performance, value and use of email marketing suggests attitudes are changing though.
Throughout the whole DMA National Client Email Report 2012 is the sense of a channel that has settled into a strong and mature marketing role. For example:
Over 90% of respondents rated email marketing as strategically important or very important to their business.
37% said open rates improved across the previous 12 months, with only 17% reporting decreases, and 69% expected them to increase in the future. This upward trend in metrics mirrors a similar report from the USA.
And, yes, ROI is strong compared to other channels including social media marketing. The chart below shows how email dominates when marketers are asked which marketing tactic produces the best ROI for them.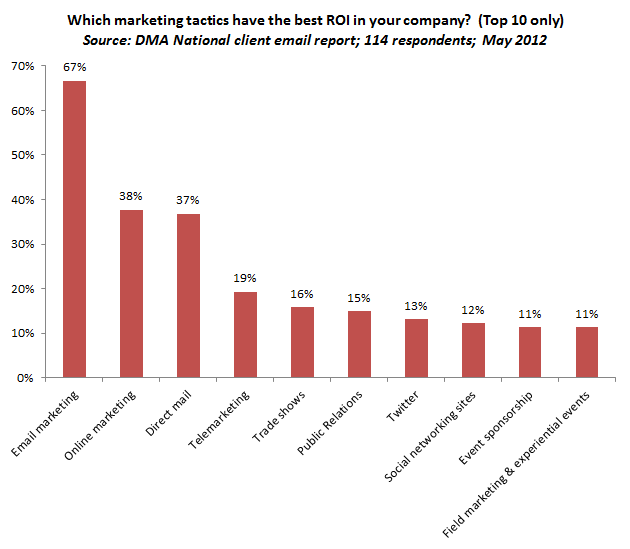 The ROI result comes as no surprise, it's not as if we have a shortage of evidence for email marketing's success. The nature of the survey itself means email is likely to be popular among respondents and most would agree that measuring ROI for email is more straightforward in comparison with social media marketing.
Of course, there is still plenty of potential for marketers to catch up with basic best practices and also implement more sophisticated approaches (like trigger emails): Epson's birthday emails, for example, produce 840% more revenue per email than the overall email program.
Another issue was raised recently by Chris Marriott in an article where he asks if we've reached the end of the evolutionary path for email marketing:
"A look at the plethora of articles appearing monthly reveals a depressing sameness about them...Those of us who regularly write about email continue to revisit the same topics over and over again"
One option is to look more to email's role as a supporter of long-term customer relationships, brand-building and its integration with other channels, in addition to its value as a source of direct, immediate response.
The following chart from the DMA's report shows how respondents perceived email and other alternatives as a relationship-builder...an opinion which is less biased by whether or not they actually use that tactic or channel.
Email still comes out on top, but look at who's in second place: social networking sites.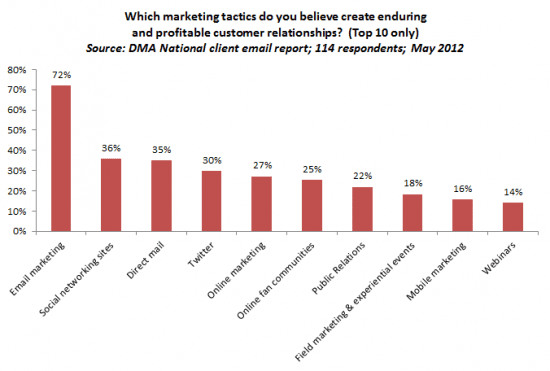 This tells us marketers do recognize a wider role for email in long-term profitability and customer relationship management. This relationship role meshes nicely with the world's rediscovery of content marketing, where email is used, for example, to:
Repurpose valuable content created for and through social networks, blogs, support sites etc.
Drive subscribers to discussions on social network sites, community forums and blogs
Invite customers to submit reviews and ratings for products and services
Encourage subscribers to participate in surveys and studies
The positive social media result also suggests email marketers no longer see "social" as a "threat" to email, but as a complementary marketing option of merit.
The wisdom of integrating email and social depends, of course, on the individual business and their audience. Important issues include:
The commitment required
The content and communication strategies for each channel (same or different?) and the allocation of responsibility for each
The relative value to the business of engaging people through different channels: do you want to encourage email subscribers to pay more attention to Facebook or Twitter, where attention and conversions are less likely?
Nevertheless, promising, early-stage integration approaches include:
Using social networks to grow email databases, for example by announcing forthcoming emails or newsletter issues
Using email to drive social network activity, for example by promoting Facebook chats and competitions
Sharing content between social and email, for example by monitoring social conversations for email topics and customer interests
As Chris Marriott himself argues:
"There is a connection between display, social, search, and email. It's not the single exposure alone that gets consumers to act, but rather the context of all the marketing that preceded it."
Which suggests there's plenty of evolution still to come...
Editor's note. This post is an overview of one aspect of the report for which Mark wrote the commentary on the survey results. For more detail and further insights see the full DMA National Client Email Report 2012.