What are the common best practices, are best practices always best?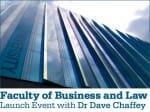 I was honoured to be asked to give this presentation for Manchester Manchester Metropolitan University Business School to launch the new Faculty of Business and Law, a stunning new £75 million teaching and research headquarters and business hub.
An updated, shorter version of the Manchester Business school deck was also presented to students and professionals at Leeds Metropolitan University and to an IDM Network evening in September 2012 which is included at the end of this post.
Leeds Metropolitan University presentation – November 2012
Manchester presentation – September 2012
We're often told to follow "best practices" in our digital marketing. In the talk I explore the value of this and some of the problems. How do we know what is best practice? Where do they arise from? Does following the accepted wisdom mean we're missing opportunities?
I used the Smart Insights PRACE framework of digital marketing best practices to review some of the most common best practices used across digital marketing in 2012 from strategy to execution for desktop and mobile websites, search marketing, social media and messaging. I also looked at the dangers of following best practices and how you can follow marketing approaches that work best for you. Best practices don't work so well for new technologies, for these Dave will suggest digital marketing trends consider for 2013.
IDM best practices presentation