A Q&A with Liam Fisher of BuiltVisible giving actionable advice and tools for people looking to improve their content marketing campaigns in the year ahead
Getting started with content marketing can be tough – from researching your audience through to executing a campaign across multiple mediums and devices, there's a lot for the digital marketer to cover.
Often it comes back to really understanding what content marketing can bring to your business, who your audience is and what's most likely to resonate with them, and what it is you need to achieve as a business from your content marketing.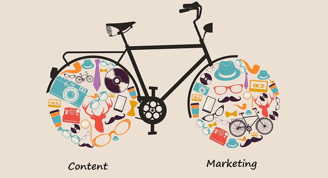 To add a bit more to the conversation, I sat down with Liam Fisher the creative lead at Builtvisible, to talk about his views on content marketing and to share some actionable advice for people looking to improve their campaigns.
Q. Why is content marketing so important, and why should it form a key part of any brands strategy in 2016?
LF: Consumers today are bombarded with more adverts and messages than ever before, so the impact of more traditional channels is somewhat diluted. Content marketing has the capacity to resonate more powerfully with your customers because it's carefully tailored to their needs and interests. It's a way of conveying your brand's personality and offering without being overtly promotional, which can go a long way toward building brand trust amongst your audience. More and more brands are recognising the impact of content marketing, so those who choose to ignore it will increasingly fall behind.
Q. Imagine you work for a brand that's considering a long-term investment in content marketing, what things should you be doing in the planning stage to maximise your chances of success?
LF: Above all, a successful content strategy hinges on painstaking research. Making great content isn't enough if it's not suited to the customers you're trying to target. You must understand what your target audience's interests are, what questions they have, who influences them, and what types of content they respond best to. All of this information needs to be backed by research.
You also need to be completely clear on what your business's objectives are – whether that's driving conversions, increasing social following, generating press coverage and so on. Any creative ideas you deploy have to sit at the intersection of these two factors – resonating with your audience while achieving your goals. Ensuring that those ideas are sound and backed by the right research will maximise your chances of success.
Q. On that note, what tools would you recommend using, particularly for research and setting out your strategy?
LF: There are so many great tools out there that it's impossible to list them all, but here are some we've found extremely useful.
Site analytics: Whether it's Google Analytics or another package, you'll be able to see how users interact with your site, what sort of things they search for, and which content performs best so that you can tailor future efforts accordingly.
Buzzsumo: Buzzsumo lets you search for the best performing content for a given keyword, including the number of social shares the piece received. It's a great way of seeing what's done well in the past and what performs best on given social networks.
Followerwonk: Allows you to search Twitter bios for keywords and explore overlap between your brand's followers and your competitors'. It'll provide valuable insight into who influences whom, which Tweets got your audience talking and when best to target them.
Talkwalker: Talkwalker alerts function similarly to Google Alerts. Set a list of keywords and you'll be notified every time those terms crop up online. It's a really effective way of monitoring other brands to see how their content efforts are performing, monitor trends around certain topics so that you can tie in with news events accordingly and uncover new data sets around which to base content pieces.
Q. What in your mind are the biggest or most common mistakes you see brands making with content marketing, and are there any simple things people can do to avoid them?
LF: The easiest pitfall to slip into is thinking that making good content is enough. An idea could be hugely interesting and engaging, but not aligned with your brand's core messaging or objectives. In that case, it's not effectively building your brand in the eyes of your audience or furthering your brand's goals. Likewise a piece could be massively on-brand, but simply not engaging to the right audience because it's not directly addressing their needs and interests. In that case, you just won't get in front of the right people.
Avoiding that trap all comes back to that research stage. If you've gone to great lengths to understand your audience, and have clearly set out how exactly your creative ideas connect with them and your business goals, you'll have the best possible chance of success. It's not simple, but doing that hard work up front will save a lot of trouble later on.
Q. Measuring success is important – what KPIs should companies be considering when looking to monitor the return on their investment?
LF: This is going to vary a great deal from brand to brand, depending on what your objectives happen to be. One piece of content might be intended to generate sales leads, in which case you'd track KPIs such as email sign-ups and contact form completions. Another piece could be targeted at promoting brand trust, and therefore you'd track social media traction amongst influencers and coverage on trustworthy publications. As a general rule, collect as much data as possible, even if it falls outside of your immediate objectives for that content piece. It's all useful insight that'll grant a better understanding of the differences in performance between different types of content.
Q. In your opinion, what's the best piece of content marketing from 2015 and why?
LF: Elle UK's #MoreWomen campaign was the year's stand-out. It took photos from politics and the media, editing out all of the men in the image to emphasise the shockingly low the number of women present in those influential fields. That made for a stark side-by-side comparison that hits home the challenges faced by women trying to break through the glass ceiling. The imagery itself was supported by an extensive social media campaign, based around the hashtag #MoreWomen intended to get audiences talking about the issue. What makes the campaign great is its simplicity. Production involved little more than editing existing images, but those changes forced the audience to see familiar scenarios in a very different light.
Q. Finally – what books or resources would you recommend to anyone who's looking to brush up on their content marketing knowledge?
LF: The Content Marketing Institute publishes a lot of great material covering all manner of topics relating to content marketing. Buzzsumo, mentioned above, run a lot of insightful analysis of what content performs the best, so they're worth keeping an eye on. As for books, Clout by Colleen Jones and Content Strategy for the Web by Halvorson and Rach are both excellent starting points.