Ideya's new report shows the why, what and how of selecting social listening tools
Investment in social media monitoring (SMM) requires careful consideration since it is a long-term and potentially costly commitment. Understanding of the key SMM concepts, benefits and possible applications is of utmost importance. In order to realize the long-term value of SMM, SMM needs to become part of the business strategy and well-integrated with the business processes.
Only by having a clear understanding of how SMM supports your business, you can transition from experimental, tactical to a more strategic use of SMM.
There are many social media monitoring and management tools on the market and making an educated choice about which SMM tools can best address company's needs and justify social media investment, has become a challenging task for organizations as social media technology business has branched out into a diverse set of technologies, data types and countless vendors confusing buyers.
This August 2013 comparison of social media monitoring tools by Ideya Ltd shows that there are at least 250 tools now available. Of these 199 are paid, with the remainder free or using a combined model.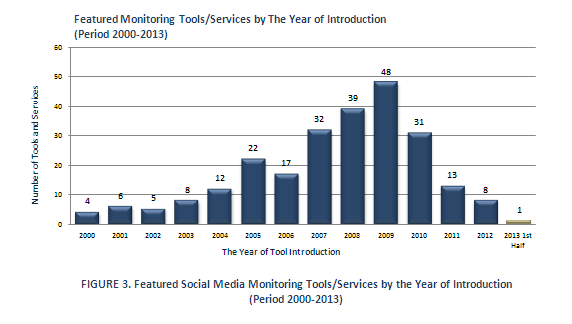 New tools and services are emerging continually, while already established SMM companies are frequently improving their products by introducing new features and coverage to accommodate their clients' needs.
Each tool offers specific set of functionalities and differs in focus, coverage and approach, with some focusing more on engagement, publishing and workflow management, while other offering strong analytics and reporting functions.
The 70 pages long report extract below has good detail on how to approach selecting tools, a listing of all tools and detailed profile of 11 tools (out of 250 profiles available in the full report).
How do social listening tools help in marketing campaigns?
SMM tool metrics and measurements are designed to evaluate company activities and inform an overall social media strategy. The metrics may involve statistics about the share, reach, impact and speed of conversations about the company. These parameters can be used to assess the company image and perceptions before and after campaign and measure campaign effectiveness, and identify trends that lead to new marketing and product tactics.
Ideya says that social media monitoring tools typically assist organizations in:
1. Acquiring real-time social marketing insights to inform social media marketing and communication plans
2. Optimizing design of marketing and advertising campaigns based on customer insights to improve the effectiveness of marketing programs,
3. Developing social content strategies to promote products and services and engage with current and potential customers across social media channels in real time,
4. Monitoring and applying 'word of mouth' consumer recommendations as a form of direct advertising by identifying and engaging with key influencers, generating buzz, and establishing and building relationships with key influencers,
5. Making better decisions about campaigns and brand extensions with a clear understanding of the key factors influencing brand's health – monitoring how key metrics across SM channels change before and after company's campaigns, detecting drops or spikes in buzz or sentiments and drill down to examine the causes,
6. Supporting rapid social marketing engagement, and
7. Developing performance metrics.
We have more practical advice on how social media monitoring can help campaign tracking in the post by Jasmine Jaume.
Ideya's SMM Tools report also examines other SMM tool applications such as Marketing, PR, Event Management, Search Engine Marketing, Market Research, Advertising, Investor Relations, Social Media Marketing, Business Development, Sales and Lead Generation, Product R&D and Innovation Management, Operations, Customer Services, Legal and Human Resources.
Requirements for social listening tools
So that's the 'why' of social media listening tools, but how do you decide? Issues to consider when selecting social media tools are summarised in this chart.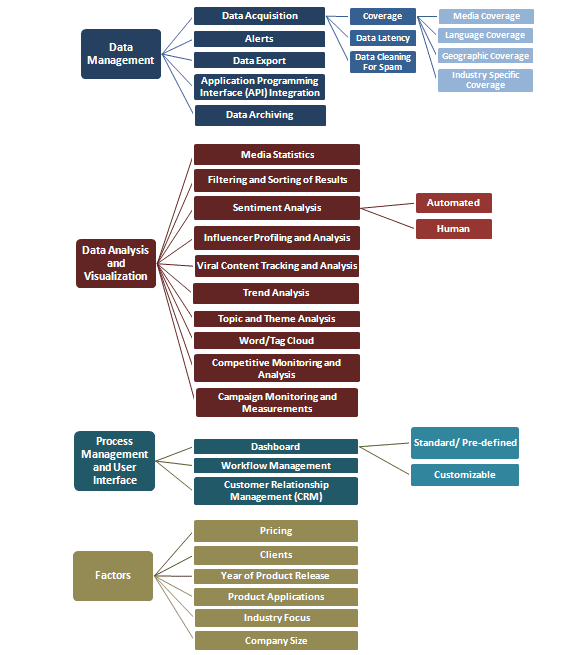 We also have more practical advice on requirements for social listening tools in this post by Gray Dudek.
Finally, here is the introduction to the report, we hope you find this alert useful.