Putting Facebook at the centre of communications strategy including 8 techniques to engage Facebook fans
The brand we're featuring in this case has created the third most engaged Facebook Page in the UK. Although Vets Now is the UK's leading provider of Out Of Hours emergency veterinary care, its not a "megabrand", so it really shows what you can achieve if you get the communications strategy right. In this post I'll review what Vets Now set out to achieve and the lessons they have learnt in their online journey.

Whilst many organisations use social media to prop up, or drive traffic to an existing website, Vets Now took the opposite approach. To build a stand alone community of pet owners (quite literally a MumsNet for pet owners), they and their social media agency Fresh Networks decided to begin on Facebook.
Facebook's huge reach and unique ability to target users by interest were key, and their innovative use of the platform has informed their decisions in the development of the recently launched PetNet360 website.
Park Bench (for dog owners) and Scratching Post (for cat owners) have been live on Facebook since May 2010. Not only does the page allow a great route to interact with the audience, it has alsodriven over 10,000 registrations to the 'My Pet Profile' Facebook app, where owners can create a profile for their pet.. The conversion rate from people moving from merely liking the Facebook page through to creating a profile in the app is staggering. Some 17% of fans convert to the app where they can share stories, follow other pets and meet other pet owners like them.
Early research showed that pet owners did not want to get together online and talk about pets. Instead dog owners wanted to talk dog and cat owners wanted to talk cat. So segmenting both the customer base and the communications by pet type were essential to the success of the online presence.
Likes vs Engagement – what really matters?
The engagement level of the 47,000 Facebook fans has been held at a steady 17% on Park Bench and at over 23% for Scratching Post. Other competitor pages, which while they may enjoy large numbers of fans, are struggling to achieve the magic objective of engagement. Head of Digital and Content, Lisa Robb's mantra for Facebook has become "Likes are vanity, Engagement is sanity". With the way Facebook's Edgerank algorithm works, posts to your Facebook page are highly unlikely to actually be seen on your fans' walls unless they have engaged with you in some way. This is even more relevant now with the changes to Facebook and the presence of the "ticker".
This is the engagement journey of a Facebook fan as I see it: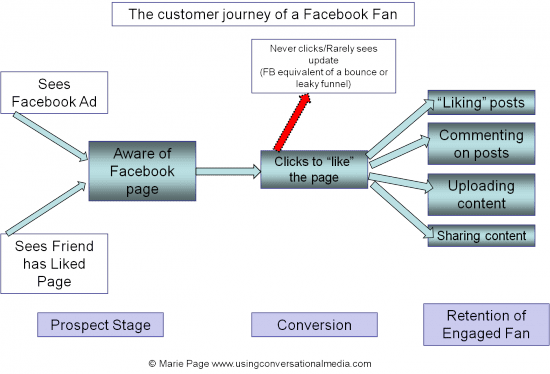 8 techniques to encourage engagement on Facebook
Over the 9 months the Facebook pages have been running the team have learnt what works and doesn't work. When they started, the page included lots of links to videos and images as well as fairly lengthy status updates. 6 months in the pages show a diverse mix of content including:
1. Short status updates typically asking pet owners questions that they can answer in 2 or 3 words such as "Have you walked your dog today? And Is your dog a fussy eater?
2. Status updates that invite fans to "fill in the blanks". For example, "I know my dog loves me when __________" or "The most adorable thing my dog ever did is ________"
3. Photo galleries. These are done by breed so the Vets Now team will upload 3 cute photos of say Jack Russells and watch the Likes and Comments flood in as well as uploads of users own dogs
4. Longer updates uploaded in the form of Notes. These have been great for sharing. Health updates such as warnings about poison mushrooms work well here as people share the updates on their own walls
5. Weekly "Ask a Vet" sessions (more detail on these in a future Smart Insights post). These are promoted as a Facebook Event in order to keep the online questions and responses manageable. Events allow the team to track attendees but don't count towards the engagement statistics (with events included Park Bench would probably be topping the UK leaderboard). Some 100 people attend each live session and up to 70 questions are asked at each event.
6. Facebook Polls have been great for engagement and viral spread but also superb as a customer research tool. The question "Where does your dog sleep?" got 1,500 responses which was helpful for some research that the team were carrying out. Polls will also be useful in future for sponsor organisations who wish to research the lives and opinions of dog and cat owners. So, for instance, a pet food company might ask "Do you want to see calories information displayed on dog food?". It seems as though PetNet360 is poised to become the Club Card data equivalent of Tesco with its instant access to such an engaged customer group.
7. The wall is open to fans to post their own updates and photos. Even the occasional critical comment has often been addressed first by the community. They also find that posts with minimal engagement soon slip down the wall so are rarely seen.
8. A competition neatly spread the Park Bench brand name as dog owners were asked to upload photos of their dogs sitting on a park bench 
Facebook Advertising
With a relatively small budget for advertising, the team decided to phase its Facebook ads, however in retrospect they would advise a faster approach with a larger budget. They have found through testing which ads ones work best to keep people on the page, and crucially, which deliver an engaged fan. Their ad-acquired fans are still converting to the app at the same rate as organic acquisitions. They have also found that advertising produces an exponential increase in fans  (a "halo" effect) where an increase in ad spend also produces an increase in organic likes due to the viral spread of likes on individual users walls.
Community Management
When quizzed about budget for the Facebook page and app both Lisa and Fresh Networks Account Manager Oli Watts are cagey stating that the set-up budgets were extremely small in comparison to the essential role that good community management plays. The Facebook pages are managed by a team of three at Fresh Networks with input from the Vets Now team. An editorial plan is agreed a month in advance and as the agency team has better understood the world of cat and dog ownership, so they have been able to take on more of the day-to-day running of posting updates and managing the page.