A review of the options to avoid 'showrooming' and connect with customers digitally when they are in-store
As retailers figure out how to incorporate the ever-changing omnichannel and added extra credit card processing security, they will also need to think about the Internet of Things [IOT] and how it fits into the retail experience and marketing budget. Some retailers are using digital in-store to enhance the shopping experience of their customers. But implementing these devices could be costly and time-consuming, especially if they fail to produce results for the retailer.
But we must recognize that customers have overwhelmingly connected lives. In their daily journey, they are shuttling between their homes and work in a constant connected state. This connected state has an effect on their shopping behaviour. Customers will search online, comparing prices, promotions, ratings and reviews.  Internally, the customer may debate things like the difference between shipping costs versus the cost of gas and driving time, even trying to figure out how to economize their activities. At any point in the customer's journey this shopping behavior could occur, even when they are in-store.
As a retailer, you probably are aware of this behaviour known as 'showrooming.' Showrooming is one of the most consequential consumer behaviours a retailer can observe.
Showrooming gives shoppers a variety of purchase options, while in the store the customer will search on their smartphones for better deals, and the customer may leave the store if they find a better product, price, discount and/or purchase that product on their smart phone and have it delivered to their home or wherever - even gift wrapped.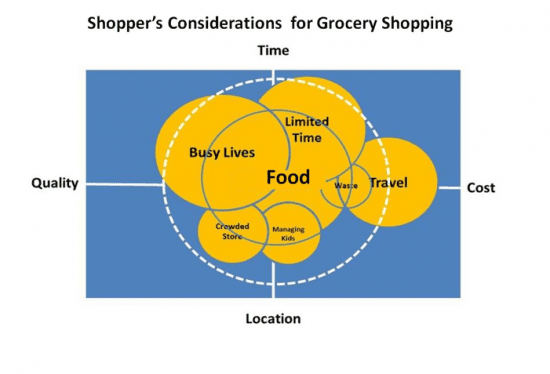 It's not just showrooming that may prevent a purchase in-store. There are other circumstances that may prevent sales. In their busy and connected lives, time-strapped customers' dwell time may decrease when other distractions or dissatisfaction occurs.
With children in tow, having to divide attention between a child's needs and the shopping chore could result in forfeiture of a sale. All this restlessness could leave the connected customer feeling as if the pleasure of shopping in-store is waning. Capturing the attention of the time-strapped, bargain-hunting, child-toting and, in some cases, man-toting, connected customers will be a challenge for retailers who don't provide ways to improve these shopping conditions for their customers.
Rick Caruso pointed out in his keynote speech at the National Federation of Retailers Big Show 2014 that, 'We are living in the moment of great change…it's important to create an experience that's magical and memorable.'
Customers don't care if their digital shopping behaviour is disruptive - they want what they need when they need it. In addition, they want a stress-free environment, with an infinite assortment of readily available deals, coupons and discounts, the ability to shop with mobile, build a gift registry with ease, browse online or in-store for the best opportunities, and an atmosphere that inspires and stirs their imagination.
The use of digital engagement and entertainment in-store will help increase dwell time and satisfaction of the shopping experience. Some retailers realize that focusing on the needs of their customer will help improve the overall in-store experience and customer engagement.
Instead of being 'victimized' by digital disruption in-store, retailers are focusing on creating an unexpected pleasurable disruption to the human experience by designing a welcoming place. Creating these experiences will lead to a better connection between your brand and customer.
Create a relaxing in-store environment
Relaxing environments and immersive experiences help customers feel engaged and even cared for. Some types of changes in-store could help make these environments become real. To create a hospitable atmosphere, give customers a comfortable sitting area, wi-fi access, digital theater, and/or provide them with warm and friendly assistance. Consider giving those customers with children an opportunity to shop freely by providing an in-store play area and babysitting services for their children. Reimagining the in-store retail experience and catering to the needs of the customer can transform the retailer into merchant. Providing digital experiences that create an atmosphere and entertainment in-store can help to add value by:
Increasing the average purchase amount by 29.5%
Adding an upswing in overall sales volume of 31.8%
Growing repeat buyers by 32.8%
Raising in-store traffic by 32.8%
Seeing an improvement in brand awareness by 47.7%
Source: InfoTrends Customer retention is the key, and now more than ever it is important to develop a longer-term relationship with customers to bring them back into the store.
According to JWT, in a survey of American and British adults ages 17-69, 71% of customers desired immersive brand experiences.  Some retailers are taking advantage of this desire.
These retailers have reimagined the in-store problem and turned the problem into the solution by understanding the behaviour of their customer and transforming their behaviour through in-store creative experiences and entertainment.
Retailer examples for improving the Shopper Experience
How Best Buy improved their sales
Best Buy was in fear of losing customers as their customers used their retail shops to come in to try out products, and then buy them from Amazon. Instead of becoming Amazon's testing ground, Best Buy used the customer's showrooming behaviour to create the Best Buy showroom. Best Buy implemented strategies from price-matching to customer service improvements that converted more shoppers into buyers. Best Buy is benefiting from profits.
How Tesco enhanced the shopper experience
Tesco eased the grocery shopping stress of time-strapped customers by making the grocery store more accessible. Tesco took a revolutionary leap by bringing Home Plus to customers in South Korea.  The initial launch of Home Plus was in a busy South Korean subway station, where customers could shop while they waited for their train by simply using their smartphones to scan QR codes and have their orders delivered.
Gucci Milan increasing runway excitement
The digital theater Gucci Milan provides all the excitement of the runway while giving Gucci customers an immersive brand experience. Customers swipe through life size video look books with an infinite assortment of Gucci styles. Gucci also didn't forget its up-and-coming customer: to highlight Gucci children's collections,
Gucci created a video wall for kids. Children are entertained by Gucci Teddy Bear, who dances to beats and sounds created by children who interact with the wall.

McDonald's interactive experience
In the UK, McDonald's created interactive 'Happy Meal Play Zones', associating their food with fun and playtime. The results?  92% of five to nine-year-olds who tried the zone said they enjoyed playing on the interactive floor media, 78% of parents liked the digital play area, and 87% of five to nine-year-olds said they want to visit that McDonald's more often. (Brandchannel, 2012).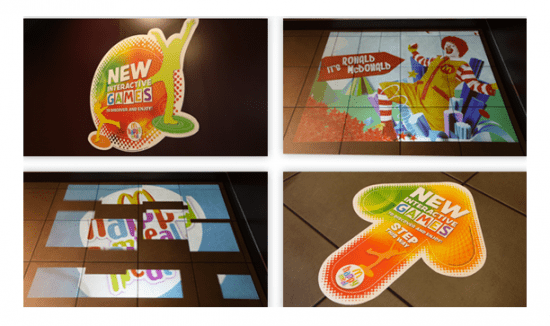 Three Takeaways for in-store digital engagement
Retailers, who want to leverage these in-store digital engagements and experiences, will require a shift in marketing strategy.  Here are 3 things to add to your strategic approach to help identify and define these new and exciting experiences:
Research: There is plenty of data from your store that will help to identify gaps in your relationship with your customers. This assessment will help you with the information that you can use to determine the type of experience to create for your customer. It will also help you identify which online tactics will be useful to the in-store experience and to assess:

Customer feedback.
In-store observations of your customer's behaviour with and without children.
Assessment of digital data and customer behavior with digital.
Your store's activities and customer highs and lows.

Define: Insights from your research will help you examine the problems that need to be solved, and determine the types of content and experiences that will help your customer out.

Time-strapped customers need accessibility.
Customers with children in tow need more consideration time.
Comparison shoppers need an enriched experience.
Attention-deprived customers need experiences that capture their attention.

Measuring: The solution you put into place will need to be measured. Each experience will measure differently and need to be overlapped against dwell time, sales, time spent in-store and brand awareness.  The good news is that there are dashboards that help track dwell time and customer engagement.  In my next post, I will focus on key performance indicators that measure the use of digital in-store performance for these new experiences.
Revise the strategic planning process to incorporate research that cross-references in-store and digital, define your personas based on their behavior with digital, solve problems to make your customers happy, measure and adjust to make sure your investment is helping you engage customer, make them happy, ensuring a greater life time value.
Shoppers States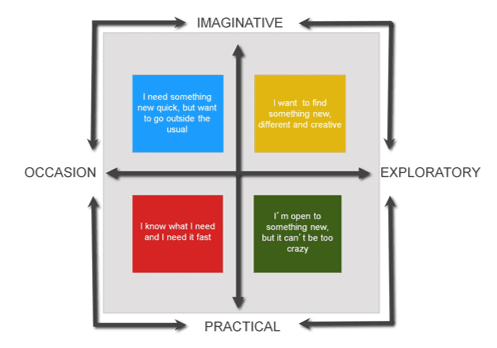 In-store Digital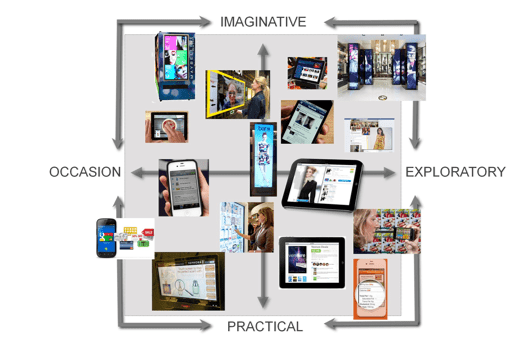 For more examples of in-store retail examples from the UK see Katie Traynor's post on Omnichannel retail examples.
References:
Bickers, James, (2013). CETW: Mobile marketing expert talks anti-showrooming strategies. Retail Customer Experience.
Buss, Dale, (2012). McDonald's UK Tests Interactive Happy Meal Digital Play Zones. Brandchannel.
Caruso , Rick, (2014). Opening Keynote & Panel Discussion at the National Retail Federation BIG Show 2014. National Retail Federation.
Spataro, Tery, (2014), Digital Experiences and Shopping. Slideshare.
Stagg, Ben, (2012). To advertise or entertain: No longer a question of choosing one over the other. Digital Signage Today.
Images by Tery Spataro