Latest report on marketing hiring from McKinley Marketing Partners shows strong demand for digital skills
We hear from plenty of thought leaders that we are now in a 'post-digital' age, that we shouldn't be siloing digital and so digital is a pointless term. Whilst we agree digital should permeate the entire organisation and marketing department, rather than being a 'silo', that doesn't mean the word digital is irrelevant. In fact, specifically digital skills are in demand like never before, and this is highly apparent in the latest hiring trends.
Looking back at the data from 2015, we can see that digital marketers are highly sought after, being the most hired type of marketing professional in 2015. Of the companies surveyed 39% hired a new digital marketer, whilst only 1 in four hired a new project manager. This is interesting as in 2014 project manager was in the top three most hired positions in 2014. This may be indicative of a rapid shift towards more agile marketing departments that require digital skills.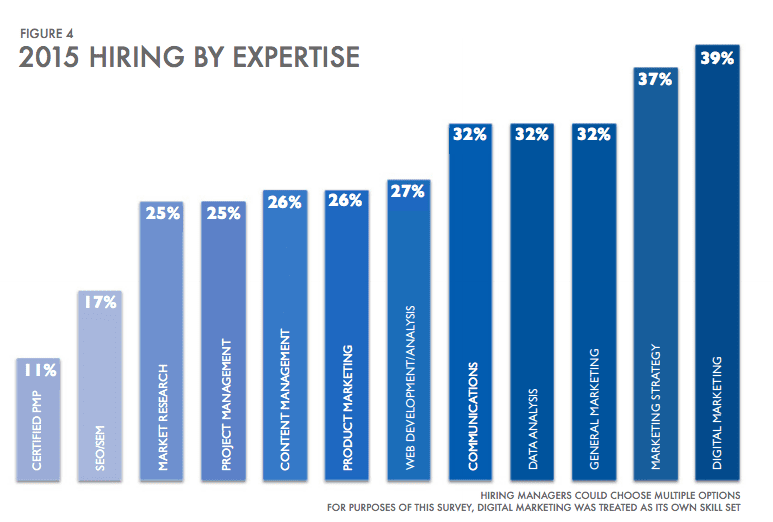 Digital jobs continue growth in 2016
The majority of companies are planning on hiring at a similar rate this year as they did last year, which is no bad thing. Over a quarter are planning on hiring even more than 2016, whilst just less than 1 in five are planning on hiring less, so overall a rather positive picture for the marketing industry.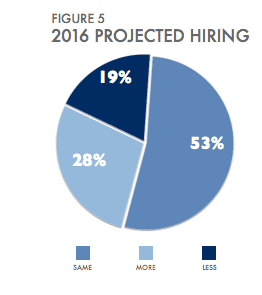 Digital Marketing expertise again leads the pack in 2016 for the most desired skill sets. Interesting, McKinley found 90% of all marketing roles required some digital marketing experience or analytical skills. So if you're a marketer looking to increase their skills to get a foot up on the career ladder, you'll probably want to develop your skills in those areas.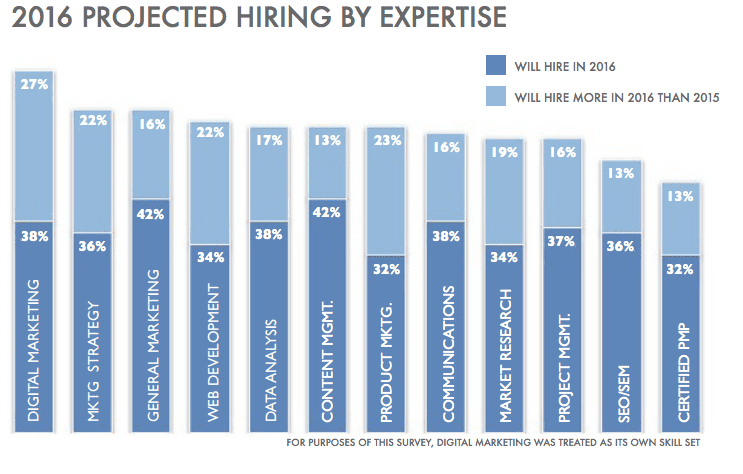 What level of experience is most in demand?
For most roles, people with 4-10 years of experience are most in demand, particularly when it comes to marketing strategy. Those hiring for SEO and project management roles are the most likely to require Exec level talent, whilst if you have no experience and are looking to break into the sector, digital marketing or data analysis jobs are the most likely to take entry level applicants.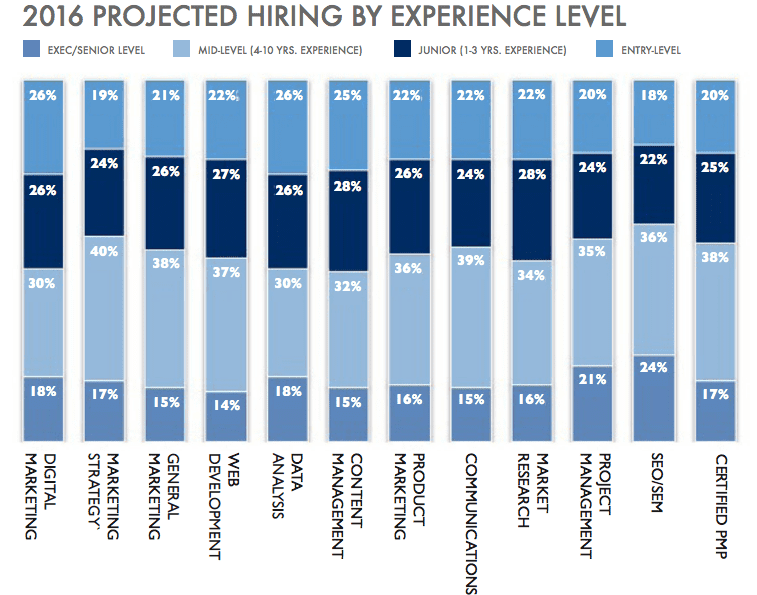 Soft Skills much in demand
Soft skills are increasingly in demand in marketing and are often the what employers use to distinguish between two or more otherwise equally qualified candidates. Problem-solving skills are much in demand, as is an ability to articulate ideas and think analytically. I would say that it does make very little sense to list 'personality' as a soft skill. Surely everyone possesses that? Or maybe I just haven't spent enough time in corporate marketing departments.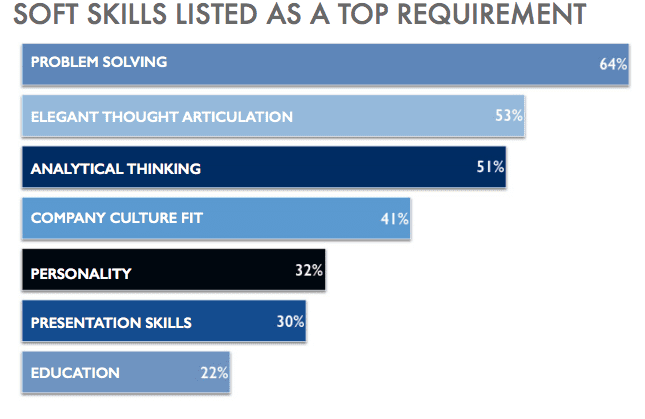 If you want to get more in-depth results from McKinley on hiring trends in the marketing industry, you can download their full report. You'll have to give some details though to download.