Mutual benefits, great communication and unrefusable offers create an outstanding affiliate programme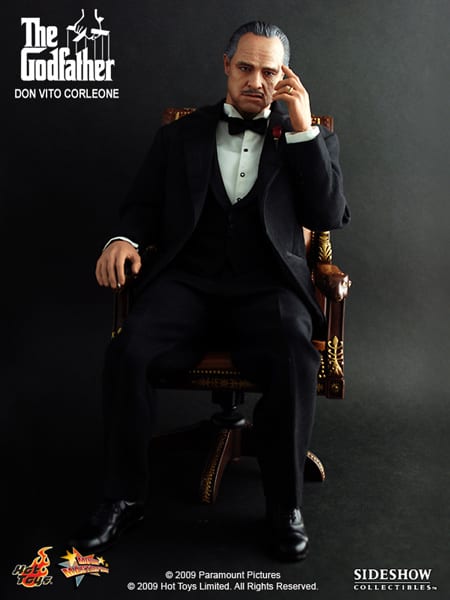 Don Corleone was a visionary. He was able to look ahead and predict what would happen before his competitors. He thrived in a competitive environment despite a number of challenging circumstances.
While most of us don't have to face being shot at in our day to day work, I think Don Corleone would have been an exceptional affiliate marketer. He managed to make the most disloyal of men advocates of his cause.
In this post I will explore some of the areas that helped him do this, and how you can apply them in your affiliate marketing campaigns.
1: Build strong relationships by helping affiliates achieve their objectives
This is one area where Don Corleone thrived and something that is pivotal to affiliate marketing.
Your affiliates are your partners so you need to show them the proper respect.  You need to ensure you understand their needs and try to help them where you can. Like you, your affiliates are a business and have objectives. Gaining a better understanding of what they need to succeed and how you can help them can set you apart from the crowd. This personal touch will often be remembered and can help you to get better placements on sites. Like Don Corleone, a favour now can be called in later!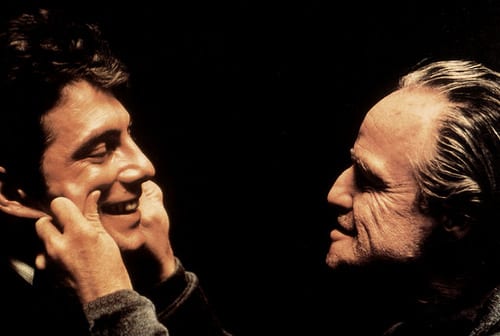 Relationships are built on communication. Don Corleone had to carefully plan how he spoke to different people to achieve different results. While you are managing your affiliate programme, you will often have the best overview of what is happening. But, your affiliates only need the information that's relevant to them - find out what information your affiliates need and how they would prefer to receive it.
Your top affiliates might work with over 3000 brands, so it is important you stand out. An easy way to do this is to build personal relationships with your key partners and ensure that you understand their needs and fulfil them. Try to set up regular meetings or calls with your top affiliates so there is an open dialogue that encourages feedback and suggestions.
What would Don Corleone do?
Listen to and get feedback from affiliates
Help your affiliates achieve their objectives
Personalise communication to suit key partners
2: Make affiliates exciting offers they can't refuse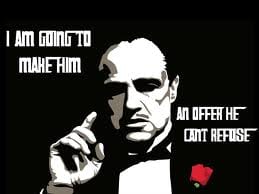 If you don't believe in the offer, why should they?
Don Corleone was famous for making offers you can't refuse. This is an area you can definitely take on board when working with affiliates, particularly cashback and voucher code affiliates.
Affiliates will often ask for exclusive deals or commission increases to get better placements. With larger cashback and voucher code sites this is often a pre-condition to being featured at all in the prominent areas. It is important that you do not just give as little as you can get away with though.
Consumers using these sites often have high incomes but they are savvy customers. If you are spending money promoting on a site, you want to ensure it performs well.
As a rule of thumb, I would always say make sure it's an exciting offer. If you are excited about the offer, then its likely the affiliate and their audience will be too. If you try to give away the minimum amount possible you might find you don't get the volume of sales you were hoping for. When it comes to working closer with your big content sites look at what you can offer them that stands you apart from the pack. If they do product reviews why not send  them a product and ask them to review it. If they can promote competitions, give them a great prize that they can push throughout their site. Keep their audience in mind. Pick a prize that will get their audience excited and give the affiliate more incentive to heavily promote you.
What would Don Corleone do?
Bespoke and exclusive offers
Create exciting offers that can't be refused
Tailor offers to the audience
3: Look ahead and plan

Don Corleone was praised for his capacity to see far ahead. His ability to plan in fine detail is shown in the final parts of the story when the death of his son is avenged. At this point in the film the tide was against the Corleone family so careful planning was needed to maximise the resources. One of the key benefits of planning is that you know what you have to do. Too often, day-to-day can take over and you lose sight of the bigger picture. Don Corleone could have been side-tracked by avenging his son's death immediately but saw that returning Michael to the family would be more beneficial in the long term.
Promotional planning can be the same. There will always be things that come up day to day that will stop you from arranging promotions. Taking the time once a quarter to plan and book promotions three months in advance means you know what you have to do and when. It also allows you to work more strategically while maintaining flexibility to have tactical promotions when you need them.
Gantt charts are a great way to ensure that you can plan in your promotions to get the best coverage;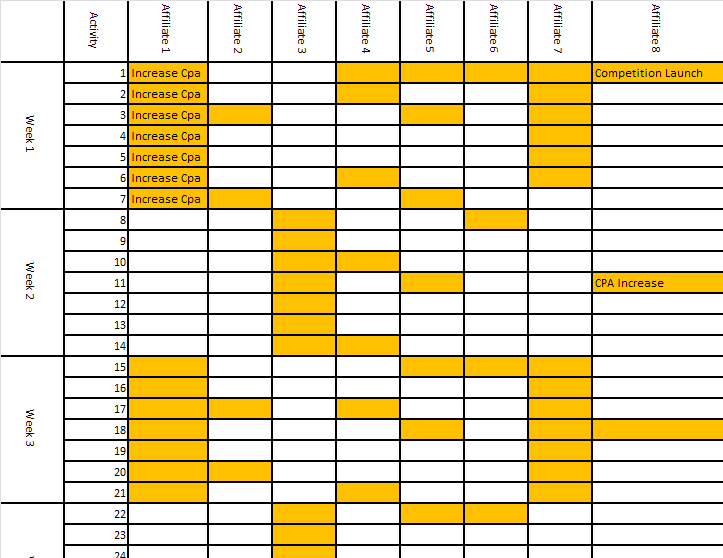 Planning also ensures you get placements with the best publishers during your key promotional periods. If you are a large retailer, planning your Christmas campaign in November will mean that you will likely miss out on the best weeks.
Long term planning allow you to test and measure different opportunities. You might try a different offer with the same affiliate on the first week of every month. Planning this in advance you could look to change one of the promotional variables each time to try and find the most effective offer. For example, you could trial a different voucher code each month with a voucher site.
What would Don Corleone do?
Plan ahead to avoid treading water
Ensure visibility in key areas
Test and adjust to get the best results
4: Choose affiliate partners carefully and regularly review who you work with
Don Corleone worked in a environment where it can be hard to trust. The saying "keep your friends close and enemies closer" never applied more than to gangsters.
For this reason, Don Corleone would always be suspicious. It was in the nature of his men that they could be disloyal if it was 'good for business'.
Affiliate marketing, thankfully, isn't that ruthless, but choosing who you work with and how you work with them, is important. I have highlighted how you should try to build relationships with your key partners and understand their objectives and requirements. But you should also ensure you know how you are being promoted by your long tail affiliates.
You can often have 3000+ affiliates on your affiliate programme, so it is important to be aware of how these affiliates get their traffic and how they represent you on their site. The great thing about affiliate auditing is you might find the odd gem you can get more sales from by understanding them better. The IAB Affiliate Marketing Council put together a best practice guide on auditing your affiliate programme  -a useful resource.
You may also be able to reactivate affiliates that have stopped promoting you for some reason. When auditing you might find they are pushing your competitors more as 'it's good for business'. You can then look at what you can offer them that could address this and help you to make additional sales.
When approving affiliates onto your programme be mindful that some may apply before they have built their sites. In this case, you might want to drop them an email to find out their plans and when they expect their site to be launched. It is also good to try and make approvals prompt as delaying them just means that your affiliates cannot promote you as quickly.
What would Don Corleone do?
Choose which partners to work closely with
Regularly review their methods of promotion
Identify inactive or underachieving affiliates
5: Be open minded - the next leader may appear unexpectedly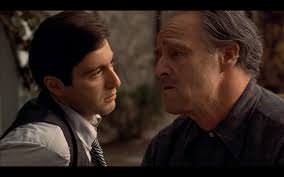 Nobody saw Michael becoming the next Don. The obvious candidate was Sonny who had earned a fearsome reputation -  affiliate marketing can be the same.
Affiliates thrive on their ability to predict and profit from market conditions. A great example is the launch of the Nintendo Wii. Due to stock shortages, people were manically searching for anywhere that might have a Nintendo Wii as Christmas approached. A number of savvy affiliates created Wii stock checker sites where you could find retailers who still had the Wii in stock.
These affiliates became big players on game retailer programmes as they took advantage of a situation to add value to end users.
Don Corleone's attempted assassination was due to what his rivals considered a lack of interest in new and profitable areas. It is important to ensure that you are open minded about new opportunities and how they can benefit your affiliate programme. But like Don Corleone, question how it fits with your objectives.
Often new ideas will be suggested, but you need to ensure that you are benefitting from them as well as your affiliates.
A good example could be search marketing affiliates. For some brands, such affiliates are ideal as they delivers better coverage on long tail keywords. But for other brands, search affiliates might just compete with their own activity and drive up costs. By knowing what your objectives are, you can work with the affiliate to tailor activity to everyone's benefit.
In recent years we have seen email and behavioural re-targeting become bigger areas of affiliate marketing. It is therefore important that you keep abreast of developments online and look at how you can make the most of them in your affiliate programme. Ensure that you speak with your  network to get advice on new affiliates, and identify new opportunities with affiliates you might not yet be working with.
What would Don Corleone do?
Be aware of opportunities
Ensure your network keeps you up to date with new affiliates with potential
Ensure that the opportunity fits with your objectives
Summary
While he might not seem like the obvious role model for an aspiring affiliate marketer, I think that Don Corleone had many key skills that would have made him successful.
Ensuring that you have strong relationships, and are known for offering well planned and strong exclusive offers, will go a long way towards helping grow your affiliate marketing programme. Regularly auditing your programme to ensure you are aware of how people are representing your brand while looking out for the 'next big thing' will help you keep ahead of the game and continue to thrive.
With thanks to kinoda, lowendtalk, brotherpeacemaker and toyark for use of the Godfather images.