Tap into the potential of niche social media communities
Social media marketing still represents a key opportunity for most of us, despite the hype that's only been intensifying since 2009.
You might feel you've missed the boat, that you should be doing more. Depending on your progress, your market and your competitors, this will hold true to varying degrees.
In this post I'll explain why it's important to look beyond the big 5 social networks to more targeted communities where you can engage audiences or "tribes" related to your brand. We'll use our new Social Radar infographic to illustrate the potential – to show you the types of social sites you can consider. You can also download our full set of infographics.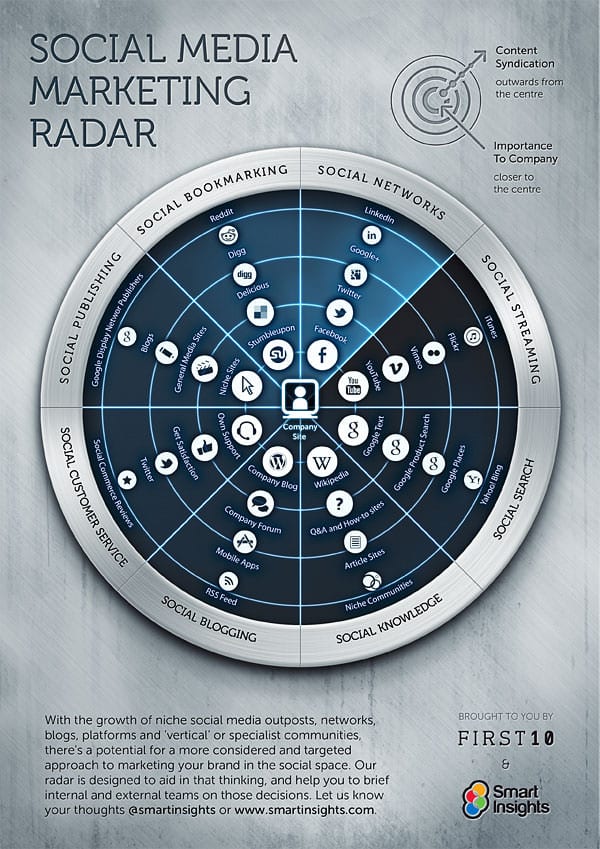 The potential of targeting communities is vast, and growing
The radar will help you to figure out the right communities, so you can create the right content and share it…
We created our social media marketing radar to inform thinking and discussion with colleagues or agencies regarding which sites warrant or deserve most attention in different categories – to avoid instantly resorting to Facebook or LinkedIn as some form of magic social media panacea.
The radar focuses attention and resources on the sites appearing towards its centre, as these sites are generally agreed on as the most important. Although this may seem a lot of effort to go beyond the main networks, you'll often find more passionate audiences who are more willing to engage and share.
Remember…
Social media hasn't stopped growing in importance
Social media isn't a fad or a passing trend, so don't think you've missed out or it isn't relevant.
Social media is  an oft misunderstood label for something that's been central to modern marketing for decades – engaging and inspiring real people so your audience wants to directly or indirectly promote your brand story.
To this end, social media marketing isn't really about big social networks, the latest social media marketing tools or techniques.
It's certainly never too late to consider creating a social media marketing strategy.
There are tools to help you assess the relevance of communities.
For example, use the Doubleclick/Google AdPlanner to assess relevant communities. Here we're looking for communities related to photography, so we select a country and relevant topics as a starting point: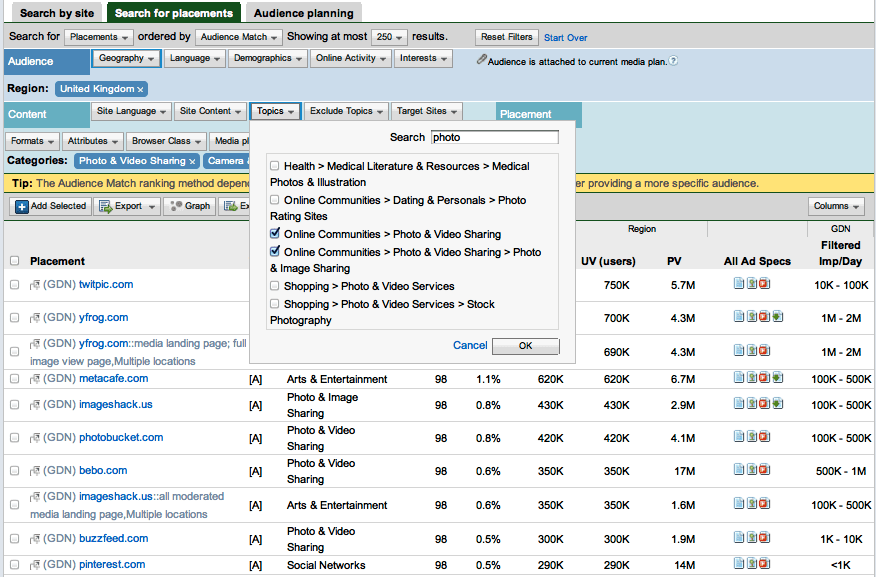 Brands should try to gain traction in niche social media
We feel that niche or vertical communities are where the social media opportunity is headed for brands.
It's naturally hardest to build a relevant presence and develop the necessary traction for your brand on the big networks. Maybe you've already encountered the difficulty involved in making your brand relevant on Facebook or LinkedIn? The degree of difficulty is evinced by the need to advertise or rely on the same old interruptive contests and techniques.
It's not that Facebook doesn't matter – it does. But, it is necessary to commit to a volume of work (or spend) to create the brand cut-through necessary to gain relevant traction, as well as having the right content and knowing your audience well enough to figure out the right approach.
And still, only when you gain an interested community's or group's attention can you inspire and earn influence and gain vital permission.
Our interest is in conducting a meaningful dialogue with relevant groups and communities.
Audience insight enables you to simultaneously open opportunities in other niche communities; communities where you might find easier ways to connect and that your brand has a more natural relevance. And these communities don't need to be small; consider, for example, Pinterest, Quora, Slideshare, TripAdvisor and Yelp.
Niche communities are very powerful by virtue of their potential to allow brand communications to be increasingly relevant and, in turn, increasingly influential. Also, vertical communities such as drinks and cocktails, student travel or chocolate, exist within tight niches.
1. Social networks – the core social platforms in most countries where people interact through social networks are Facebook for consumer audiences, LinkedIn for business audiences, Google Plus and Twitter for both.
2. Social publishing and news – nearly all newspapers and magazines, whether broad or niche, have an online presence with the option to participate through comments on articles, blogs or communities.
3. Social commenting in blogs – a company blog can form the hub of your social media strategy and you can look at tapping into others' blogs, whether company or personal, or through blog outreach.
4. Social niche communities - these are communities and forums independent of the main networks, although these do support sub-groups. You can create your own community this way.
5. Social customer service - sites like GetSatisfaction, as well as companies' own customer support forums, are increasingly important for responding to customer complaints.
6. Social knowledge – these are reference social networks, like Yahoo! Answers, Quora and similar plus Wikipedia. These sites show how any business can engage its audience by solving their problems and subtly showing how products have helped others.
7. Social bookmarking – bookmarking sites, like Delicious (www.delicious.com), are relatively unimportant in the UK unless you are engaging technical audiences.
8. Social streaming - rich and streaming media sites including photos (Pinterest), video and podcasting.
9. Social search - search engines are becoming more social with the ability to tag, comment on results and, most recently, vote for them through Google +1.
10. Social commerce - we've left this one until last, because it's mainly relevant for the retail sector. It involves reviews and ratings on products and sharing of coupons on deals.
Putting mobile on the social media radar
We haven't identified mobile platforms or apps separately, since all options will be available through Smartphones. However, proximity services, like Foursquare and Gowalla, are specialist networks and should be considered separately – they appear in the social network section.