New data shows relative importance of different social channels on volume and quality of Ecommerce site visits
Value/Importance:
Recommended link: E-commerce Monetate 2013 Quarterly report
We're alerting you to this regular research from Monetate since it gives potentially useful benchmark data for Ecommerce marketers to compare themselves against. It also highlights trends such as the impact on Ecommerce sites of increasing mobile usage and the influence of social media which we focus on in this alert.
The data is based 500 million visits amongst their clients who include Ecommerce brands such as Best Buy, Frontier Airlines, Aeropostale, The Sports Authority, and PETCO.
The focus of the Q1 2013 Ecommerce Quarterly report is social media, VP of Marketing Blair Lyon explains:
'We focused this EQ on social commerce since the data show that companies have not yet cracked the code in leveraging social media to drive e-commerce traffic. We know that social media plays an important role in influencing social purchases — to what degree brands are able to leverage social to build loyalty is the next big question'
In this alert we focus on 3 questions related to benchmarking the impact of social media on Ecommerce.
1. What the share of  social media referrers for Ecommerce sites?
This data shows the relative importance of Stumbleupon and Pinterest amongst Monetate clients. Twitter has also grown since 2012 which collectively have decreased the share of Facebook traffic.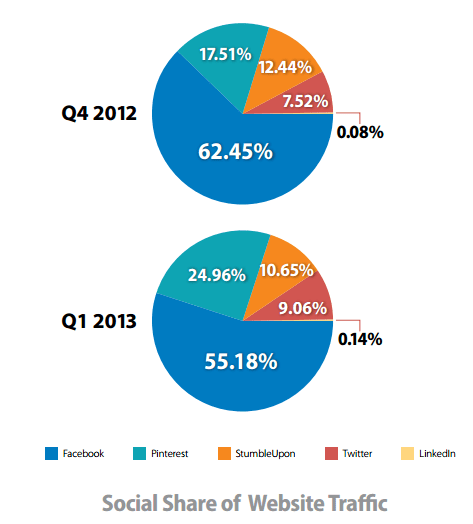 2. Add-to-basket conversion rates by referrers?
This research shows the continued importance of email in comparison to social media, the report states:
'Email is also responsible for generating twice as much direct traffic as social media, and fully four times the conversion rate.".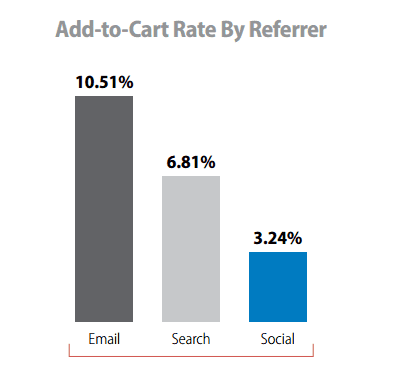 Looking at the volumes of traffic from these 3 sources shows the dominance of direct (not shown) and search with Social and Email as a relative low proportion. Note that the apparently declining proportion of social and search traffic may be partly explained by increased use of mobile devices where visitors clicking through from apps may not be tracked from these apps.

It's worth remembering also, that these are last-click figures and don't show the role of social or email marketing in the path to purchase. See this Forrester data on the impact of social media and email for a different view including direct visits.
3. What referrers have the greatest conversion rate?
Amongst social media services, Facebook delivers much higher conversion rates than Pinterest or Twitter in terms of social commerce sales, but the average order value is highest for Pinterest users. The Top 3 referrers by conversion rate are AOL Search, Bing and Yahoo for e-commerce sites (although not volume).


It's also worth reading this study for the actionable takeaways from commentators Jay Baer and Mitch Joel. Here's my summary of their advice
Don't focus on inbound only. Optimise for onsite engagement, improve the UX and in turn it improves the brand 0ff-line.

Evaluate social traffic sources driving visitors to your site and understand how the social media channels and activity impact your business; examine segments and look for deviations.
Improve engagement with tailored offers, promotions and content.
Consider geo-targeted offers as part of your engagement strategy for specific audiences.
Improve website retention with social logins; acquire and use this additional data to support your contact or communications strategy.
Think about encouraging your visitors to share information across your site.
Don't over complicate; simple tactics are effective such as a 'Badge' for the most liked product.