4 Alternative options for reviewing SEO effectiveness now most keywords are "not provided"
Importance: ★★★★★
Recommended link: Search Engine Land
It's now two years since Google started restricting information about the search keywords used by searchers to find a site when they were signed in to their Google account. Over this period these not provided encrypted search terms have gradually increased as shown below as different browsers have added encrypted search.
This alert is to let you know, if you haven't heard, that a recent change by Google means that ALL searches from Google will now be encrypted even if the user isn't signed in. In effect, this removes specific SEO search query data from Google Analytics.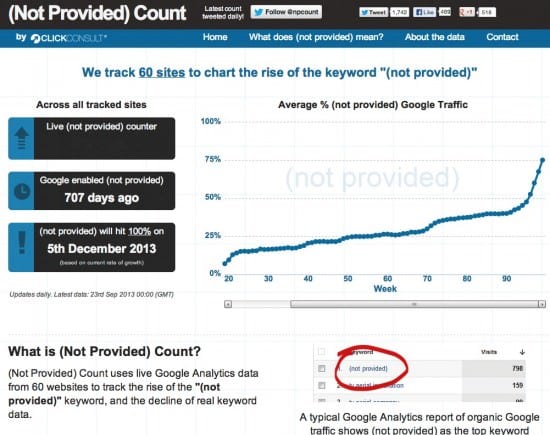 This change means that, for most sites, counts of specific search terms in Analytics are now unrepresentative and highly misleading. In the Search Engine Land article by Danny Sullivan, he asks Google to explain what they have done:
"We added SSL encryption for our signed-in search users in 2011, as well as searches from the Chrome omnibox earlier this year. We're now working to bring this extra protection to more users who are not signed in".
That's all so far! But he is asking for more info…
Assessing the impact of "not provided"
In the meantime. it's worth assessing the impact of the change on your site or your clients' sites. If you look at your analytics to see which terms visitors to your site are typing into Google to find your site you will have seen that the top search keyword for a site is now almost always "(not provided)". Not Provided Count has been charting this across a sample of 60 sites and gives an example. You can also see from above that the latest data from 23rd September 2013 shows that on average not provided is around three-quarters of site visits.
To assess how significant Not Provided is for you, or your clients, take a look at this Not Provided Kit for Google Analytics created by Dan Barker where you can add custom reports and segments to help review how much your % not provided has changed. Ours is @ 90% today – it's typically higher for business users.
What are the implications?
This change makes it challenging to review the effectiveness of your SEO, to say the least, particularly since the percentage has now climbed so high. When not provided was pegged at one quarter to one third you could gain an idea of popular search terms though extrapolating based on data received, but not when the vast majority are barred.
It's a particular problem when you're paying for an agency to improve SEO since they are now a lot less accountable. You can't even easily see whether the visits they are driving are Brand or non-brand related.
What are the alternative tools and data sources to understand SEO effectiveness?
There are alternatives which should be explored and setup if they haven't been already.
1. Use Google Webmaster Tools. As explained in this post by Dan, when this service was launched in October 2011, to make this data available in Google Analytics you have to link your Google Analytics account with Google Webmaster Tools. You can look at estimates at search impression against click broken down by query as shown in this example. It also gives you the average position for a search term.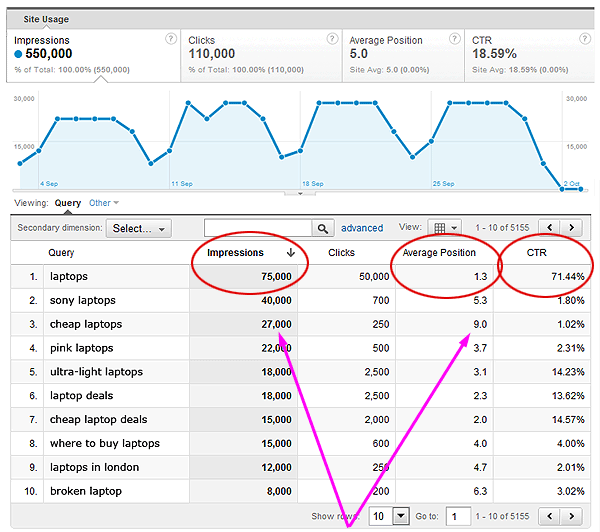 These reports have been questioned because of their lack of history (currently 90 days, to be extended to one year shortly), number of keywords and accuracy compared to Analytics. It's now a case of "beggars can't be choosers".
2. Use Google AdWords new Paid and Organic report. This new feature was announced by Google in August 2013 on the Inside AdWords blog. Again you need to connect with Google Webmaster Tools. It's great in that it shows paid and natural results side-by-side and you can see performance in terms of CTR when ad is present or isn't.

The good news is you don't have to have a Google AdWords account and the data looks to be more accurate than the Webmaster tools data which is rounded to nearest hundred for organic search queries. The bad news is that it's not in Google Analytics, perhaps that will happen one day.
3. Create a filter to show where not provided traffic is entering the site This is from Dan Barker again! What would we do without you Dan? He wrote this up on Econsultancy and gave this example. You can see that the relevant landing page URL is added to the Keyword – neat – at least you can see in a relative sense which pages are/aren't generating natural visits through search.

Dan does describe this as a hack since it's a filter that rewrites the Not provided data when it's added to Google Analytics when the tag fires. So it is for Advanced users only to set up. A simpler approach is simply to setup an Advanced Segment of organic and see which landing pages gain natural search traffic.
4. Use Rank checking tools. Although Google has strongly discouraged the user of these types of tools over the years, this move encourages their use… Despite personalisation meaning that average ranks are misleading, this does give you insight on which terms you are competitive for. See our post on Rank checkers for a range of tools – we recommend and use Advanced Web Ranking.
How are you trying to gain insight on SEO effectiveness given this challenge? Do share any tools or techniques you are using.