Part 5 in James Gurd's website optimisation series
In Part Five of this SEO series, I'll show how to improve page titles and meta descriptions to increase traffic from natural search. This type of testing should be an integral part of any optimisation program and these two elements are often overlooked.
As many of you will know, there are two key elements that appear in every listing, regardless of whether or not you have optimised your webpages to display targeted content:
Page title
Meta description

Why is this important?
It's simple, the words that people see on search engines results pages (SERPs) influences their click decision. The more persuasive the copy and the closer it appeals to the needs of the searcher, the greater the propensity to click. Google rewards pages which have a higher relative click through rate since this is a positive relevance signal. Furthermore, the title is a well-known search ranking factor as one of the key relevance signals to Google related to each page.
While the meta description doesn't directly affect the ranking in Google it should ideally be unique to the page to avoid problems with duplicate content.
If you don't structure your website to display optimised content, you can end up with a search listing that contains content that the search engine has indexed in the absence of proper direction from the web owner. This can look unprofessional and deter would-be clickers since it's gobbledygook without a clear value proposition or "reason to click":

For people who wish to move beyond the basics, there are other elements that can be indexed by search engines and displayed for individual page listings, including rich snippets like customer reviews and author tags for articles. These can have a significant uplift on click through rate, though it's never guaranteed.
The meta description is dead. Long live the meta description!
Many people dismiss the meta description as an SEO irrelevance because search engines no longer give it much love. However, the core goal for SEO should be to attract customers to your website, not obsess over how much search engines love you. The latter will come inevitably if the former is achieved.
By this I don't mean ignore the technical requirements to ensure your website is crawlable by search engines; that is hugely important. However, when looking at the marketing aspects of SEO I would advise you to think carefully about what customers need first, then optimise your campaigns for the search engines. A webpage that has high visibility in SERPs but poor usability or user experience will not delight visitors and you'll likely to see a high bounce rate and low conversion. In turn, search engines will pick up on these and downgrade the page's relevance for future searches.
Deciding which pages to run tests on
I find the best way to make this decision is to look at the potential commercial benefit of increasing click through rate and conversion for individual webpages. You need to consider:
1.    What is the market potential for the keywords the webpage is targeting?
Use tools like the Google External Keyword Tool and Google Insights to identify the total number of local market searches and which keyword searches are trending.
2.    What is your market share growth potential?
What is the gap between your current keyword traffic and the total available in the market? If you have high market penetration, the growth potential is limited.
3.    Do you have a competitive product offering?
There are many factors to this but focus on the most obvious: are you price competitive, do you have an authoritative product range, is your delivery offer competitive?
4.    Do you have the right content to deliver value to new visitors?
This relates to product and non-product content. Will a customer find the information they need to make a purchase decision? Does your website provide sufficient information for people researching who aren't yet ready to make a purchase but want their questions answered.
5.    Are your webpages performing well?
If you have a webpage with a high bounce rate (anything >30% as a rough indicator) this indicates you will struggle to drive conversion when you increase click through. One caveat is that if your page is currently poorly optimised and is attracting irrelevant search traffic, then by testing you may well send more relevant traffic and see uplift.
You can create a propensity matrix by scoring each webpage against these criteria, helping you to define a priority list for testing.
Using data insights to drive page title and meta description testing
Keyword research
You can use free tools like the Google External Keyword Tool to identify keyword combinations that have a high search volume. The trick is to be as precise as you can, so the keywords you select match exactly with what your webpage provides to the customer. Here we can see the volume of monthly searches for
For example, if you are testing the page title for a webpage that sells "Organic facial serum" then avoid generic keywords like "organic skincare" as people searching for this will be expecting different content.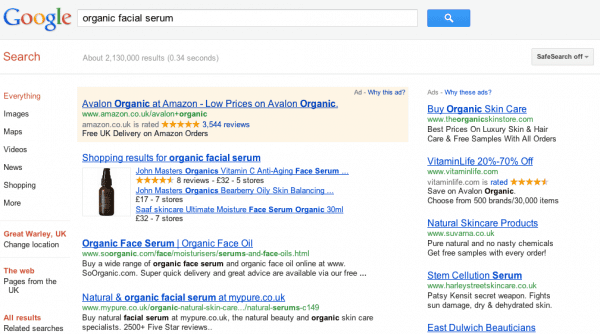 Screenshot: Google UK search terms related to "Organic facial serum"
Adwords data
Your paid search account is a mine of useful information. One of the core components of a paid search program is the constant testing of campaign creative to drive click through. Each ad has a title and a description that can be used to position keywords and use calls to action to encourage clicks.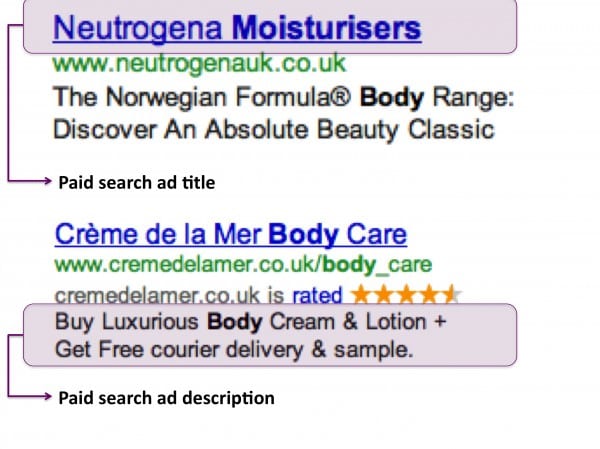 The title is most commonly used to include the exact search keywords that are being targeted so that when a search query is entered into a search engine like Google, the person searching is shown an ad that exactly matches their search term. The description, which has a maximum of two lines, is then used to motivate the searcher to click through on the ad instead of clicking on competitive ads.
Multiple versions of each ad can be created, using different titles and calls to action to determine which combination drives the best click through rate and on-site conversion for a specific keyword query.
By using Google Analytics alongside AdWords, you can quickly review your paid search campaign performance using the Advertising > AdWords > Campaigns report. Take a look at the click through rate (CTR) data – when an ad version has a significantly higher CTR than other versions, take a look at the title of the ad and the use this to inform your SEO page title structure.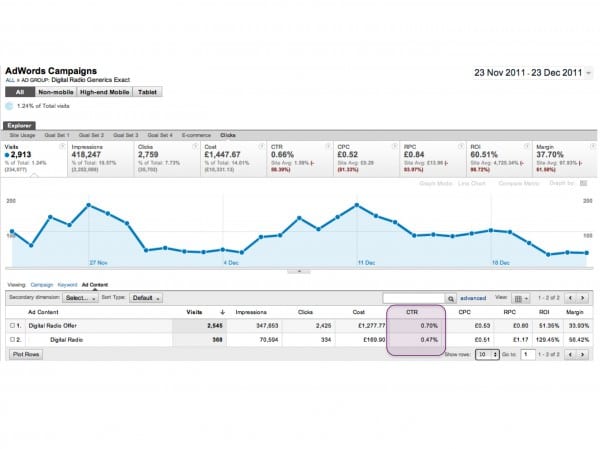 Although the behaviour of paid search and organic search visitors is rarely identical, and your web analytics data can validate this, your paid search campaigns can be a valuable source of learning for understanding what keyword combinations and calls to action inspire the greatest click through rate and on-site engagement.
You can translate this learning into actions for your SEO activity, using paid search insight to shape your testing plan for page titles and meta descriptions.
Google Base
If you're running an e-commerce website, you might already have a Google products data feed set-up. You can use this channel to test different product titles.
You can use Google Analytics to measure the impact of the traffic before and after testing, to learn what product title format drives the most traffic and conversion.
As most websites use the product title to drive the page title for product pages, you can apply this learning to your main website product titles.
A good example is for a retailer of skincare products I've worked with that sells a range of organic and natural skincare products. The page title is structured to include the product brand name + website domain, leaving a maximum of 40 characters for the product title to ensure the total page title remains within the recommended 64 character limit. The challenge was to include the primary keyword targets "organic" and "natural" within the product title. This wasn't possible without cutting key product descriptors essential for customers, so different page titles were tested, one version using "organic" and one version using "natural".
Recommended reading:
This article by Conversioncounts.com gives you a Google Analytics custom filter to enable you to distinguish between traffic coming from Google Base vs. organic Google traffic. See: http://www.conversioncounts.com/blog/analytics/3-ways-to-test-page-title-tags-ctr-in-google-analytics/
Benchmarking current performance
You've got to know what you are measuring to be able to decide whether or not your test has worked. This means knowing what your SEO KPIs are before, during and after the test.
The following are the recommended metrics:
 1.    Click through rate
You can find this in the new release of Google Analytics in the Traffic Sources > Search Engine Optimisation > Queries report.
2.    Keyword Visits
Shown for each keyword in the Traffic Sources > Sources > Search > Organic report.
3.    Page Views and Bounce rate
This can be found for each page on your website in the Content > Site Content > Pages report, or if you wish to look at your webpage as a campaign landing page, then the Content > Site Content > Landing Pages report.
 4.    Goal conversion
Go to the Traffic Sources > Sources > Search > Organic report and click on the Goal Set tabs at the top of the page. You need to look at macro and micro goal conversion to get a full picture of value. Some keywords might be poor in driving revenue conversion but an excellent source for email registration and social sharing.
5.    Revenue and Per Visit Value
Go to the Traffic Sources > Sources > Search > Organic report and click on the E-commerce tab at the top of the page. Per visit Value is important because some products are low price so the total revenue contribution many not be high. However, if you have a high conversion rate, then the average financial contribution per visit will be high. It's an important metric because it helps you understand the marginal benefit of delivering additional visits.
I'm not suggesting these are definitely the best metrics for your website but they are the basic KPIs that I look at when evaluating SEO tests.
Stick or twist?
And here's your dilemma – once you've tested and found a way to improve your click through from organic search listings, is that job done? Do you move on to your next challenge?
Yes and no. The beauty and frustration of SEO is that search trends and customer behaviour are prone to change. There are so many influences on our search behaviour that what may work now, might not hold true in 6 months' time.
My recommendation is let your analytics data do the work for you. You can monitor click through rate (using the new Search Engine Optimisation reports) and conversion for each keyword that is driving traffic to your website. For high volume terms, if you see a sharp decline in click through rate and/or conversion, that should act as a red flag for further investigation. If nothing else has changed on your website that could have caused this fluctuation, it might be time to revisit your page titles and meta descriptions to see if you can find a better combination.
Also keep an eye out for external factors that could cause a short-term change in your organic click through rates. A good example is promotional activity by competitors that suddenly makes your listing look less attractive.
Share your comments and suggestions
So, this is Step Five in the Smart Insights 12 step series of Website optimisation for natural search. It's by no means an exhaustive list, more a steer in the right direction. Please join in the discussion with comments and your own experience of testing page titles and meta descriptions and feel free to share links to interesting blogs/articles.
Keep an eye out for next month's article, "Using web analytics data to identify poor performing organic keywords".
Missed Steps One to Four? Catch up on the earlier reading when you're ready:
Thanks
james