Lisa Wood, Head of Marketing at HSBC Bank International explains the thinking behind their annual customer engagement campaign
HSBC International offer Offshore banking, so people living overseas are a key audience, with the Expat Explorer survey a key part of customer communications strategy: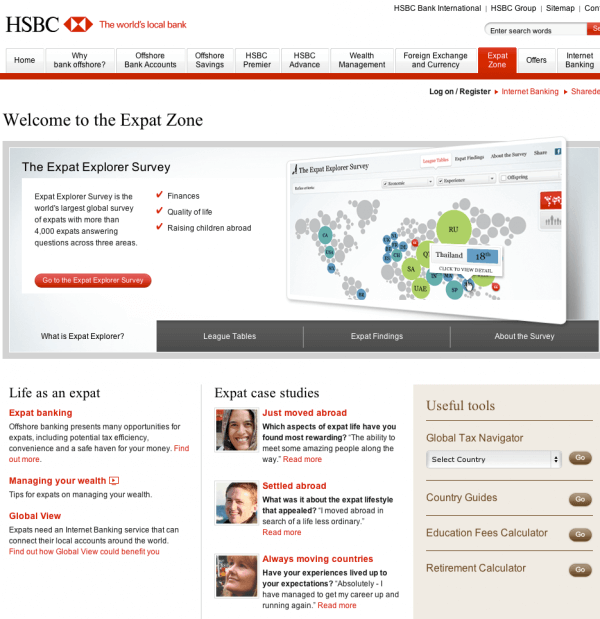 It was great to get the opportunity to interview Lisa about the commercial thinking behind the campaign since I've used this brand-led campaign as an example of this customer engagement approach for several years now in my digital strategy and SEO workshops. I think it's a good example of how you can develop a customer engagement device within an audience that's often time poor and it really adds to what the brand offers.
The fourth survey has just gone live, so in this timely interview, Lisa will explain
How the approach takes inspiration from media sites
How social media marketing is used to support the campaign
How HSBC set commercial goals for the campaign
Innovative approaches that could be relevant for other organisations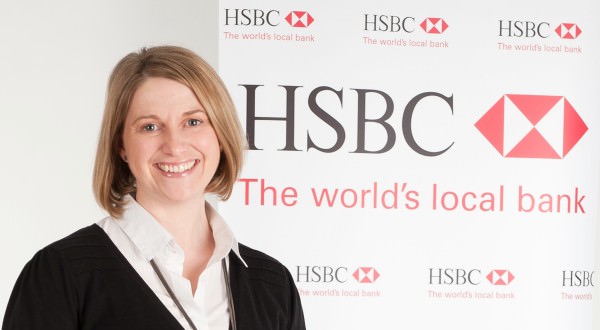 The goals for the campaign
Q1. I know that the HSBC Expat Explorer is an established approach for HSBC International to engage its audience. What was the original thinking behind it?
2011 is the fourth year of Expat Explorer since we started in 2008. Since the launch, we've watched it grow into the world's largest survey of expats with over 4,000 respondents in 2010.
The survey was devised because as a business we wanted to better understand the expat community and the issues and challenges they face whilst living or relocating overseas.
Expat Explorer has provided us with some fascinating insights and because it covers all aspects of expat life has allowed us to better tailor the services we offer to our existing and potential customer base.
Justifying investment in customer engagement
Q2. How do you justify the return-on-investment for a branding activity such as this which doesn't directly link to online leads and sales?
Our main objective is to demonstrate that HSBC really does understand expat life. Establishing this credibility is important to us. It means we can build trust with both our existing and potential customer base increasing loyalty to our brand and giving out customers the confidence that we know the types of financial products and services they need.
We also hope to gain online leads and sales indirectly in a number of ways.  We are investing in compelling content designed to pull people into the website, as opposed to spending money to 'push' people to us.
By creating something that is genuinely useful we hope that expats will want to share it with their peers in expat forums and communities, and thus generate additional traffic to the website at no extra cost. Likewise, we've had a large amount of press coverage for Expat Explorer which leads to more traffic being driven to the site. Encouraging media and social media sites to link to us also helps with our natural rankings in search engines for expat-related keywords.
Tailoring the campaign for local markets
Q3. You run the survey across many countries, how do you approach tailoring communications before, during and after the survey so they resonate with local markets?
The survey is truly global and in 2010 we had respondents from over 100 countries complete the questionnaire. Tailoring communications is an extremely important part of the process and we use our local offices to translate all our press and survey launch materials to make them relevant to regional markets.
Our social media channels also allow us to reach a global audience and we've built a community of followers from all over the world meaning we can keep them informed of the survey and its key findings as and when these are released.
Using social media marketing to support the campaign
Q4. In recent years, you have used social media to support the survey and disseminating the results - how do you use social media?
We've been using social media since early 2009. It was a big step for us as a bank, but it's delivered some fantastic results for us. We have three main channels which consist of an Expat Explorer blog, Twitter feed and YouTube platform and these are used in a variety of ways.
We look to position the blog as a central hub of expat related content. It's got a range of posts looking at the whole spectrum of expat issues and often helps us share the insights we've gained from our recent surveys. Quite often we'll also invite guest bloggers to contribute to our site. These contributions come from a wide variety of people, from expats who have moved abroad and have an interesting story to share to Expat life coaches, authors and business leaders. They're a great way of providing unique expat relevant content to our readers and the feedback we've had has been extremely positive.
The Twitter feed allows us to engage directly with the expat community helping us build the relationships with them more effectively. Our tweets range from flagging interesting articles, to responding to our follower's queries or issues, promoting our recent blog posts or simply saying a cheery hello. From a brand perspective it's allowed us to develop a much more personable face and we've seen our community grow to over 2,300 followers which is testament to how positively we've been received.
The YouTube platform, a more recent addition to our social media channels,  is where as you'd expect we host all of our video content. We generally develop one piece of film around each the survey reports detailing the key findings and the insights we've developed on the back of this. We've also just launched an animated, infographic video bringing together the key highlights from the survey, which is also on YouTube. The videos are a lot of fun to work on and allow us to put a human face to the business. We then utilise the blog and Twitter feed to drive engagement and traffic.
We've just launched an interactive version of Expat Explorer, which serves as a focal point on our own website for our social media activity and has Share functionality to enable users to share interesting findings from the survey on social media sites.
Innovative approaches that others could apply?
Q5. Your activity this year uses some innovative approaches. What's new and which approaches have you found are successful that other companies could apply?
This year we really wanted to build upon the success of our previous Expat Explorer surveys. We wanted to bring the wealth of information we had from the survey to life online, in a visually rich and engaging way.
We took inspiration from other sites, particularly media sites, which use data visualisation to help readers make sense of large amounts of data. Working with our digital agency HeathWallace, we've developed an interactive tool based on the data from the survey.
The tool lets users to explore the differences between their home country and other countries. They can compare countries based on 55 criteria ranging from quality of life to disposable income and the cost of educating their children abroad.  Each output generates its own specific URL which can be shared through a number of social media sites. Users can also read key themes from the survey in a series of articles, illustrated with infographics.
We tested the tool with focus groups of expats and the responses were very positive. In particular, expats commented that they would trust the tool more than other country comparison tools as it reflects the views of real expats, people like them in similar circumstances.
As I mentioned, we have also created a non-commercial, animated video which highlights some of the interesting findings from the survey. By avoiding using commercial marketing messages and overt branding we hope that expats will be more inclined to watch and share the video and to come to our website to find out more.
We've also allowed a select group of bloggers and journalists, who write about expat issues, to have an exclusive preview of the new Expat Explorer before launch. The response has been great - we even enlisted some expat bloggers to help with content creation, providing us with case studies about their experiences of life abroad.
Brands such as HSBC have huge amounts of data, which can be used to create interesting and compelling content. We wanted to find ways to make that data accessible and useful for customers, which is what we have aimed to achieve with Expat Explorer. We have been able to mobilise HSBC's development and marketing resources in order to create something that we believe brings value for our customers and expats in general.