Create a comprehensive action plan for online marketing and complete your knowledge of digital marketing
Tutor: Dr Dave Chaffey
Last updated: July 2013
Format: Video tutorials plus workbook, quiz and supporting models. Designed for use on smartphone, tablet and desktop.
Certification: We have developed this course as an individually certified qualification similar to the Individual Google AdWords and Google Analytics qualifications where to receive a certificate of competence you have to complete all units and achieve an overall grade of more than 70% in all units. However, you can take the modules of the course in any order without completing the optional tests.
How will this course help me and my organisation?
Are you looking to develop a wider, deeper knowledge of digital marketing? Do you need to create or review a digital plan for your company or clients? If so, this course has been designed to help you develop, while creating a tailored digital plan for a business using the course workbook.
We've created this comprehensive self-paced individual qualification to provide a complete guide to all aspects of digital marketing based on the Smart Insights RACE framework.
This course features:
17 self-contained course units to work through in any order.
A downloadable workbook to create your own plan as you work through the course.
A video tutorial in each course explaining concepts and showing examples of how to create a plan.
Supporting resources including Smart Insights planning diagrams and relevant Expert member templates and guides for each unit.
A short multiple choice quiz in each section to review your knowledge (optional).
A responsive HTML5  design enabling use on desktop, smartphone or tablet.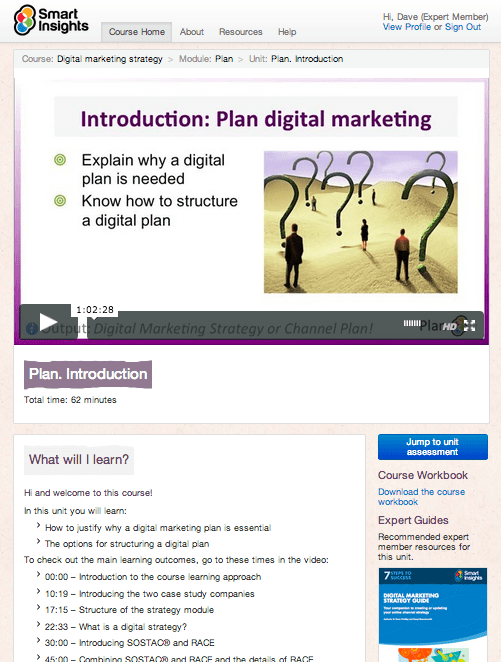 How is the course structured?
The course is structured using the Smart Insights RACE Planning framework, used since 2010 by organisations around the world to help them create a customer-centred, commercially-focused digital presence.
Plan. Learn how to create a comprehensive digital plan to help you compete and win online.

Unit 1. Introduction to structuring a digital strategy.
Unit 2. Online marketplace analysis.
Unit 3. Create overall digital strategy.

Reach. Grow your audience by creating an online acquisition communications plan and budget. Learn success factors for the six core digital media channels.

Unit 4. Introduction to digital media.
Unit 5. Review digital media effectiveness.
Unit 6. Create a communications budget.
Unit 7. Create an online acquisition strategy.
Unit 8. Optimise media channels.

Act. Encourage interaction with your audience in those crucial initial touchpoints.

Unit 9. Introduction.
Unit 10. Improving site customer journeys.
Unit 11. Content marketing strategy.

Convert. Boost your conversion to sale by following our examples and recommended best practices.

Unit 12. Introduction to Conversion rate optimisation (CRO).
Unit 13. Persuasion and site design.
Unit 14. Mobile commerce.

Engage. Create thrilled customers who encourage more sales and sharing using integrated social media, email and web marketing.

Unit 15. Introduction. Evaluating customer engagement.
Unit 16. Social media marketing strategy.
Unit 17. Email marketing strategy. 
Who is this course for?
The course is designed to support the range of Smart Insights members with different involvement in digital marketing:
Marketing Managers. Review and prioritise the opportunities of digital – create a plan to integrate digital marketing with offline media channels.
Digital Marketing Managers. Prove the value of digital to colleagues by creating a business case and roadmap justifying future investment.
Marketing consultants and agency account managers. Review your process and project deliverables against ours to improve the results you can deliver to your clients.
Full-time and Professional students. Use our strategy process, models and examples to supplement your course materials to gain an edge in assignments and exams.
What our members say about the RACE Digital Strategy Qualification
I'm currently working through the digital marketing strategy course and so far so good. Very impressed with the onsite content and already applying it in my day-to-day job. 
I've only been signed up to your site for a few weeks but I can confidently say that the value I've been able to add to my clients digital marketing campaigns has already more than paid for the initial investment.  The content is well written, structured and the templates and frameworks provided make the planning process for campaigns more efficient and ultimately effective.  
Matt Bethell, Business Development, Boz Boz, Email feedback
Smart Insights Expert membership clearly gave me a true structure + valuable know how on digital marketing to build and share with business units across the globe. The cherry on the cake is the access to nice and fresh best practices, guidelines, templates and insights on how to use them. Sharing views with the expert community is very valuable and I would say the annual fee is really low compared to most copy/paste websites with no thinking or expertise behind. Thank you ! 
Christophe Ferrasse, Global eBusiness Leader at Royal Canin SAS, a division of MARS Inc.
I find that the material you put together in the RACE qualification is of incredible value for any person who wants to understand and apply the principles of digital marketing. Theory, case studies, workbooks and references give you more value than any webmarketing course i have heard of in Italy.
I am really grateful to you for  having realized this fantastic compendium of tools and instructions on how to use them, and to have made it available to persons like me, who are very interested in learning to be always more effective, but have very limited spending capabilities.
Marco Ciofetta, Web Marketing Manager, Marachello Gruppo, Italy via LinkedIn
You can access this advice if you are a Smart Insights Expert-level member.
Smart Insights Expert Members get "at your desk access" to in-depth advice to improve their online marketing skills and capabilities:
In-depth Ebooks
Online training
How to
videos
Marketing templates
Learn more about Expert membership
Locked
Most popular related resources