Create a comprehensive online marketing action plan rapidly and expand your knowledge of digital marketing
Tutor: Dr Dave Chaffey
Format: Video tutorials plus workbook, quiz and supporting models. Designed for use on smartphone, tablet and desktop.
Certification: We have developed this course as an individually certified qualification similar to the Individual Google AdWords and Google Analytics qualifications where to receive a certificate of competence you have to complete all units and achieve an overall grade of more than 70% in all units. However, you can take the modules of the course in any order without completing the optional tests.
How will this digital marketing course help me and my organisation?
Are you looking to develop a wider, deeper knowledge of digital marketing? Do you need to create or review a digital plan for your company or clients? If so, this course has been designed to help you develop, while creating a tailored digital plan for a business using the course workbook. It's led by digital strategy guru, Dr Dave Chaffey of Smart Insights, author of Digital Marketing: Strategy, Implementation and Practice, a best selling digital strategy book used worldwide by professionals and students alike since 2000 and updated regularly since.
Create a digital plan fast
Some digital marketing courses can take months or even years to complete and cost thousands, but not this one – it's designed to be completed rapidly to give the essential knowledge to marketers who don't have the time following a longer qualification. Typically our members take from a week to a month to work through the course to create a plan and understand the key digital marketing techniques.
We've created this comprehensive self-paced individual qualification to provide a complete guide to all aspects of digital marketing based on the Smart Insights RACE framework.
This course features:
17 self-contained course units to work through in any order.
A downloadable workbook to create your own plan as you work through the course.
A video tutorial in each course explaining concepts and showing examples of how to create a plan.
Supporting resources including Smart Insights planning diagrams and relevant Expert member templates and guides for each unit.
A short multiple choice quiz in each section to review your knowledge (optional).
A responsive HTML5  design enabling use on desktop, smartphone or tablet.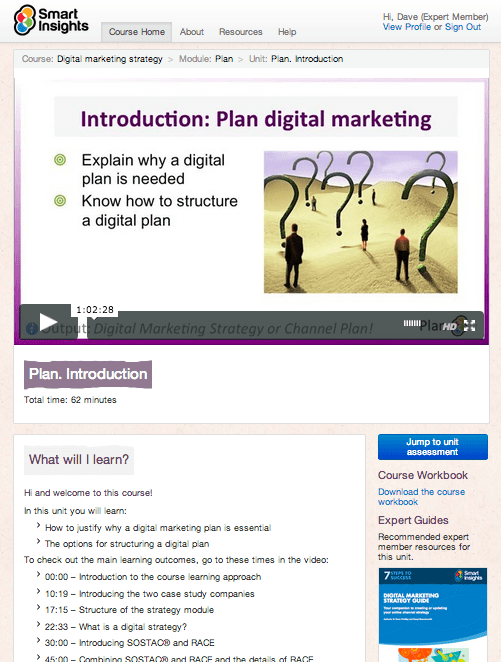 How is the course structured?
The course is structured using the Smart Insights RACE Planning framework to help you Plan, Manage and Optimise your Digital Marketing. RACE has been used since 2010 by organisations around the world to help them create a customer-centred, commercially-focused digital presence.
Plan. Learn how to create a comprehensive digital plan to help you compete and win online.

Unit 1. Introduction to structuring a digital strategy.
Unit 2. Online marketplace analysis.
Unit 3. Create overall digital strategy.

Reach. Grow your audience by creating an online acquisition communications plan and budget. Learn success factors for the six core digital media channels.

Unit 4. Introduction to digital media.
Unit 5. Review digital media effectiveness.
Unit 6. Create a communications budget.
Unit 7. Create an online acquisition strategy.
Unit 8. Optimise media channels.

Act. Encourage interaction with your audience in those crucial initial touchpoints.

Unit 9. Introduction.
Unit 10. Improving site customer journeys.
Unit 11. Content marketing strategy.

Convert. Boost your conversion to sale by following our examples and recommended best practices.

Unit 12. Introduction to Conversion rate optimisation (CRO).
Unit 13. Persuasion and site design.
Unit 14. Mobile commerce.

Engage. Create thrilled customers who encourage more sales and sharing using integrated social media, email and web marketing.

Unit 15. Introduction. Evaluating customer engagement.
Unit 16. Social media marketing strategy.
Unit 17. Email marketing strategy. 
Who is this course for?
The course is designed to support the range of Smart Insights members with different involvement in digital marketing:
Marketing Managers. Review and prioritise the opportunities of digital – create a plan to integrate digital marketing with offline media channels.
Digital Marketing Managers. Prove the value of digital to colleagues by creating a business case and roadmap justifying future investment.
Marketing consultants and agency account managers. Review your process and project deliverables against ours to improve the results you can deliver to your clients.
Full-time and Professional students. Use our strategy process, models, stats compilations and examples to supplement your course materials to gain an edge in assignments and exams.
You can access this advice if you are a Smart Insights Expert-level member.
Smart Insights Expert Members get "at your desk access" to in-depth advice to improve their online marketing skills and capabilities:
In-depth Ebooks
Online training
How to
videos
Marketing templates
Learn more about Expert membership
Locked
Most popular related resources