Marketing technology and media innovation guide 2017
How to prioritise marketing investments in innovative marketing technology including 6 key investments to focus on in 2017
The guide outlines 6 of the most important new technologies marketers should consider when planning for future investment in customer-facing marketing experiences and communications to encourage brand engagement and purchase.
At the start of the guide we also explain different planning techniques that will help you take the right strategic decisions when evaluating new technology investments.
About this guide
With so many different innovations available it's important for marketers to be aware of the latest opportunities and for businesses to have a process for selecting the most relevant technology to actively innovate by putting cutting edge techniques into practice.
In the guide we introduce planning frameworks to will help your business think strategically and make the right decisions about how to invest.
The guide also outlines the key technologies marketers need to consider when planning for the future.
Who is this guide for?
The guide is written primarily for marketing managers or Ecommerce managers however the mix of technologies examined presents opportunities both for bricks and mortar stores and Ecommerce pure plays. It's focus on technology trends will make it useful for anyone planning where to invest and developing strategies for future years, which means it will also be useful for CMOs (in all businesses) and CEOs in certain businesses. It may also be useful for those working in marketing agencies to consider what emerging technologies they can begin offering their clients.
Resource Details
About the author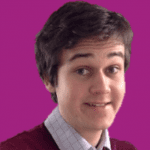 Rob Allen is the blog editor for Smart Insights. Rob manages the Smart Insights blog which involves daily research and writing about the latest trends in digital marketing. You can contact Rob on Twitter and connect with Rob on LinkedIn.
What's inside
The guide starts by covering management techniques to assess the importance of tech trends by looking at:
Scenario Planning
Impact Probability Matrix
Gartner's Hype Cycles
The technologies covered in the guide are:
Virtual Reality
360 Video
Chatbots
Augmented Reality
Geo-location
Internet of Things
Business Membership is required
Business members get full access to this and 6 other guides in the Marketing Technology and Innovation Toolkit.
Learn more about business membership
Already a Business member? Login here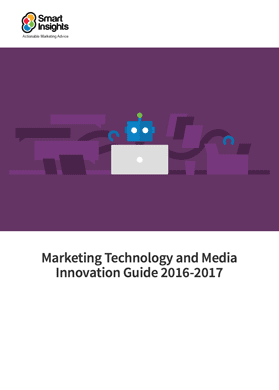 Look Inside