Digital marketing training courses
Like all our content and advice, our training courses are all about helping you take the right actions to improve results. We offer:
In-company digital marketing training courses with a difference
The difference is that our trainers are not full-time trainers. Instead they're active consultants with solid training experience too. Combining the two will give you a training workshop focused on the needs of your company and blending learning with practical advice and ideas.
A typical one or two-day workshop reviews all opportunities of digital marketing based on examples from your site and communications compared to competitors, but also inspiring with out-of-sector examples. If you have a specific need we can deliver a more focused workshop on a particular challenge. Recent workshops have included:
Practical digital marketing for communications team
Running integrated digital campaigns
Digital marketing for senior managers
Improving online sales for Ecommerce
Mobile marketing and Mcommerce
Social media and content marketing
Email marketing
Improving Search Engine Optimisation and Adwords
Using Google Analytics to improve marketing results
Talk through your training needs with us
Please get in touch with an outline of what you're looking for and we will get back to you to arrange a call to discuss the best training options.
Companies we have worked with
Dr Dave Chaffey of Smart Insights and our team of consultants have helped many companies from small to large to help them improve the commercial contribution from their digital channels. These are some of the leading brands we have worked with: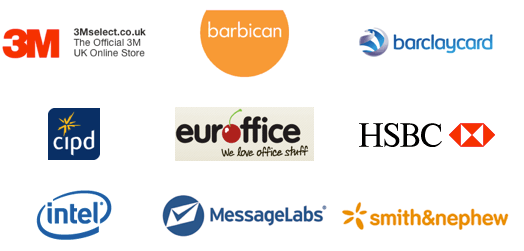 I just wanted to thank you for your efforts in delivering training workshops for the Marketing Academy this year. Your workshops have had the highest demand in the Academy.
Your approach has been incredibly professional and perfect for our needs. Our staff have benefited from your knowledge and experience. This has given them confidence to try new techniques which they will be applying in the year ahead.
Head of E-marketing, HSBC
Just a quick note of thanks and a small token of appreciation for the outstanding work you have done on our behalf. Your class has caused a general excitement around the subject. I am optimistic it will yield outstanding results.
Head of Global Operations, Tektronix Marketing
An integrated approach to digital marketing training
It's important to us that when the course ends you have not only learnt new skills, but you can directly apply it to your Business the very next day.
Our process for in-company training follows these steps to make sure the training is tailored and makes an immediate difference to your company.
The learning process
We use an established approach to deliver effective training which has been developed by Dr Dave Chaffey since he started training in Internet marketing in 1995. The key elements of our approach are:
Global best practice We incorporate concepts from a range of e-marketing commentators and best practice is illustrated from examples from in-sector and out-of-sector companies
Do make me think! New thinking is prompted by relating in and out of sector best practice to current organisational practices to identify new ways of working.
Practical The training content gives practical insights about developing and executing plans and campaigns which can be applied as soon as the participants are back in the office to increase campaign response.
Applied Example campaign plans, creative and metrics from HSBC campaigns will be used within the presentation and activities to illustrate best practice and areas for improvement.
Knowledge sharing It is recognised that much good practice already exists within your organisation. The workshops are interactive and will facilitate sharing examples related by experienced staff.
Action-oriented-active learning Each participant will be encouraged to develop a personal action plan.
Contact Us Start your journey to Improved Results
Looking for day courses and qualifications in marketing?

The Institute of Direct and Digital Marketing is the official marketing skills training and qualifications partner to Smart Insights.
For face-to-face training or qualification, or taking qualifications online by distance learning, we recommend their marketing qualifications and training courses to gain recognition for your skills.
Dr Dave Chaffey of Smart Insights has worked with the IDM since 2004 when it developed the world's first qualifications in digital marketing. Dave continues to be actively involved in the development and delivery of the IDM qualifications as an examiner, tutor and advisor.