Create an integrated marketing strategy for your team
Optimize your team performance across marketing channels with Learning Paths


Given the state of play in today's global markets, you need a crystal clear strategy and agile planning to generate results. As a director or manager, fully integrating your digital marketing strategy with your team of marketers delivering it - wherever they are in the world - can be challenging. Without a data-driven, consistent framework, how can your team and business reach and exceed performance targets? We know you're looking for...

Data-driven strategy

Integrated marketing tools

Improved team performance
Learning Paths deliver a fully integrated training solution
Here's how our all-new Learning Paths will work for you and your team
▷ Our 10 Learning Paths are divided into 130+ action-based modules
▷ Upskill each team member in key marketing channels integrated into your wider digital strategy
▷ Every course is aligned with our RACE Growth Framework to drive consistent marketing communications
▷ Co-ordinate training across multiple teams with 24/7 access
▷ Integrated with templates, so your team can instantly apply new skills
▷ Align business objectives and KPIs with your employees' professional development goals
▷ Maximize employee progression with team performance dashboards
▷ Full accreditation means you can trust in the quality of the training
▷ Benefit from a dedicated account manager to support your needs and respond to queries - exclusive to Pro Membership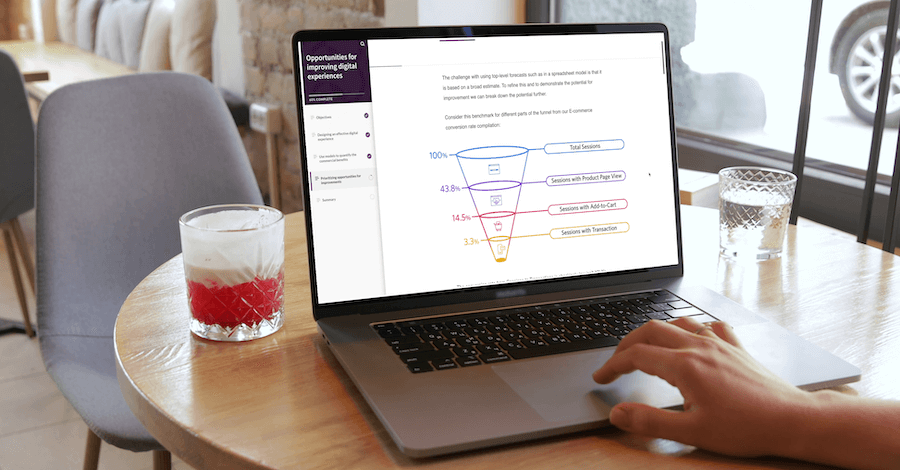 Optimize team performance across multiple marketing channels
Understanding the latest SEO ranking factors

Part of the Digital experience management Toolkit

Learn what ranking factors are important that can affect your position in search engines

Developing your team members with Smart Insights

Part of the Managing digital marketing teams Toolkit

Learn how to develop an action plan for enhancing the marketing skills of your team

Structure a plan using the RACE Planning framework

Part of the Digital marketing strategy and planning Toolkit

Learn how to structure a comprehensive omnichannel marketing plan, using the Smart Insights RACE planning framework

Conversion optimization

Part of the Digital marketing strategy and planning Toolkit

Learn about the principles and best practices for setting up a simple AB test and a broader CRO programme
Professionally accredited online training courses
Each Smart Insights Learning Path has been independently assessed and accredited by the Continuing Professional Development Standards Office (CPDSO). You can be confident that the quality of the learning and assessment experience offered within our Learning Paths has been audited and recognized for its quality.

Do Learning Paths adapt to different experience levels?
Separated into key channels or techniques, each Path is made up of "Basic" and "Advanced" modules that take 10-15 minutes to complete. Whatever an employee's experience level, they'll grow in confidence by enhancing their current skills or discovering new ones.
Can I monitor progress and highlight key areas for development?
We understand every marketer has specific professional development objectives, so you can track team members' progress through our Learning Paths with your own bespoke team dashboard.
Unlock Learning Paths today with Business Membership
Book a call with a member of our Customer Development Team to discuss your team training needs
For Business
20% limited time discount
Pro
Billed AnnuallyEnquire for discount
Digital marketing strategy for teams and businesses
Includes:
RACE Marketing Framework
Marketing Strategy toolkits
Quick Wins micro-learning
50+ actionable marketing techniques
Quick to learn and apply
Supported by guides and worksheets
Marketing Channel toolkits
Business toolkits
In-depth assistance
Named Customer Success Manager
On-boarding and regular assistance
Monthly feedback calls
Consultancy options (additional charge)
Access limitations
None - gives unlimited resource access to all toolkits and online training courses
Membership is suitable for consultants and agencies
BM enquiry form (New Pricing Grid Apr 2020)
CLOSE