Achieve your 2023 marketing goals
Not seeing the results you need from your digital marketing? Build your digital marketing strategy in 2023 with the RACE Growth System, now with 50% off.
Save 50% Now


Too busy with the day to day to create a digital marketing strategy?
Use an easy-to-follow framework that's been proven to get results
Having a digital marketing strategy is more important in 2023 than ever, but we know that having the time and resources to think about tomorrow is tough when you're busy working on today.
That's why our RACE Growth System helps you grow your business across every aspect of planning, managing, and optimizing your digital marketing strategy, to win and retain more customers, when it matters more than ever.
The RACE Growth System gives you everything you need to succeed in digital marketing in 2023.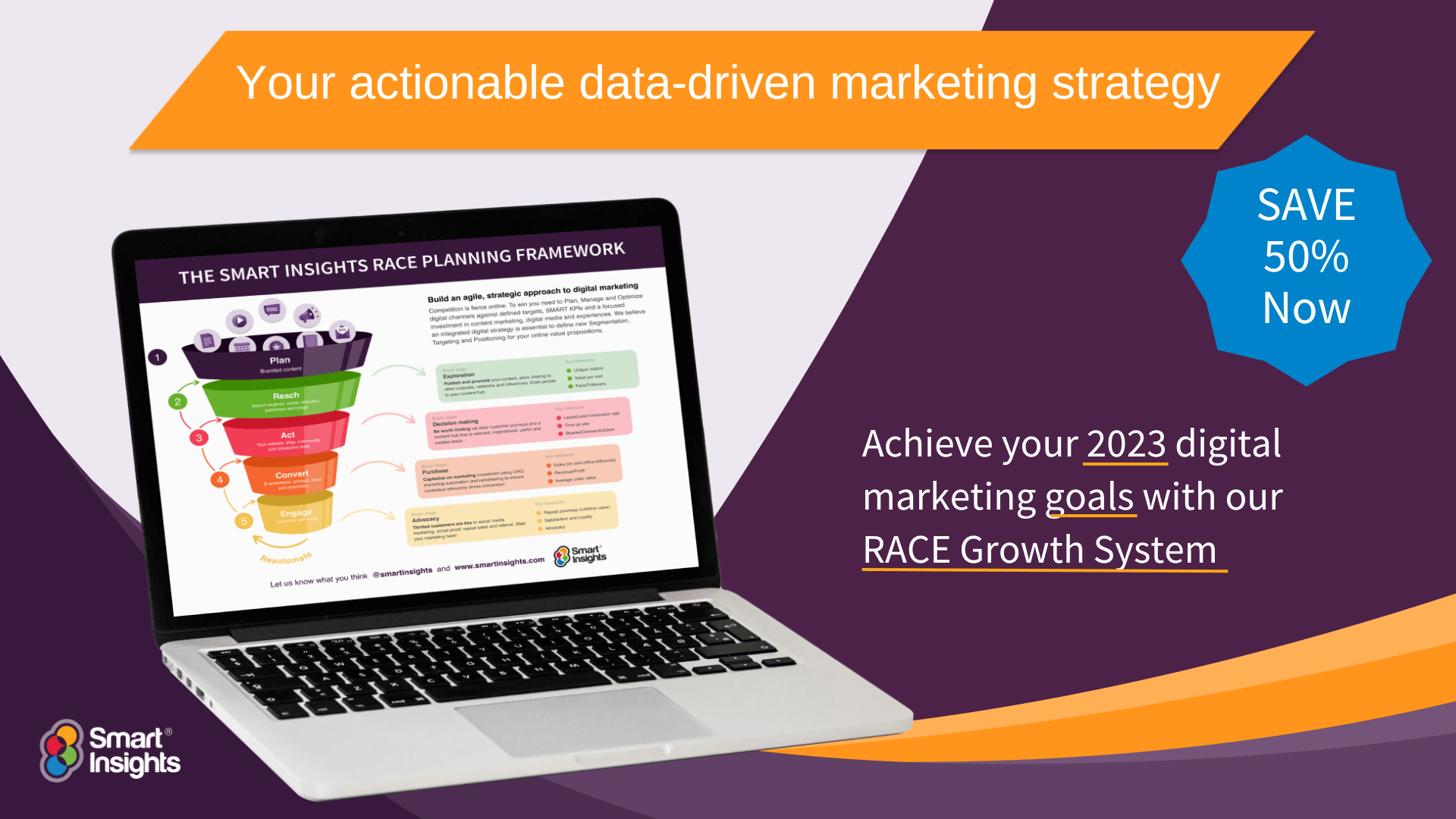 "Smart Insights' RACE increases and evolves our digital marketing capabilities and helps the whole business move forward"
Joanne Hancox, Digital Marketing Manager
Your actionable data-driven marketing strategy
Use the RACE Growth System best-practice library to save time and get results
The RACE Growth System has two parts:
1. The RACE Framework
An agile and strategic approach to your customer lifecycle:
> Plan - preparation
> Reach - exploration
> Act - decision making
> Convert - purchase
> Engage - advocacy
2. The RACE improvement process
Use a library of recognized best-practice to uncover Opportunities for growth, Strategies needed to achieve those results, and the Actions you'll take to get there.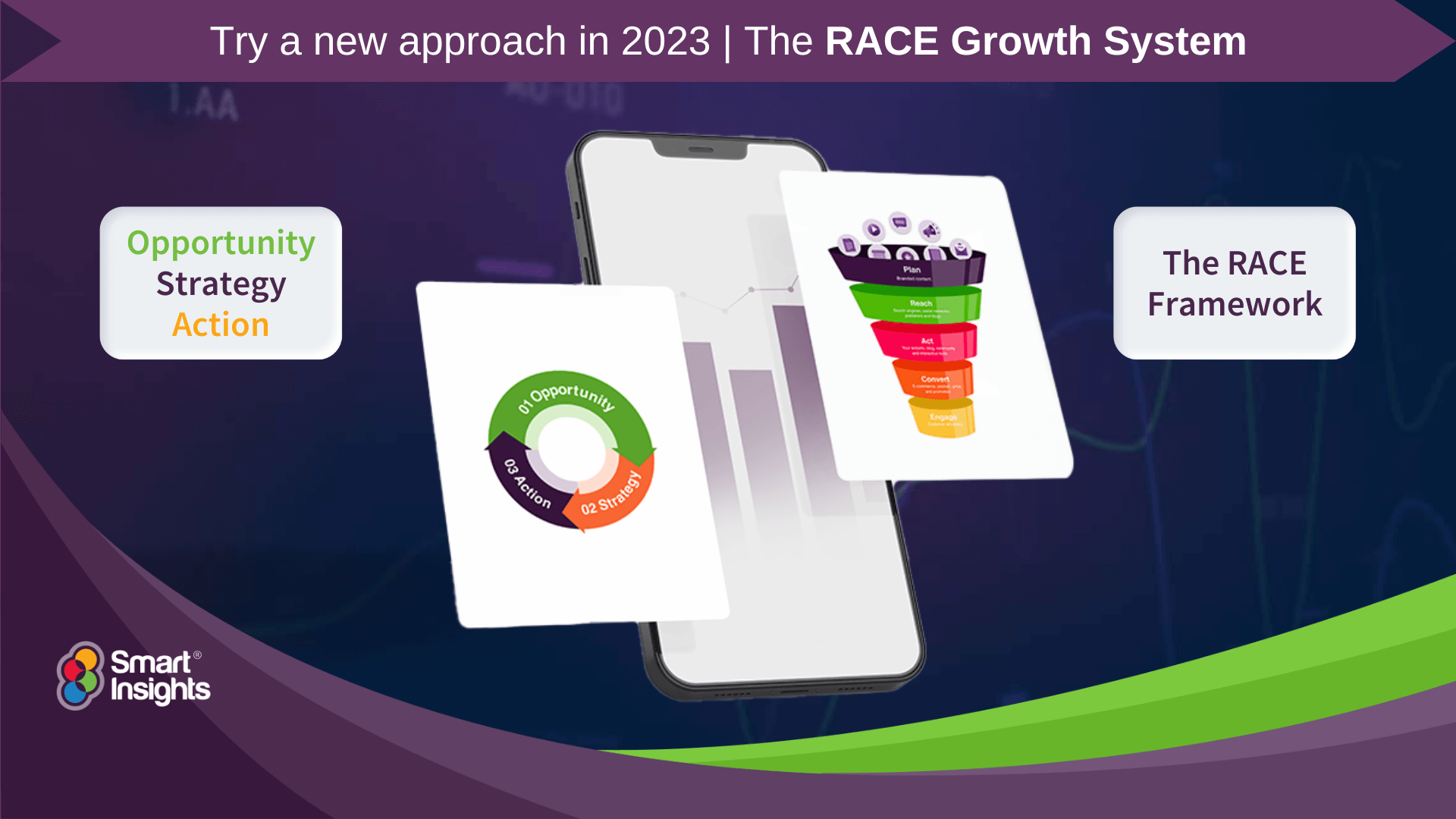 "The RACE system helped facilitate the implementation, management, and measurement of successful campaigns."
Sandy Perlman, Award winning Startup/SME focused marketer
RACE is a globally recognized, actionable marketing framework, proven to achieve sustainable results from digital marketing.
The RACE Growth System grows your business by helping you with every aspect of planning, managing and optimizing your digital marketing strategy. 500K + people and companies around the world are already using RACE. Join Smart Insights as a Business Member today to gain access to the tools you need to achieve your 2023 digital marketing goals.
50% limited time discount
Save $1050 a year
Create and optimize a digital marketing strategy
Includes:
RACE Growth System
Marketing Strategy toolkits
Quick Wins micro-learning
30+ actionable marketing techniques
Quick to learn and apply
Supported by guides and worksheets
Marketing Channel toolkits
Access limitations
None - Monthly and Annual plans give unlimited resource access to included toolkits and online training courses
Join now
20% limited time discount
Contact us today
Pro
Billed AnnuallyEnquire for discount
Upskill and align your team using best practice
Everything in Starter, plus:
Complete training for your team
Identify and close skill gaps
Improve ROI from marketing
Engage and retain your employees
Business toolkits
In-depth assistance
Named Customer Success Manager
On-boarding and regular assistance
Monthly feedback calls
Consultancy options (additional charge)
Access limitations
None - gives unlimited resource access to all toolkits and online training courses
Membership is suitable for consultants and agencies
Enquire now
BM enquiry form (New Pricing Grid Apr 2020)
"*" indicates required fields
CLOSE