About Smart Insights Training Courses
What format do the online training courses use?
Each training courses has a similar format.
Presenter explains concepts – explanations are supported through animated screens with examples.
Best practice tips highlighted – practical approaches we find work are highlighted.
Embedded Flash video – only available to Expert members logged into the site.
Produced by MMC Learning – produced by MMC Learning who provide marketing and business qualifications.
Each training course has several lessons available from one page, so you can quickly scan and view what interests you. Here's an example of the format.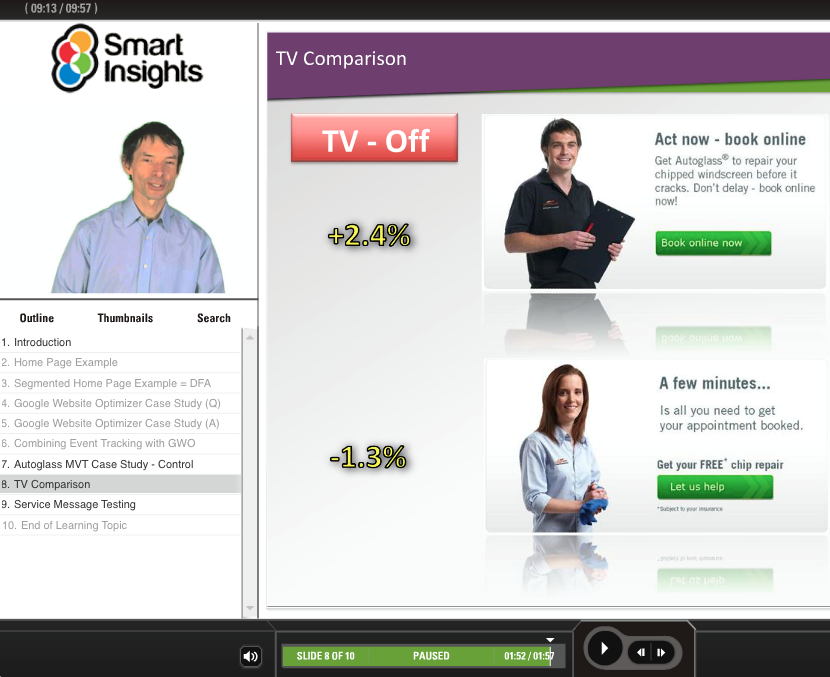 How will the training courses help me?
Company owners and marketing managers - on-demand, at-your-desk training provides training without the cost of travel or high individual training courses.
Digital marketing and Ecommerce managers - use training in a group to discuss ideas.
Digital marketing specialists - training is available for each of the main digital channels, so whether you work on Social media marketing, SEO, PPC, email marketing or conversion rate optimisation for the website there is training to help.
Consultants and agency specialists - review your knowledge in your area of expertise and get up-to-speed in areas your not familiar with.