Top 10 common content marketing mistakes
Grow your audience and build interest and leads by avoiding these common mistakes
How will this guide help me and my business?
Are you using the right types of content assets to engage your audience to generate leads and nurture them towards a sale? With so much content being produced today, it's important your content marketing strategy delivers effective content that cuts through.
Our free content marketing mistakes guide reveals the most common mistakes, but more importantly, what to do about them. It highlights auditing tools, strategy recommendations and examples.
Who is this guide for?
This guide gives recommendations for marketers responsible for managing and improving content marketing who want to develop a more strategic approach.
How is this guide structured?
The guide contains strategy recommendations and recommended resources for each mistake, which include:
No clear plan and strategy
Not knowing your customers
Managing SEO and social media plans in isolation
Resource Details
About the author
Gavin Llewellyn

Gavin Llewellyn is an independent consultant who has worked in different marketing manager roles where he has been responsible for SEO including financial services, consumer brands and retail.
He is a Chartered Marketer who specialises in digital marketing with a focus on SEO, Social media marketing and online strategy. Gavin blogs at One Too Many Mornings where he offers advice, guidance and ideas on how individuals and companies can use digital marketing effectively to get found online, build engagement and generate conversion.
You can Follow Gavin on Twitter.

Free Membership is required
Access this resource now
Get access to this and 25 other sample guides and templates with a Free Membership
Join for free and get this sample guide
Already a Free member? Login here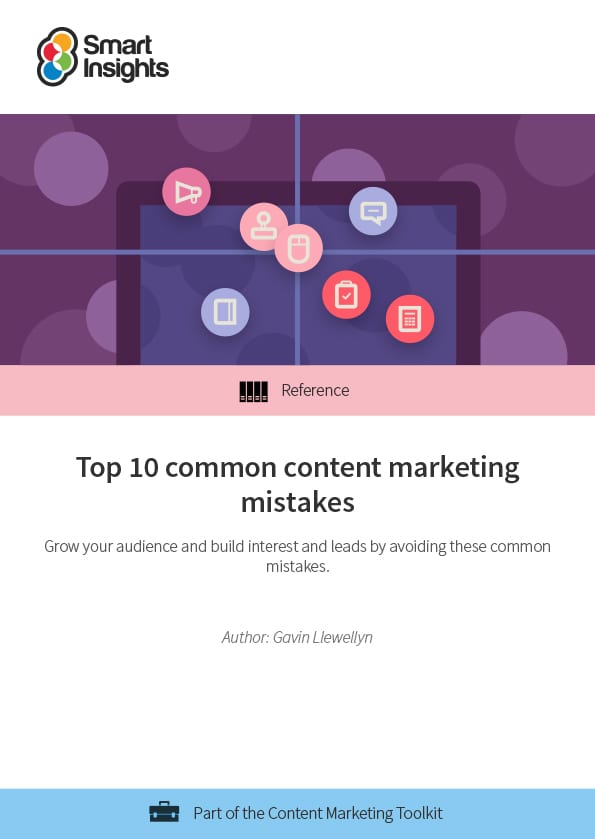 Look Inside