10 E-commerce mistakes
Explore our top e-commerce mistakes
Smart Insights have put together a new list of commerce mistakes for all members to access, they contain not only the mistakes but recommendations to help you fix those mistakes.
Discover what mistakes not to make or how to fix these mistakes if you're already making them.
E-commerce is a fast moving environment and we actively keep our mistakes up to date so you're always making the most of your marketing.
How is the guide structured?
This guide is structured around 10 common e-commerce mistakes with practical examples, and more importantly, our advice on how to address the issue.
You'll discover up to date tips, trends and more importantly recommendations, including:
The problem with not having a goal or roadmap
Not understanding your customers
Not paying attention to the math
and much more
Resource Details
Guide format: Online
Related resources: See the Ecommerce / Retail toolkit resources below
Authors: Dr. Dave Chaffey and Patrick Kelly
About the authors
Patrick Kelly

Patrick is the Senior Digital Marketing Manager at Smart Insights. He has spent many years working with both B2B and B2C brands to implement data-driven marketing strategies covering paid search, SEO, Social media and marketing automation. You will also find him catching up on the latest Marvel releases or playing the latest RPG.
Connect to Patrick on LinkedIn.
Dr. Dave Chaffey

Dave is co-CEO and co-founder of Smart Insights. He is editor of the 100 templates, ebooks and courses in the digital marketing resource library created by our team of 25+ Digital Marketing experts. Our resources used by our Business members in more than 80 countries to Map, Plan and Manage their digital marketing.
For his full profile, or to connect on LinkedIn or other social networks, see the About Dave Chaffey profile page on Smart Insights. Dave is author of 5 bestselling books on digital marketing including Digital Marketing Excellence and Digital Marketing: Strategy, Implementation and Practice. In 2004 he was recognised by the Chartered Institute of Marketing as one of 50 marketing 'gurus' worldwide who have helped shape the future of marketing.

Free Membership is required
Access this resource now
Get access to this and 26 other sample guides and templates with a Free Membership
Join for free and get this sample guide
Already a Free member? Login here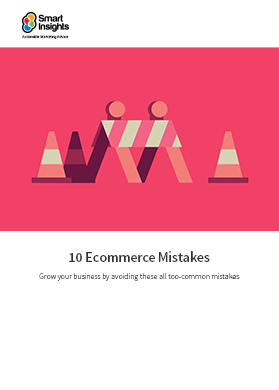 Look Inside