10 costly Google Ads mistakes
The top paid search mistakes and what to do instead
The guide covers mistakes not to make when using paid search advertising, for example Google Ads. Covering the most up-to-date and most common mistakes the guide is a great reference point to help you succeed with paid search marketing.
 Who is this guide for
The guide is ideal for:
Marketers of any level with a particular interest in Google Ads or paid search in general.
Paid search marketing specialists who learn to avoid mistakes.
Senior marketers who want to optimise their Ads campaigns.
How is the guide structured?
The guide contains common mistakes and practical recommendations to help you with your Google Ads marketing, including:
Choosing the wrong keywords and what to do about it.
Not understanding quality score.
Resource Details
Guide format: Online interactive format suitable for printing if needed
Related resources: See the Paid Media Toolkit resources below
Author: David Miles, also edited by Dr. Dave Chaffey.
About the author
David Miles

David Miles is a digital marketing consultant, trainer, and published author. For the past 13 years David has owned and run digital marketing agencies and training businesses large and small across the UK and Europe. Currently, David is the founder and CEO of The PPC Machine, a boutique agency that helps medical professionals grow their practices using pay per click advertising platforms.
Connect with David on LinkedIn.
The guide was also edited by Dr. Dave Chaffey

Free Membership is required
Access this resource now
Get access to this and 27 other sample guides and templates with a Free Membership
Join for free and get this sample guide
Already a Free member? Login here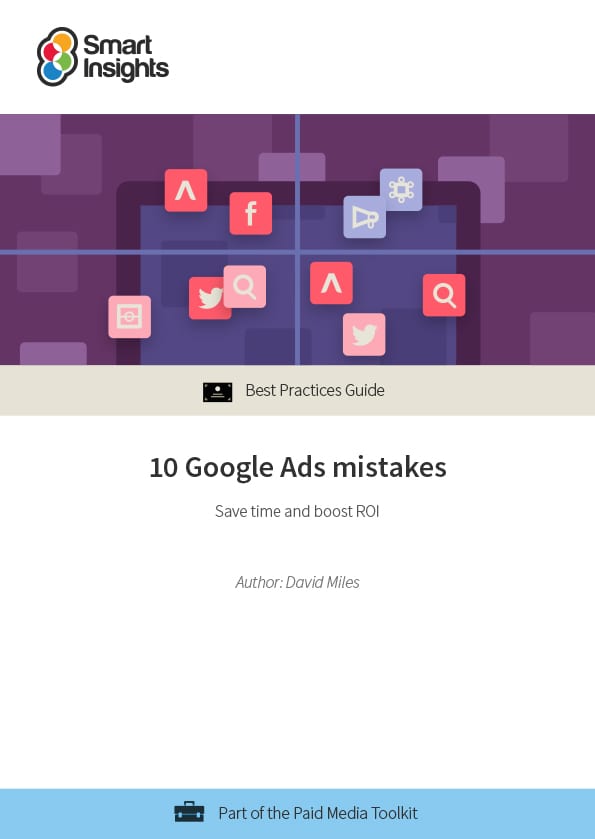 Look Inside