A review of 4 heatmapping tools for measuring site visitor preferences
Every website owner wants to know how visitors behave on their website, but how do you get all that information and how can you improve your pages with it?
Web analytics tools like Google Analytics can give you some good information about previous pages and the most popular links, but to show interactions in detail, additional tools are often useful. It's these specialist tools that I focus on this review.
For more background on applying heatmaps to improve sites, see these two tutorials:
What are the common features in website interaction tools
There are various ways to collect more information about the behaviour of visitors on your website. It is possible to follow mouse moves (screen recording) or see where most visitors click on a page (heatmapping). This gained knowledge is valuable for improving a web page or an entire websites on usability. For collecting this information different tools are available. We will review a few of them (the four best according to The About Analytics AA Rating for screen recording and heatmapping).
First, a short description of the most common features of these tools. You can use
Heatmap - visualises the most visited areas on a page or the areas where visitors click most using colours.
Confetti - visualises the clicks of users using dots in an overlay on the page.
Scroll Reach - visualises how far down visitors are scrolling on a page
Visitor recordings makes a recording of the screen of a real visitor. You are able to see the exact mouse moves and clicks of visitors.
Review of these website interaction tools
1. Clicktale
Clicktale is one of the better screen recording and heatmapping tools. It is a very functional tool. They focus on a visual presentation of your visitors actions. That includes actual mouse movements, scrolls, clicks and even gap fills if you have some kind of a form. You are able to see what people like on your website, where they spend the most attention to and where they click the most.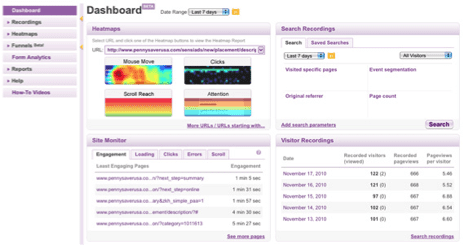 With the attention heatmaps you can see which parts of your site a visitor stayed before she scrolled down. Parts of the page a visitor didn't pay attention to at all are clearly visible. Another nice feature is the conversion funnels which shows you were visitors drop out and were you're funnel is working (see image on the left). On a dashboard you can keep track of all the tools.
There are three different options for subscription starting at 99 USD/month. For a first try there is a free trial available. Here is a video about Clicktale.
Main functions:
Mouse move heatmap
Mouse click heatmap
Attention heatmaps
Visitor recordings
Conversion funnels
Form analytics
A Dashboard
2. Crazy Egg
With Crazy Egg you are able to see a few different overlays which give you more information about the behaviour of your visitors. With the heatmap and confetti tool you're able to see the mouse moves and the exact spots people click on. In addition, Crazy Egg has a scrollmap tool that visualises how far visitors scrolled down, but you're not able to see with parts they skipped. A unique tool from Crazy Egg is the overlay tool which shows you the exact number of clicks on every link on a page in an overlay and in a table.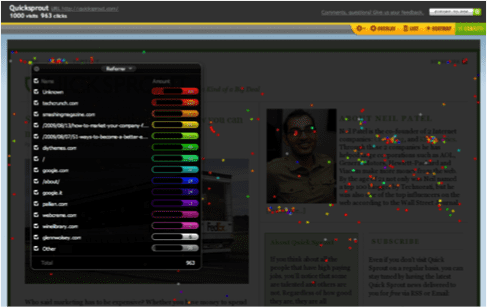 There is a free account available, with the possibility to view four pages and 500 visitors. The prices for more pages and visitors vary from 9 USD/month to 99 USD/month. Here is a video about Crazy Egg.
Main functions:
3. GhostRec (screen recording and heatmapping)
Besides these features, GhostRec offers some support and useful information about analysing if you're a paying customer.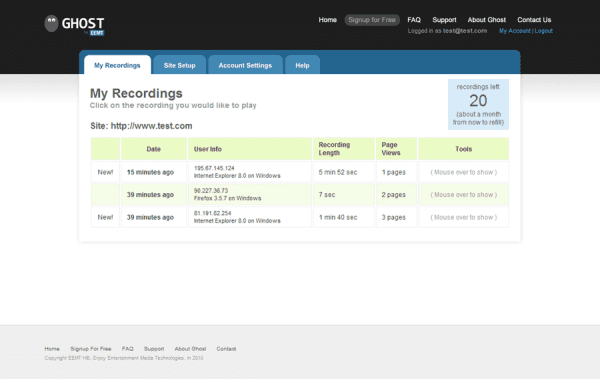 Main functions:
With GhostRec you're able to record visitors and see every mousemove, do a usability test to see how fast visitors find information and make heatmaps to see were visitors are most interested in.
It's also possible to use GhostRec for free. You'll get 100 free credits a month. One Screen recording costs one credit and a usability test takes two credits. If you want to use more than 100 credits a month, you can buy more credits with a price from 0,03 USD to 0,05 USD depending on the amount you buy.
4. Clickheat
Clickheat is a simple heatmap tool and is easy to use for a quick look. You're able to see were people clicked the most on monthly, weekly or daily basis. It is also possible to see earlier months or see the clicks per browser or screen size.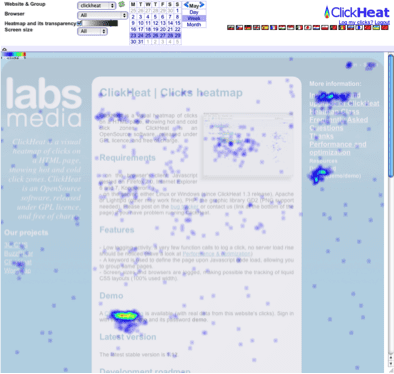 Main functions
Clicks heatmap
Clickheat is a free tool with a few useful options, but with limited options and without a smooth lay-out or dashboard. Here is a video about Clickheat.
If you're looking for more tools and reviews to support web analytics, visit AboutAnalytics.com.