How a new analytics company use Branded Swag to integrate the digital and physical marketing worlds
How big is your stockpile of branded startup T-shirts? Chances are most of them are collecting dust somewhere in the back of your closet. This is problematic for two reasons.
The first is that the swag, which was meant to be a means of branding and exposure, is not doing it's job. It's burning a hole in the company's pocket.
The second: seemingly every startup handles production of their swag the same way; by simply giving it away, but startups are supposed to be different and disruptive by their very nature.
Careless swag management is irresponsible for any company; but it's particularly problematic for startups that often work with a very limited marketing budget.
The Office's Michael Scott, the world's best boss, said SWAG is 'stuff we all get' and from an economic standpoint, that's precisely the issue. The more something is produced (and then simply given away), the lower the value of the item goes. The supply of branded startup swag is a plenty, so the demand is down.
People expect to get freebies like T-shirts and beverage koozies, so it's not all that exciting when they actually do.
As a business, you want to establish a certain amount of familiarity with your audience and not reinvent the wheel in every aspect, but there are also certain things you'll want to do boldly and differently.
At Spinnakr, we decided if we were going to produce branded swag, it had to be a digital-meets-physical campaign and have some bigger than average value.
Extending the Lifecycle Value of Branded Swag: Freebies are not free
In an effort to avoid the typically short-lived swag lifecycle (freebie, real-life exposure, word of mouth generation), we've jump started a new lifecycle that's more effective in the fluid, digital world.
Much like our brand aims to deliver targeted messages to specific visitor segments of a website, our swag delivers a pretty pair of blue shades to a specific group of tech-interested individuals, which creates online and in-person exposure to relevant networks of people, and finally generates word-of-mouth engagement not only in real life, but also in the vast online world we inhabit.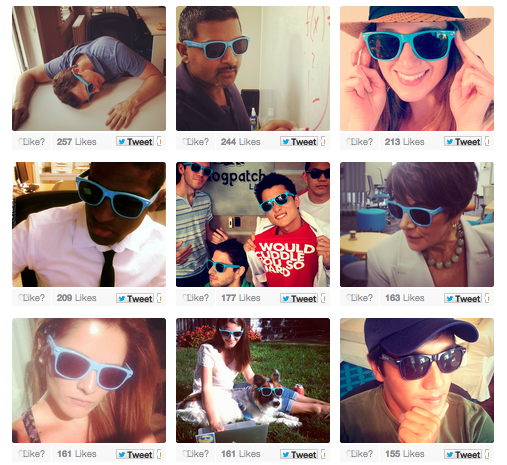 We've turned our branded swag into an engaging process in which our customers and fans inevitably get in touch over social media to get their hands on a pair of Spinnakr Shades.
In a way, we're gamifying the swag game. Here's how it works:
Spinnakr Twitter campaign using SWAG
There are two ways for customers and Spinnakr fans to get a pair of Spinnakr shades:
First, when customers complete their registration on our site, they're prompted to tweet at us for a pair of Spinnakr shades. Clicking the 'tweet' button pulls up a pre-populated tweet that mentions the @Spinnakr handle.
Alternatively, if a potential customer or fan happens to find our Shades of Fame page while looking through the site (there only link is on our jobs page), they can request a pair using the tweet button, which pulls up the same pre-populated tweet as above.
How does it work?
When we get shades requests on Twitter, we 'follow' the customer and ask them to DM us their mailing address. To DM us, they must follow us, too. It's a win-win.
When a customer's shades arrive, there's a sticker on the packaging that asks them to tweet us a photo wearing their shades.
When they tweet us, it provides yet another opportunity for interaction.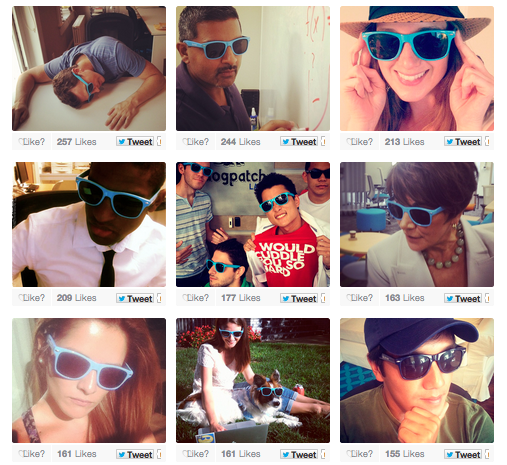 Many customers Spinnakr Shades photos will end up on our Shades of Fame website.
Cataloging a Network of Supporters
Through this process, we're not only gaining social exposure, but we're creating an extended network of supporters and brand champions. Among them: Mayor Vincent Gray of Washington, D.C., Former Mayor of DC, Adrian Fenty, Congresswoman Anna Eshoo of California's 18th Congressional District (Silicon Valley), and 500 Startups' Dave McClure. As well, we're proud to boast a catalog of supporters from DC's tech community as well as active players in Silicon Valley.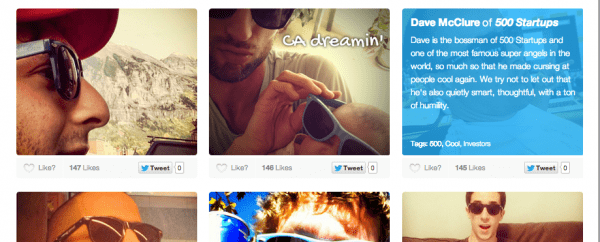 Though our idea was simple to use various digital marketing mechanics to get the most out of the monetary costs of our swag,it has provided us much more value than we had expected.
With our tweet-and-engage process, we're accessing different sections of the social-viral loop, we're creating a physical and digital buzz and demand for our brand and product, and finally, we're creatively extending our inherent brand messaging.
As a company, Spinnakr believes that individuals are different, thus they should be able to express themselves in the manner that best suits them.
Connecting with our customers and fans on a public forum like Twitter, then posting their photos to our Spinnakr Shades website lets them communicate a message about themselves on an individual basis.
The way we wrap our customers and fans up in our marketing campaign lets them become part of our brand's story.
In Marketing, Do as your Startup does: Be Disruptive
Marketing is a creative endeavour. Sure, there are formulas and best practices to follow, but at the end of the day, the brands who make headlines are those who think outside the box and truly make a statement.
Though branded swag seems like small part of a company, we need to understand that every aspect of your business is an overall extension of the business's message, so make it count.
As with most things, you will surely be rewarded for going the extra mile, for sticking your neck out, and for producing something truly creative. In short, your marketing goals should run parallel to your company's goals: to be disruptive and bring something different to the table.