Most product launches are complete failures. This product launch example shows the ingredients for a succesful launch
In fact, it's been reported that about 70% of all new product launches fail within the first year.1 While product launches require input from many teams, if anything goes wrong the blame always points to the marketing team. While most marketers chase after proving ROI—as they should—some clearly overlook the need to get the product out the door in the first place.
So what's the challenge with product launches? Whether it's underestimating demand, skimping on the market research, or failing to educate consumers on a new category—as marketers, we've all been there. A number of factors can spoil even the most thought-out product launches.
How influencer marketing and research helps overcome product launch dilemmas
When it comes to launching a new product, influencer marketing is your secret weapon. The practice helps you tap into niche influencers already trusted by your target audience.
Maybe you didn't consider the power of influencer marketing to overcome these dilemmas when launching a new product. That's right, by activating relevant influencer communities along your buyer's journey—as they become aware of your brand to making a product purchase—it's possible to launch a product in a new market—and do so successfully.
How Orange France launched a product in a new market with influencer marketing
Take Orange for example. Orange France, a global player in the telecommunications industry, supported the launch of Homelive, a solution that enables you to manage connected objects in your home by using your smartphone. Historically a fixed-line and mobile telephone operator and internet provider, Orange has recently extended its offering to new territories including the sale of digital content, ecommerce, and online advertising. With this new solution, Orange entered a completely new market for the brand, the connected home.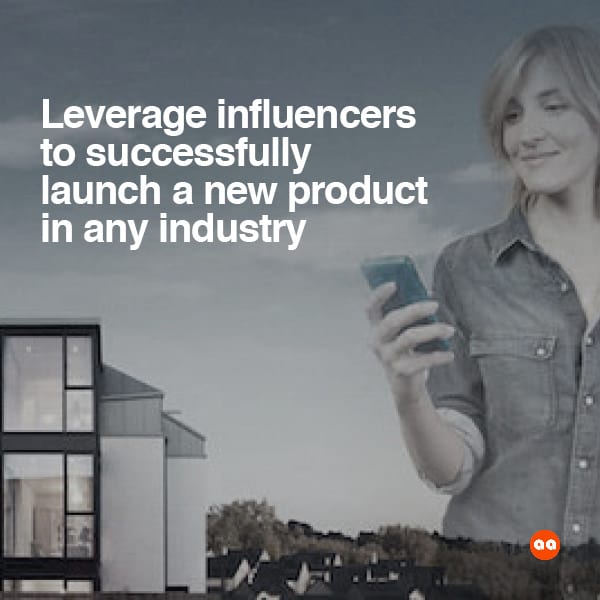 What business challenge did Orange face with its product launch?
With its new product launch on the horizon, Orange needed to develop a communication strategy based on social influence to obtain experts' recommendations, which is key to targeting the general public and generating a measurable impact.
 What solution was applied to ensure a successful launch?
Orange identified, segmented, and activated influential communities along the customer awareness process to generate awareness, create product demand, and obtain experts' recommendations to gain credibility. For this campaign, Orange was able to leverage two communities, which the brand has been developing relationships with for a long time: Marketing & Communication influencers and High Tech influencers. In addition, Orange targeted and engaged two new communities specifically relevant for Homelive: Lifestyle & Design and Connected Home.
Increasing product visibility by inviting influencers to participate in a fun digital experience
Orange activated the Marketing & Communication influencers with the social campaign #BouquezRoger, built on the "Roger, can you please come?" TV advertisement. The online initiative aimed to increase visibility around the product and highlight its features through an interactive and fun digital experience. Influencers received a personalized #BouquezRoger toolkit to get involved, with outcomes expected in terms of mentions and impressions on social networks.
Generating demand by creating a PR event at a renowned showroom in Paris
Orange activated a new community, Lifestyle & Design, and invited influencers to a PR event in the renowned designer B&B Italia showroom in Paris. The objective aimed to get Homelive recognized as an interior design and decoration object through product displays in the showroom.
Establishing the solution's credibility amongst prospective customers
The 'always-on' High Tech influencers (core to Orange's business) and Connected Home (new to the brand) were activated with the operation #JeTesteOrange to generate product reviews and qualified traffic to the Homelive website. Influencers benefitted from a program of product loans and tests with expected outcomes in terms of long-form content creation. This helped to establish Homelive as a credible home automation solution and boosted SEO performance.
Orange leveraged influencer-marketing tactics to save time and improve its efficiency to:
Identify the right influencers on each topic, organize them by community, and map their relationships
Listen to and engage with the influencers' conversations
Manage activation of the influencers by community and by initiative
Measure the outcomes of each initiative by analyzing online publications and mentions, including voice and tone, and evaluate the impact of each influencer
What resulted from the initiative?
An impressive visibility and resonance through the Marketing & Communication community
20K+ visitors per day on Homelive's dedicated website, demonstrating amplified brand awareness
A recognized brand and a credible solution through the Connected Home and High Tech communities
200+ pieces of content published by the influencers helped Homelive to establish credibility within the new market
Development of a strong relationship with the Connected Home community
14K mentions and 60% share of voice for Homelive on social, enabling the new product to be part of relevant conversations
Homelive raised amongst the top 10 results on google
Product reviews and shares of the created content enabled a strong SEO performance
What were some keys to success?
By leveraging influencers, Orange achieved a successful product launch by:
Activating social influence to gain expert recommendations
Practicing methods for establishing brand credibility while entering a new market
Strategizing and partnering with influencers to produce relevant content
Gaining more share of voice than the competition on social channels
When it's time for your next product launch, keep the power of influencer marketing in mind and avoid last minute panic. A flawless product launch will take your marketing career to the next level—and influencers can help you achieve that success, every single time.
What's your greatest challenge around new product launches? How did you overcome them? Leave a comment below and join the conversation.