Debunking the misconceptions that may prevent you investing wisely in strategies and resources while creating Social Media Campaigns
As many as 72% of all internet users are active on social media, with 936 million daily active users of Facebook worldwide, one billion YouTube users and 270 million active Twitter users. And these figures are only growing each day. Given these statistics, it's no wonder why social media has become the fuel driving the modern marketing machine. But, there is a lot of competition - just check out the Smart Insights infographic of the number of posts, tweets and status updates in 60 seconds.
It's understandable that there are many myths and misconceptions about how to use best social media to draw traffic to your sites, generate leads and boost conversions. Sadly, a fair share of marketers follow wrong practices and end up wasting their valuable time and resources on social media landscape.
Here, we present to you a few common myths about creating successful social media campaigns. Debunking these misconceptions may help you invest in strategies and resources that drive better traffic and generate better sales.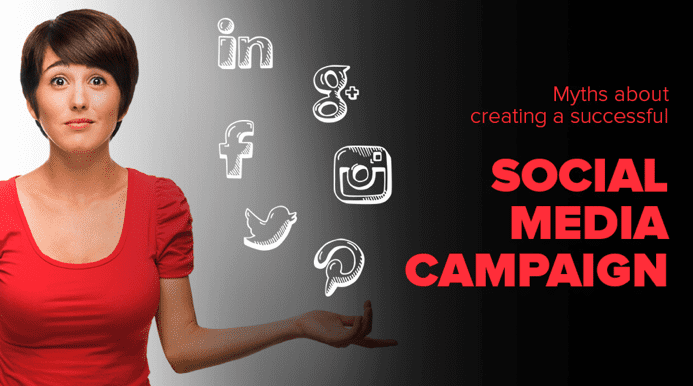 # Myth 1 - Create a site and people will come
This is the most common myth related to social media marketing. It's not essential that people 'will' come if you have built a website or a blog site. Just placing your brand on the web is not enough to lure in visitors. You'll need to actively promote your site. Remember, millions of similar blogs, websites and stores are already available to your potential customers. A little attention on the following stats will make you realize that you are not going to make it big just by creating a business website or a blog channel:
This is the most common myth related to social media marketing. It's not essential that people 'will' come if you have built a website or a blog site. Just placing your brand on the web is not enough to lure in visitors. You'll need to actively promote your site. Remember, millions of similar blogs, websites and stores are already available to your potential customers. A little attention on the following stats will make you realize that you are not going to make it big just by creating a business website or a blog channel:
The number of websites may exceed the 1 billion mark from late 2015 to mid-2016. (Source: Internetlivestats.com)
There are approximately over 152 million blogs on the internet. In fact, a new blog is created somewhere in the world every half a second.
66% internet users purchase all types of products or services online. (Source: visual.ly.com)
Creating a site on the web is just the first step to position your brand on the virtual world of Internet. Then, there is a whole world of meaningful content marketing strategies that you must take up and manipulate to summon the attention and interest of your targeted audiences.
# Myth 2 - Social marketing is just a job
Social media marketing is not a regular 9 to 5 job. You have to be active 24*7*365 for better results. It is important that you are always logged in to interact with people and make a meaningful impact in the virtual world. Unfortunately, many startups tend to take social media marketing lightly and suffer in the end. Influencing a larger audience requires your complete dedication towards formulating new marketing strategies throughout the year. Remember, internet never sleeps.
According to a research, 53% users who tweet at a brand expect a response within the hour. The percentage increases to 72% for those with a complaint. Another interesting set of statistics reveals that people aged 35-44 are the keenest late night shoppers, with 41% of this age group claiming to log on for late-night purchases. Also, when purchasing online, 71% visitors expect help within five minutes.
This does not mean that you stay awake all night. However, be attentive and alert on your posts and tweets and leave no stone unturned to interact and engage with your consumers.
# Myth 3 - Posting the Same Content Will Help
It is surprising but yes this is also one of the misconceptions that most marketers have. Many social media campaigners feel that posting same content repeatedly with right keywords will be enough to fetch them visitors and customers. However, this does not do anything but irritate your target audience. As discussed above, there is already so much content on the website that you need to be more creative while presenting something for your consumers.
But if you have to post the same content, use some tactics to make it interesting for the readers or viewers. For instance, you can include useful interactive videos, images or infographics. Designhill.com notes that visuals are processed 60,000 times faster than text, and content with visuals get 94% more views. But
But remember, organization is crucial when repurposing your static content into visual pieces. Your visual content must be laid out in a way that vital information and your branding elements pop out. For instance, If you are Accounting and Finance firm then your Finance logo must be clearly visible in your visual content. For another, all images in your content must be in a clutter-free space.
Another survey reveals that, more than 22% people have problem of remembering what they read. On the contrary, 78% people remember what they see.
# Myth 4 - Keeping blogs short is best
This is not true! A blog with word length of 300-700 is a common practice these days. But writing smaller blogs does not mean that you will be able to drive better traffic to your site. Even though the attention span of people today is even shorter than a gold fish's attention span, according to Cnet.com. Experts still maintain that blogs should be at least 800 words long to make them useful and sharable.
Only blogs that have decent content carry better chances of being indexed by Google. In fact, a study by SerpIQ shows that if you wish to get your blog in the top 10 search results, it makes sense to keep the word length over 2,000 words. A major reason for people liking lengthy blogs could be the valuable information they get.
# Myth 5- Negative comments always hurt
When you are on social media, there will be all sorts of comments – good, bad and even ugly. However, running away from social media marketing just because people will post negative comments about your business or brand is not an option. A myth circulating around about people writing something unpleasant will ruin your business is not true at all. Even the biggest players often get bad feedback on social media. But that doesn't stop them from putting in their best foot forward. Let's check out some stats that will help you understand why it's ok to get negative comments:
A typical business hears from 4% of it's dissatisfied customers. (Source: Helpscout.net)
Resolving a complaint in the customer's favor will bring a consumer back to the business 70% of the times. (Source: Digitalsparkmarketing.com)
82% consumers say the number one factor that leads to a great customer service experience is having their issues resolved quickly. (Source: Fonolo.com)
So, instead of keeping away from social media or deleting such comments, do well to follow up, according to Socialsamosa.com. You can always counter any allegations by responding in a positive and professional manner. In fact, these complaints provide an opportunity for you to correct yourself and your services and improve your products and services ameliorating your image in the eyes of your consumers.
# Myth 6 - A Bigger Following is the ultimate objective
It's not always necessary that bigger numbers will work well for your business. Having a big following on Twitter or Facebook may be an achievement, but if it is by false means, your visitors will certainly come to know about it. Everyone is aware that fan followings can be acquired by money and unfair means. After all, we all have seen Twitter posts that offer 10,000 followers for just $5. By indulging in such practices, you will only be spoiling the image of your business and brand.
Instead, try some other ways that your fan following increases on Twitter or other social networking sites. Bufferapp suggests you to add image to your tweets as tweets with images get 2x the engagement rate of those without. Also, it makes sense to keep in mind factors such as time, day, frequency, length and structure while posting as such elements play a crucial role in engaging customers.
# Myth 7 - It is About Visibility Only
Though social media marketing is all about your discoverability on the web, it is not the sole purpose. Do not forget that the channels are also equally great for customer service. What you present on the net plays a crucial role in building the reputation of your company. Therefore, not everyone can be social marketer, as it is not only about creating your presence on the net. It is important to understand that social channels can be used for different tasks such as traffic building, sales, and crowd-sourcing and knowing the people who can be brand ambassadors too. According to Forbes, 78.6% sales people using social media to sell out performed those who weren't using social media. Also, Business2community.com reveals that 67% marketers say increasing sales directly attributable to digital marketing campaigns is a top priority.
# Myth 8 - Google+ Isn't Required
Many social marketers do not take Google+ seriously, as they do not see an exact use in promoting their business. For the same reason, they ignore Pinterest and Instagram as well. But your potential followers could be anywhere, so it makes sense to exploit all channels. Moreover, according to Socialmediaexaminer.com, more than a billion and a half photos are uploaded at Google+ photos each week from the more than 300 million active users present in the Google+ Stream.
Naturally, it makes sense to invest your time and efforts in engaging users at Google+ and other newer platforms. These relatively newer social channels are not very common with many marketers but they can reap benefits if you're able to explore these platforms instead of relying solely on overtly crowded Facebook, Twitter and LinkedIn. The best thing to do is experiment to discover untapped potential and find out where your audience really are. Google+ may or may not be a good fit for your business, but theres only one way to find out.
# Myth 9 - Do Not Promote Competitors
Majority of social media marketers believe that sharing of competitors' content will damage their own image, business and brand reputation. However, this is not true. In fact, you should share valuable content produced by your competitors sometimes. There are many benefits of in doing so. First, sharing of your competitors' content will give your followers more information and so they will appreciate you even more. They will take you as a serious and fearless marketer who is confident of staying in the market because of your high quality of products or services.
Secondly, your competitors may also reciprocate your gesture by sharing your content. So, it is always good to be watchful of what your competitors are producing and actively engage yourself in their social activities. A common way of promoting your competitors content is through guest posting.
Conclusion
To conclude, do not take anything on face value. Instead explore a little more and you may come with some strong marketing strategies for drawing more traffic. Try and get rid of these myths that travel even faster than greased lightning. Try your own strategies, work efficiently and you will attain great heights!
If there any important point that we missed out? Please leave us your comments below and let us know what you think.