New report highlights the top luxury brands and the challenge of ongoing engagement
Firstly, it's important to remember that the luxury market really has been slow to adapt to social media marketing. Largely ignoring the channel in the early days, most likely since it's nothing akin to the world that luxury brands are used to, advertising orientated essentially. It's what they know, and how the communicate to the mass audience.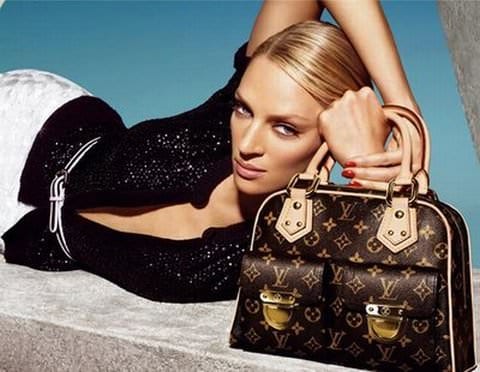 For a short period it seemed that luxury brands had come to truly appreciate social media's ability to reach its customers, brands like Porshche and Burberry have started out and done very well, and let's not forget is was only 2010 when Prada, Jimmy Choo, Hugo Boss and Marc Jacobs set up their first online storefronts!
Today the most aggressive, or forward looking, of these companies are Macy's, Sephora, Lancôme, Michael Kors and IWC, according to the L2 Facebook IQ Index released this month. The study assesses these brands as showing the way in use of social media: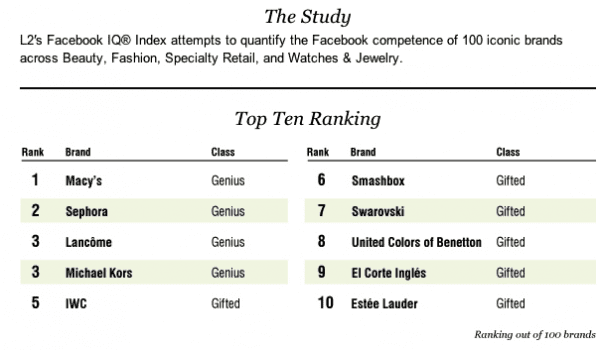 The report, co-created with Buddy Media, measures the social media effective of 100 luxury and prestige brands.
It's not going well for most luxury brands
However, the L2 Facebook IQ Index survey also found that while luxury brand community growth is up, engagement across these high-end brands' has declined over 50% year-on-year. Ouch! That's specifically - the average percentage of the community liking or commenting on brand posts has dropped. In short, their fans increasingly lack the reason and motivation to bother.
What can we learn?
Well, it's not a luxury issue, either. You only need to look at Burberry's switch to digital and subsequent growth as evidence that luxury brands can be very successful.
Reading between the lines we might conclude that luxury brands are still not resourced, appreciative or really care for two-way conversations with customers or fans. After all, one-third of them still don't allow fans posts on their Facebook walls. Which is laughable, really.
Maybe the advertising-led, tight brand control mindset does not rest easy with the anything-comment-goes nature of it? This alone would explain why fans get bored and leave, forget and never have a reason to return. It's only the sheer weight of the brand, combined with consumer intrigue that's growing the volumes?
I'd understand that luxury brands hate the idea of more mainstream brands throwing coupons and discounts around online - it's more often than not a little desperate anyway - yet it doesn't have to be this way for those that couldn't be further from Oreo's or Starbucks. Two thoughts I read about recently from Mashable spring to mind to help enlighten our thinking:
Create experiences. Brands, and especially luxury brands, can design and build experiences that their consumer (specifically their consumer) will desire. Porsche have done it as have brands like St Regis with their E-Butler app. Technology and social media doesn't have to mean risk, it's a huge opportunity to create exclusive experiences.
Engage emotions. I wrote on this fairly recently since evidence backs it up , people need to feel something and Tiffany's did it well telling their narrative via the What Makes Love True website and their engagement ring finder.
Luxury brands need to help people feel something - and looking at the data I think there's a lesson here for the rest of us too.