Social media strategy and planning essentials
It's important to know what other organisations in your market are doing on social media, to give you context for the current role social plays in customer communication. The aim of competitor analysis is to learn from the state of play and identify strategic opportunities.
Please note that I also advocate researching the wider market to learn what works from brands that have a respected social presence. They may not be directly relevant to you in terms of content or product, but the techniques and social platform tools they use to engage customers should provide useful insight.
This article looks at the types of competitor analysis you can and should be doing to help inform your social media strategy.
1. Audit scope of competitor activity
Your goal is to build a clear picture of how other organisations are currently using social media. This needs someone to spend time on their profiles, reading content and checking how customers respond. For example, if there are lots of comments on Facebook, what type of comment and is it always from the same people, or do they get a varied audience?
Put yourself in the shoes of a real customer – start following the organisation, post a reply or comment, ask a question. Check how proactive they are in response and keep a note of how long it takes to respond. For example, on Twitter do you get a thank you for following them and how quickly do you receive this? Also check whether the replies are automated or manual – if everyone gets the same tweet, it's an automated script running, not a real person engaging with the audience.
The screenshot below shows a Twitter feed comparison of 3 leading US apparel retailers. It demonstrates the visual similarities and difference between the profiles – you'll notice that Freepeople and Abercrombie are very similar, dominated by strong visual posts, but Bonobos has more text updates in the timeline.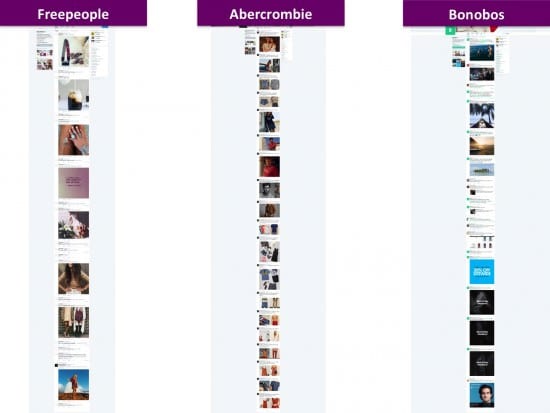 Is this good or bad?
Check to see where customer activity is greatest. Bonobos actually does a lot of retweeting of other people's content but has low level engagement and a very low activity rate in general; the 17th – 19th tweets in the timeline dated back to Black Friday weekend in November, as this screenshot is from mid-March!
Seek to answer the following questions:
Are there core channels that every organisation is active on?
How are our key competitors using each channel to meet their goals of sales, brand engagement and customer service?
What is the frequency of updates?
What is the balance between personal vs. automated updates?
What content is being used and how?
Are they creating tailored content for each channel?
2. Assess role of social as customer service
Some industries have been smart at aligning social media with customer service, telcos being a good example. Brands like BT have dedicated Twitter accounts for customer care, separate to the marketing accounts. Twitter data shows significant growth in tweets aimed at brand and service handles, rather than general handles. And companies are getting better at responding to service requests – according to Harvard Business Review, 46% tweets had no response in Feb 2014 vs. 38% in Feb 2015.
There's a 122 page guide from Twitter outlining the era of customer service on Twitter:
"Fifty years ago, the 1-800 number revolutionized customer service. Customers suddenly had a free, live connection to companies from the comfort of their homes. We are at a similar inflection point for how brands deliver customer service: today, people are contacting brands via Twitter with the expectation of a helpful and human response; all on stage for the world to see."
So take a peek at how well your competitors support and service their customers via social networks. Check to see if there are any complaints – are they proactive in responding, do they make the response public so people know they're listening?
Also check for the tone and style of response. Are they helpful and flexible, or do they get confrontational because they don't like criticism? If your competitors are poor at providing customer service socially, it could be a quick win for you to put this in place.
Seek to answer the following questions:
Do any competitors separate customer service from marketing e.g. separate customer service Twitter account?
Do they personalise with the names/initials of the people posting updates?
Are they quick to respond to negative comments?
Are they constructive and helpful in how they handle customer enquiries.
3. Assess competitor strengths & weaknesses
You can't do everything at once, so it pays to use a structured approach to comparing competitors strengths and weaknesses to help you identify gaps. You're looking for the following things:
What everyone does well that you need to cover as a minimum
What nobody does well, so you can swoop in and become the leader
What customers respond to the most/best.
I find it helpful to create a simple competitor matrix and rate each capability based on a set of criteria. For example, I use FQR criteria (my own made up cocktail):
Frequency – are they doing this regularly, or is it an ad-hoc activity that doesn't have continuity? Continuity is best as it provides reliability.
Quality – do what degree of quality do they do the activity? Does it come across credible, does it reflect well on the brand? For example, are images high quality or pixelated, is copy accurate and error free?
Relevance – is the content appropriate for the audience? For example, does the copy speak to the audience and is it accessible to them, such as jargon free copy to a non-technical audience.
I split out each channel into a set of activities I want to compare competitors against, and use a simple numbered rating system – whoever gets the highest score is the best performer. It's not a scientific method but it does give me a useful comparative starting point.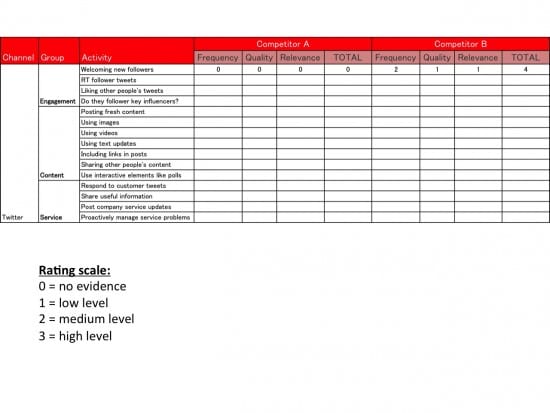 Seek to answer the following questions:
What do competitors do brilliantly that will be expensive/time consuming to compete with?
What gaps are there in the market where we can realistically be the best in class for customers?
What can we learn from what these companies do well/poorly?
There are many tools you can use to analyse your competitors. If starting out with a small budget it's best to tap into free tools like LinkTally (created by @danzarrella at Hubspot) and SharedCount, which lets you submit URLs and see where it has been shared socially. You can reduce the manual overload by signing up for a paid subscription, which gives access to tools like bulk URL upload.
There are others tools on the market that provide different competitor analysis options, including Social Crawlytics and BuzzSumo (great for seeing which Twitter users have shared content + identifying influencers).
4. Identify what customers respond to
Being active doesn't mean being heard. There's a big difference between an active social channel and an engaged social audience. Smart marketers measure success based on audience engagement, not level of activity from their marketing team.
So take the time to trawl your competitors' profiles and see which updates are getting the most attention from followers:
Twitter – which posts have the most retweets, likes, replies?
Facebook – which posts have the most likes and comments?
[repeat and assess relevant engagement metrics for other networks]
Which content formats get the best engagement – text, image, video?
What content style gets people's attention – serious, educational, funny, provocative etc.?
Does cross channel promotion work well e.g. tweeting about a Facebook competition?
How does this help?
Knowing what works and doesn't helps you shape your social media content plan. If you know that the core Twitter audience love polls, then you should incorporate this tactic into your activity. Also, if you align this learning with the competitor strength/weakness analysis, you can find the high value opportunities. Below is a quick and easy way to visualise opportunities: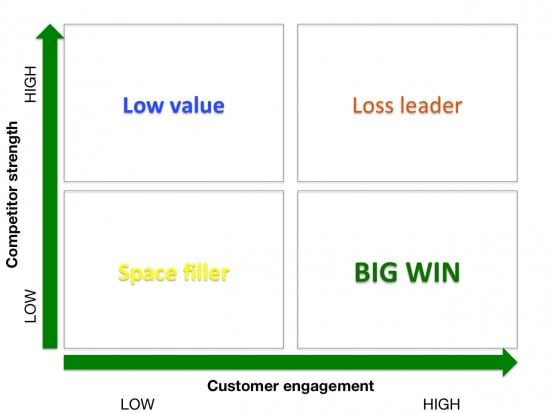 Big win – where competitors aren't highly active but customer engagement with this type of content is really high
Loss leader – where engagement is high but so is competitor activity, so you need to compete but it will take more resource effort and therefore typically lower ROI
Space filler – customer activity is low and competitors aren't doing much, so you could actually be the market leader, albeit only engaging a small audience
Low value – with low customer interest but high competitor activity, this is the lowest value quadrant and little justification to invest.
5. Use this knowledge to inform your strategy
Let's start with an obvious statement – don't seek to replicate what your competitors are doing.
Why?
If all you do is the same, what incentive is there for people to pay you attention when you're not adding value? By all means learn from what they do well but adapt it to suit your organisation and customers – make sure it aligns with your business values. For example, Palace Skateboards has a unique, slang copy style that works for its customers. If you copy that approach, it may not tally with your other content and could come across as tacky if that's not your personality.
Customers can react strongly to social campaigns that don't resonate with their vision of the brand. House of Fraser's #Emojinal campaign is a good example. I'm not saying it's a bad campaign, I've not seen the data, but it certainly divided opinion and attracted negative social feedback because it was a marked departure from the core brand style.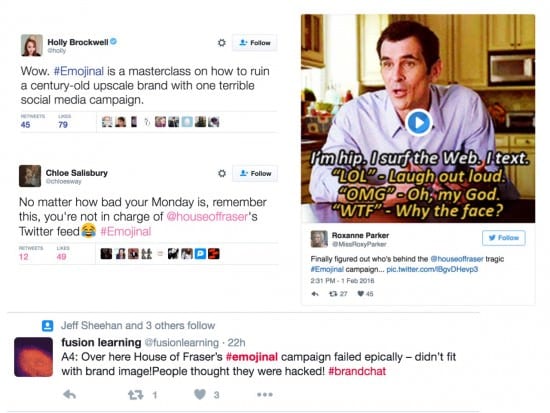 So take the insight you gain from doing competitor analysis and use it to shape your strategy, but don't let it become your strategy. You may decide to emulate elements of other brands' campaigns and that's fine but always apply your brand lens to each activity to ensure it aligns with your goals, vision and comms plan.
Your thoughts, comments and personal experience
So this is step 3 in the Smart Insights 12 step series on social media strategy and planning.
Did you find it useful?
Do you think there are any gaps i.e. would you carry out any other types of competitor research to inform the strategy?
Please join in the discussion with comments and your own experience. Keep an eye out for next month's article, "What is the role of organic and paid social media?".
Missed the previous articles? Catch-up here:
Thanks
James