8 practices and examples that show how savvy companies are using Pinterest to engage and sell
Now it's even easier to get started on Pinterest. Previously you had to be invited to join, but now Pinterest have opened up membership to all and so "pinners" are likely to rise so now could be the time to get onboard and see what it's all about and how it can work for you.
More and more businesses are signing up with varying levels of success. Both B2C and B2B are giving it a go, although not all businesses seem not to be using Pinterest to its full potential because their isn't a planned approach leading to sale. In this post I'll look at examples of eight key practices to make Pinterest support online and offline sales.
Practice 1. Create boards that develop interest in your product categories
Pinterest is about visual appeal, so the best boards are those that show creativity and imagination. Your pins should inspire and draw people to your brand, and by showing a diverse range of pins which are attractive to your customers will be more likely to engage and interest pinners. Whole Foods, who have built up an impressive following, do this really well. They don't just show what food they sell, but give recipe ideas, have seasonal specific boards, diet ideas and ethical and environmental themed boards. They've thought about what their customers are interested in and built boards around this whilst keeping their product and brand at the centre.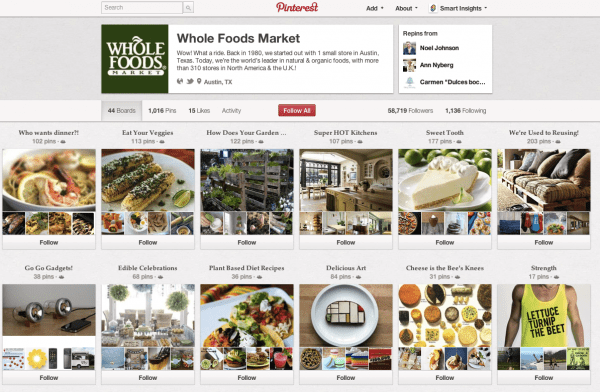 Practice 2. Create an image of how you want customers to see your brand
There is an opportunity on Pinterest to really show people what your brand offers, show how you think and build boards of images that you think your customers would like to see. Marks and Spencer do this by pinning images of their products, and by building fan boards of products they are famous for, such as customer favourite Percy Pig. This allows fans to pin images of their favorite products. They have used a character they are famous for and shown all the products associated with it, even though this may be a lesser-known part of the Marks and Spencer brand. They also take the opportunity to showcase products, either individually or showing outfit possibilities, allowing followers to see what is currently available and click through to the website to purchase.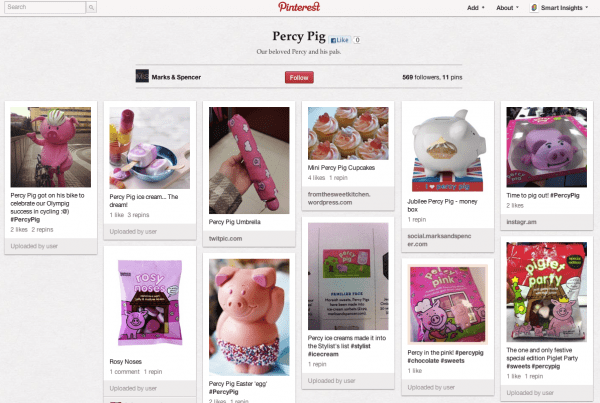 Practice 3. Build boards your customers will be interested in
Your pins should be engaging and so should reflect your customers interests. Etsy has one of the largest followings on pinterest with almost 128,000 followers at the moment. Their website has thousands of possible pins but on Pinterest, Etsy have created mood boards which are most likely to attract their target audience, focusing on favourites such as DIY, crafts and weddings. The pins link directly back to the website so followers can clink on the link and land directly on the product and purchase it.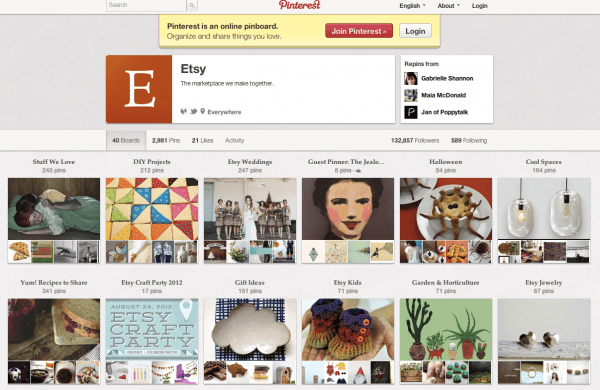 Practice 4. Find your followers
By sharing images and links across your social media channels, blog and website you will be able to find your followers. A good example of a brand that does this is The Beauty Department who regularly share their blog updates across Pinterest, Facebook and Twitter and there are links to follow them on each platform and pin it buttons to images on their blogs to remind readers to pin their images directly. They have well over 250,000 followers and update their Pinterest regularly, but do not flood it with images, the best way to reach out to the most people whilst avoiding the risk of annoying some by appearing too frequently.
Practice 5. Engage with your followers
Remember that Pinterest is a social network, so don't forget to be social; to encourage engagement. As with all social media this can be difficult, but especially so on Pinterest, as users are often only their to build their own boards and not communicate with others, so you will need to find some clever ways to build engagement and encourage conversations. One opportunity for doing this is by running a competition. Harrods ran a Jubilee inspired competition where they asked pinners to create their own mood boards. Entrants were given a board title to use and a hashtag to include and Harrods also asked entrants to tweet them their entries. This encouraged cross-posts on social media and got pinners involved in the Harrods brand.
You can also comment on pins and like pins to further deepen engagement.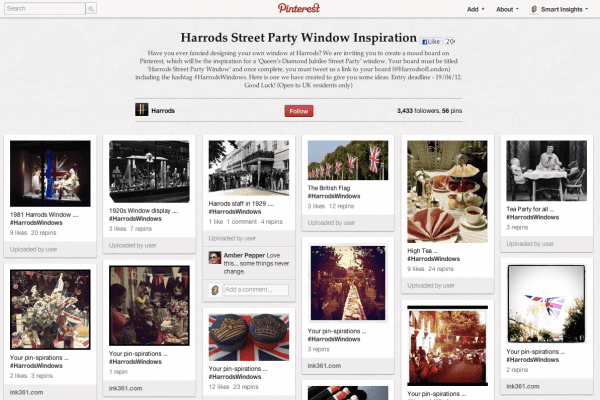 Practice 6. Showcase products in a new light
Peugeot have a unique way of displaying their pinboards. Instead of just showing images of their vehicles, they have used the board cover to cleverly break up the images into sales pitches. The first board showing the vehicle name, the next showing parts of the vehicle which when displayed correctly shows the car as a whole, and then the following boards show features. Much more engaging than seeing lots of pins of cars.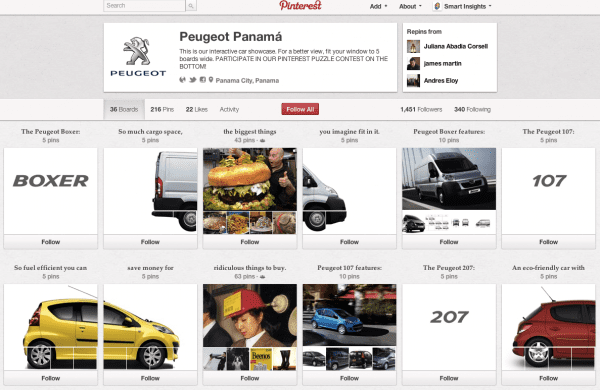 Practice 7. Create visually attractive boards that link
Creating well organised and attractive boards will keep pinners coming back. Saks Fifth Avenue organise many of their boards by colour, creating visually pleasing boards that appeal to followers. The pins aren't just their own products, but when they link to the website, product can be purchased with just a few clicks.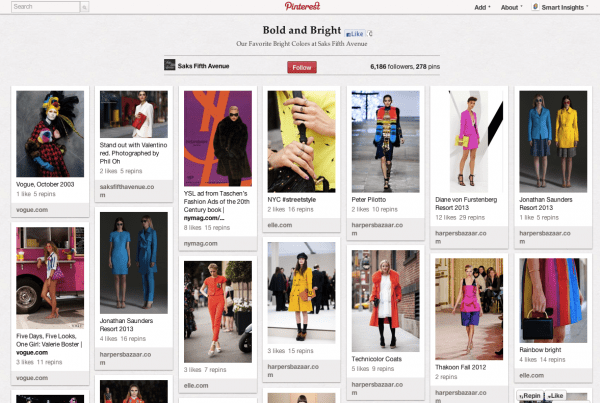 Practice 8. Pin your content marketing assets
Pinterest isn't just for consumer brand and lifestyle products. Websites and blogs can also use it to generate leads and get hits, but pinning reports, graphics or infographics. Mashable do this very well, with almost 154,000 followers they pin things they write about and interesting things from around the web in order to gain readers.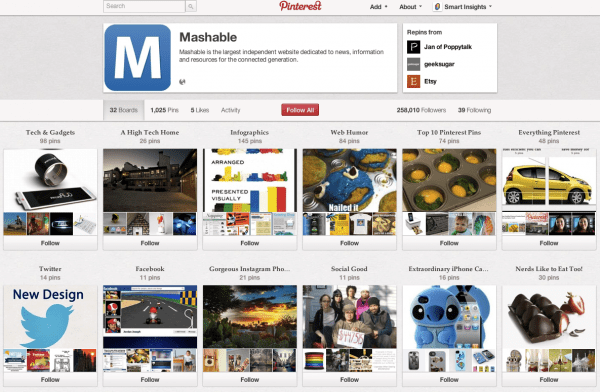 Have you joined Pinterest yet? How is it working for your business? Which techniques have worked for you?